By Mel McGowan
Forty years ago, Christian residents in a Visalia, California, neighborhood took notice of the children who cut through their yards on the way to meet up with friends. What caught their neighbors' attention wasn't the children's chosen route, it was their shockingly foul language.
That got the neighborhood folks thinking: These kids should be having innocent fun, yet they are swearing like sailors. Maybe these potty-mouthed children need connection. And what better way to connect with kids than to bake cupcakes for them?
Soon, the children's parents began coming around. The neighborhood cupcake outreach eventually transformed into Neighborhood Church. And Neighborhood's heart for helping kids grew over time into a ministry that draws families from all over Visalia.
Preserving and Growing a Heart for Neighborhood Kids
In late 2016, Neighborhood Church's leadership team began planning a new building for this kids' ministry. The building originally was intended as an addition to their existing space; the church had kids' rooms, but no large common area where all the children could gather.
Visalia has about 130,000 residents, and there are quite a few impoverished areas. Over the years, Neighborhood Church has made special efforts to be involved in those parts of town, particularly with the kids there.
A BlueSky planning session revealed that much of the heart behind the church was their touch in the community. In fact, the church has a community-centric identity. The team chose to focus on this while highlighting Visalia's geography.
The design and dream for the new Neighborhood Kids area took shape. In time the church created a dedicated space not only for children but also their stories.
 
Sequoia Geography Brings Neighborhood's Story to Life
Visalia is nestled at the foot of the Sierra Nevada Mountains, near Sequoia National Park. With that in mind, during the kids' space design process, Neighborhood Church  decided to incorporate the idea of a ranger station for Neighborhood Kids.
The leadership team envisioned the Neighborhood Kids' ranger station as a place for community, training, discovery, and fun. The motto is, "Live like Jesus wherever you go," and they wanted the space to encourage a continual discovery, exploration, and activation of God's plan for our lives. The big idea behind the project emerged as, "Discover, Gear Up, Get Going."
The idea of connection to adventure and God's creation resonated with the team. Playing up the outside environment also drew directly from the heart of the church; the ranger station would be a place where kids could learn to be dedicated Christ followers, and a place where those children's parents could partner with the church to guide kids along the journey.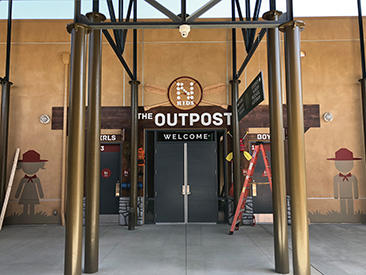 The Outpost: Gateway to Adventure
The next step was designing the indoor gathering spaces to align with the ranger station vision. Neighborhood's leadership team decided an indoor "outpost" would function as their group teaching space. Each elementary-level classroom would align with a type of wilderness survival training, where kids could learn more about interacting with God's creations around them.
Survival training starts with Wilderness Identification (nursery) and continues through Climbing (age 2), Fire Safety (age 3), Wilderness Equipment (age 4), Navigation (age 5), and Shelter (age 6). The second- through fourth-grade classroom concepts are Mountain, Forest, and River. Finally, fifth- through sixth-graders gather at the Outpost.
The Outpost is considered a major scene of arrival for the children at Neighborhood.
"Before heading out on a great adventure, you spend time at [an] outpost," says Brad Duplechain, producer for the Neighborhood Church project. "At the outpost, you make sure you have everything you need for the journey. Then, when you get home, you return to that outpost.
"The Outpost at Neighborhood Kids is very cyclical, much like a real outpost for people who are going out into the places where that encampment is. It's for telling whatever story you want because it's a place of storytelling."
The Outpost is designed like a story space around a fire pit, with a raised platform stage and two small cabins. It is used for group teaching and worship time. The on-stage cabins have functional doors, and their windows are TV screens. They're versatile and can be used in a variety of group-teaching situations. A backdrop depicts campsites in the wilderness.
The church hopes to continue drawing in families with young children from their hometown, giving them opportunities to experience the innocence of childhood and the beauty of Christian connection among friends.
Mel McGowan is cofounder and chief creative principal of PlainJoe Studios. He is a leading master planner and designer of churches in America.