By Chris Moon
Last Friday was more than a decade in the making for Trey Brunson.
The communications director at Southeast Christian Church in Louisville watched as a film he helped produce, Run the Race, opened in theaters nationwide. The movie was coproduced by Tim and Robby Tebow and marks their first venture into filmmaking.
"It doesn't even seem real," Brunson told Christian Standard.
Brunson and his friend Jake McEntire were students in 2004 at Dallas Baptist University when McEntire came up with the idea for the movie—about two brothers trying to get out of their hometown and the working of God in their lives.
For years, Brunson and McEntire kept talking about the story and dreaming about eventually making it onto film. Brunson finally prodded McEntire to write the script.
"If you don't write this story, nobody will ever see it," he told McEntire.
Eventually, they had a 190-page script in their hands and, as Brunson tells it, "We had not a clue what to do with it."
For a time, when Brunson served with First Baptist Church in Jacksonville, Fla., he shared the script with every big-name speaker the church brought to town. In 2010, the friends shot a concept trailer laying out the idea for the film, and they showed it to everyone they could.
Money and know-how, of course, were the issues. At one point, Brunson was working with the board of Fellowship of Christian Athletes in northeast Florida, where Robbie Tebow—brother to football star Tim Tebow—served as director.
Brunson showed Robby Tebow the concept trailer. Tebow started crying.
That led to a meeting with Tim Tebow in California. This was followed by meetings with Bill Reeves, a prominent faith-based film producer and owner of The WTA Group.
Eventually, financial backing was in place, and the dream became a reality.
The film was shot in 2016 in Birmingham, Alabama. It's a football-themed movie, and a real football team—from nearby Bessemer Academy—was used in some of the shots.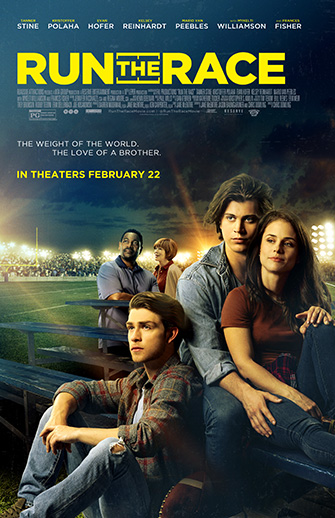 Brunson, who was present for two of the six weeks of filming, said as he walked away after the first night of filming, he looked back down a hill toward the football field.
"I couldn't believe it was actually happening," he said.
The fact that the film came to exist is a testament to the faithfulness of God—and a reminder for believers to follow God's calling on their lives, Brunson said. He called it an education in spiritual warfare.
At one point early in the process, he and McEntire were set to team with an Australian company to produce the film—only to have that company go out of business. The friends lost $35,000 in that setback, and McEntire had to sell his house as a result.
But there was no turning back from their calling. Multiple times, Brunson said, when things got difficult during the long journey of making of the film, God placed people in his path to provide encouragement and new direction.
The key, however, was to persevere. Brunson encourages anyone who has experienced a calling from God to never forsake it.
"If it is something that God has called you to do, you can't give it up," Brunson said.
Chris Moon is a pastor and writer living in Redstone, Colorado.