Robert Dale "Bob" Maxwell, 98, a Medal of Honor recipient who, with his late wife, Beatrice, established a scholarship that is awarded each year to an outstanding preaching major at Boise Bible College, died May 11.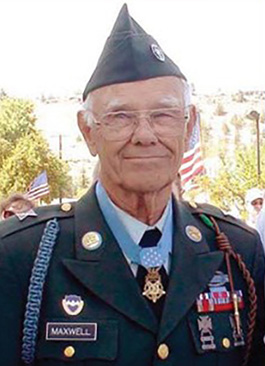 "He was a very humble, quiet person," close friend Dick Tobiason told the Bulletin in Bend, Ore., where Maxwell lived. "He smiled whenever he talked about veterans, the flag, country, and patriotism. He loved being an American."
Maxwell died more than seven decades after quickly grabbing a blanket and throwing himself on a German hand grenade in France on Sept. 7, 1944, according to the Army Times. His heroic act is credited with saving four lives. Maxwell was severely injured, but the blanket absorbed some of the impact. Maxwell had been the oldest Medal of Honor recipient; only three living recipients remain from World War II.
After the war, the Boise native went on to teach auto repair and service at a high school and two community colleges in Oregon.
Maxwell's four daughters released a statement that said, in part, "Our Father was a very spiritual man and knew it was his time to go home to his Heavenly Father. . . . We are very saddened and he will be missed terribly, but at the same time we are grateful that he is out of pain and is where he wanted to be, in Heaven."
Memorial events are planned for May 30 and 31 in Bend, the Bulletin reported.
For those who wish, the family suggests memorial contributions be made to Boise Bible College, Medal of Honor Scholarship, 8695 W. Marigold St., Boise, ID 83714.