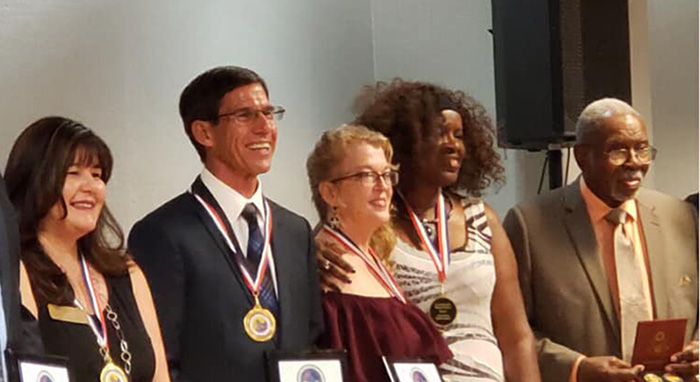 By Jim Nieman
Glen Elliott, lead pastor with Pantano Christian Church, Tucson, Ariz., represented PCC Sunday as they received the church of the year award for racial reconciliation from the Racial Reconciliation Community Outreach Network in that city.
"I'm so grateful to be a part of a church that embraces racial equality & unity," Elliott wrote on Facebook.
Pantano has been working toward racial reconciliation for many years.
"Back in 2013 a small group of black and white pastors agreed—some reluctantly—to meet to better understand each other and see if we could address this in our community," Elliott shared with Christian Standard on Tuesday. "We eventually called our group the Pastor's Partnership, and we've met monthly for the last six years.
"We've had hard conversations that got into issues of social justice, politics, and more. And through the conversations we've become friends who have discovered that while we have differences, we share far more in common."
The ministers in Tucson want to be able to stand together and address any potential crisis, should a racial incident take place there such as those that have occurred in other cities, he said.
"The result of the trust and friendships have allowed this group to do some things that have brought our predominantly black and white churches together," Elliott said. "We've hosted several citywide events to promote racial unity and reconciliation."
Elliott said Pantano is a racially diverse church that has worked hard to build bridges with other black congregations.
"Two years ago, on the Sunday prior to Martin Luther King Jr. Day, I did an interview with one of my black pastor friends. He shared about how he experiences prejudice today and what it means to be black in our city. It was eye-opening."
"This year for MLK day, we had a black congregation join us," he said. "A mixed band/choir led worship and their pastor preached."
Black and white congregations have also joined together for movie nights.
"We've come together to watch the movies Selma, Woodlawn, and Hidden Figures. On these occasions, we've included time to eat together, and most importantly, discuss what we watched.
"We are committed to being intentional about building racial unity in our city," Elliott said.
The Racial Reconciliation Community Outreach Network is a nonprofit organization dedicated to breaking down walls and tearing down barriers that prevent harmonious relationships. The network strives to reconcile and unify the body of Christ, to reveal stereotypes that hinder the body of Christ, and to uplift godly cultural and ethnic diversity.
Read more about Pantano Christian Church's racial unity efforts in Glen Elliott's 2016 article, "Who Will Lead Racial Reconciliation in Your City?"
Jim Nieman serves as managing editor of Christian Standard.