By Michael C. Mack
As he talks about Heaven, he reminds me of a young bride on her wedding day. He is a mixture of excitement, confidence, reverence, and awe. He is wide-eyed with anticipation for the doors to open and the music to begin. This 91-year-old man has studied and taught about Heaven for years, yet he humbly acknowledges his finite understanding.
His wife, Marietta; his older sister, Joy; his friend Billy Graham; and many others he has known and served with over the years are already there. I had saved my question about Heaven for last—I knew it was a favorite topic.
A Life of Accomplishment
Coleman now lives in Wilmore, Kentucky, near the campus of Asbury University, where he once taught, and he attends Southland Christian Church in Nicholasville. In his early years, he and his family lived on a farm in Cedar Hill, Texas, 20 miles outside of Dallas. He grew up in church but was much more interested in sports than a relationship with Christ, he admits. In high school, he set a record in the 120-yard high hurdles. Five years later, his record was broken, he says with feigned exasperation, by his younger brother, Lyman.
Robert Coleman's accomplishments are many: PhD, author of 21 books, professor at three prestigious theological seminaries, an average of more than 35 speaking engagements per year in the United States and around the world for much of his career, winner of the Distinguished Service Award for Disciple Making at the first gathering of the National Disciple Making Forum, and more. So, I wondered, what has been the most rewarding part of his ministry?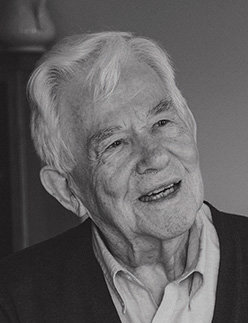 "In terms of eternity, it's the few guys I've met with in personal relationships for over 50 years," he responds, "but in terms of really reaching people, I think it's been overseas in conferences primarily with pastors." Billy Graham made Coleman the dean of the Billy Graham International Schools of Evangelism in 1985. "We had these schools all over the world and I had the privilege of teaching. . . . A lot of people don't realize Billy Graham had two great desires. One was to preach the gospel to as many people as he could, and the second was to train pastors to be evangelists. That was a burning commitment of Billy Graham."
One of the main courses taught in these schools was the Master Plan of Evangelism, based on Coleman's book of the same title. "That's one reason The Master Plan is so well distributed in so many languages," says Coleman, "because we always had it there and we often had to get it translated."
The Master Plan of Evangelism has sold more than 3.5 million copies and been translated into 105 languages. (To read more about how Coleman wrote the book, see the Letter from the Editor on page 6 <<change to p. 8 for digital issue>>.) Why does Coleman think the book has been read and relied upon so much by leaders? He says it became known mainly by word of mouth. And the book is easy to read. "It's very simple," says Coleman. "The students [who were taking his evangelism class before he wrote the book] helped me do that. 'Make it simple, simple, simple,' they told me. I tell my students, 'Preach to the children. If the children understand what you're trying to say, chances are even the PhDs will catch on!'"
Coleman points to a set of three pictures of a one-room schoolhouse in his living room. "That's the model of education for me. In a one-room schoolhouse, you learn together, not just reading, writing, and arithmetic, but social skills, how to relate to your friends."
Education and Disciple-Making
Coleman says that is the essence of discipleship—being with the teacher (Coleman calls this the "with principle"). "Jesus invited his disciples to be with him. Then he would send them out to minister, but first, they were with him." From the beginning of creation, Coleman says, God created us to be with him, and then he created family so we could be with one another. "Of course, it didn't work out in the Garden," he says as he gets more philosophical. "The devil fooled them. He fooled them with the temptation, 'you shall be wise as gods.' That is the appeal of wisdom that we have a hard time resisting; we want to be smart."
Understand, Coleman's own education is impressive. It includes degrees from Southwestern University in Georgetown, Texas; Asbury University; Princeton Theological Seminary; and a PhD from the University of Iowa. After preaching in several churches in Indiana, New Jersey, and Iowa while completing his own schooling, he moved into teaching in theological graduate education in what he says are three of the top evangelical schools in America: Asbury, Trinity Evangelical Divinity School, and Gordon-Conwell. He has spent most of his ministry career as a professor.
"We want to get all the degrees that can be given by education," he states. "But the great way of learning is to be with your teacher who is on the way of the Lord."
He says he loved being a pastor, and the churches grew because he built relationships. "And that [building relationships] is the secret of evangelism." That experience has guided him in how he teaches his students. He takes great joy in the relationships he has built with them over many years.
Coleman points to two huge obstacles to disciple-making. "The greatest hindrance to the evangelization of America is the leadership today of the church. [And] the real bottleneck is the theological seminaries in America. The majority of them have pretty well departed from the simple gospel."
"I got into theological education because I felt it was the weakest link in our chain."
Implementing 'With-Principle' Disciple-Making
In the Introduction to Master Plan of Evangelism, Coleman wrote, "That we are busy in the church trying to work one program of evangelism after another can not be denied. But are we accomplishing our objective?"
If disciple-making is much more than just running a church program, how would he encourage leaders in today's church?
"To implement [a discipleship ministry based on the "with principle"], you need some kind of structure, but you want to keep the program at a minimum. Encourage people to be with someone who can lead them." He points to places in the world where Christians have faced oppression and persecution, where churches have been closed and pastors sent away or killed—and yet the churches grew. "How'd it happen? They were forced back into little groups in their homes. They were forced back to the New Testament!"
While Coleman wrote Master Plan of Evangelism from the four Gospels, his follow-up book, Master Plan of Discipleship, focuses on the book of Acts. For many people, the latter book, while it has not sold as many copies, is more applicable to making disciples in the church today, since it's based on the Bible book that relates how the early church carried out Jesus' mandate.
"Billy Graham was a gifted proclaimer, but Billy would agree, if you want to reach the world, you've got to go back to the master plan." Coleman mentions that he quoted Graham in The Master Plan of Evangelism:
In response to the question, "If you were a pastor of a large church in a principle city, what would be your plan of action?" Mr. Graham replied, "I think one of the first things I would do would be to get a small group of eight or ten or twelve men around me that would meet a few hours a week and pay the price! It would cost them something in time and effort. I would share with them everything I have, over a period of years. Then I would actually have twelve ministers . . . who in turn could take eight or ten or twelve more and teach them."
"That's the master plan," says Coleman. He sits on the edge of his chair again and now he's almost yelling: "The Great Commission—that's the last command Jesus gave. 'You go and do what I've been doing. You go and make disciples! They could understand it because they had been discipled! You can't preach to people all day and expect them to understand what discipling is. Discipling is a relationship . . . with a teacher who is with you and who will be with you even in the valleys, when you don't seem to know the way yourself—you're close enough to the teacher that he can lead you."
I asked Coleman to share his thoughts on disciple-making movements that are multiplying exponentially around the world, and he says he's all for them and has been "adopted" into the Exponential movement (founded by Dave Ferguson and Todd Wilson). "This movement of discipling is growing, and it's not dependent upon big-time preachers, it's not dependent on educational seminars . . . and it's not dependent on theological schools either." He pauses for effect after the last phrase, and then continues, "It's encouraging, and I suspect it will grow more because we're in hard times in our culture."
Coleman's voice now softens and his head bows; I need to lean in to hear him. The topic of our current culture—in the world and the church—visibly saddens him. "I'm optimistic about these movements, but I'm not optimistic about our culture," he says. "We're not going in the direction that would bring us into close communion with God . . . if we take the path of least resistance, which waters down the gospel."
He looks up at me and his voice again grows strong: "But God is still sovereign! He has not abdicated his rule. We have read the last chapter and we know finally every knee will bow before him." He pauses a moment and reflects: "But what will it take to get us to that point? I don't see a desperation yet for that."
While Coleman is not optimistic for the current state of the institutional church—he believes if things don't change, we will follow the path of the church in Europe—he sees hope in the places where God is moving in simpler, smaller, relational ways. He meets weekly with several different small groups of friends in Wilmore. He talks especially about one group of "sinners" that meets at Bob Evans. Though these men are from a variety of faith backgrounds and no faith backgrounds, they ask him to pray each time they meet.
Heaven
We reach my last question, the one about Coleman's thoughts on Heaven. By the time I ask it, his voice is tiring and his body sinking more into his green easy chair. But now he straightens up.
"Oh my, that's the thing I talk about now more than anything else," he begins. He then speaks uninterrupted for 15 minutes on the topic, moving between philosophical reflection, Bible study, interpretation, and fiery preaching. (See more of Coleman's reflections on Heaven as well as topics such as how he came to Christ and his views on Scripture in our web-only extra at www.ChristianStandard.com/<ArticleTitle>.)
"I've had a group of seminary kids for the last 55, 60 years," says Coleman. "Before I turn them loose after about three years, we talk about Heaven. Not that I understand everything in the book of Revelation, but I do like to focus on the words of the songs that are recorded around the throne."
As he talks, he frequently and easily quotes Scripture. Each time, he closes his eyes, but then opens them again to peer into mine. These are not the eyes of an older man, I think to myself. Though his face is well-weathered, his eyes are vibrant and piercing.
He says he has taught his boys, the graduate students in his classes, the 14 hymns in Revelation, so they could say them together. "So when we get to Heaven," he says with a broad smile, "we'll already know the words; all we'll need is the music! We're learning now to get ready for Heaven, to get ready for a wedding. Hallelujah! Oh, yes, that's what we've got to get across. When Heaven is real, this world doesn't hold the attraction that it used to have!"
He takes a moment to look up at a picture hung in a place of prominence on his wall. "My dear wife—she died two years and four months and seventeen days ago." He mentions that daisies were her favorite flower, and I see a vase of them on his dining room table. "I can see her now coming down the aisle in that little church over in Ohio, holding that bouquet of white daisies." He pauses several seconds, swallows, takes a deep breath, and continues.
"There is a day coming when we'll change garments. We'll have white robes, symbolic of the cleansing blood of the Lamb. . . . I love to think about the glory of heaven."
Coleman seems prepared for the wedding music to begin playing at any time. He already knows the words to the songs.
Michael C. Mack is editor of Christian Standard.