Compiled by Jim Nieman and Chris Moon
Milligan College is mourning the death of Dr. Carrie Beth Swanay, 55, longtime professor of communications. Swanay died July 24 after a lengthy battle with cancer. A memorial service was Sunday.
Swanay served the Tennessee college for 29 years, starting there when the communication major was still just emerging. For 10 years, she was area chair for performing, visual and communicative arts, Milligan reported. During her tenure, she led the faculty and the arts program through several curriculum changes, and she was instrumental in the creation of several recent majors, including graphic design and musical theatre.
"Carrie's nearly 30 years at Milligan were characterized by her positive attitude and her willingness to go way beyond the call of duty," said Dr. Bill Greer, Milligan's president. "I will miss her 'can do' attitude and her 'get it done' approach to every task, whether that task was her responsibility or not."
In addition to teaching a variety of digital media and video editing courses at Milligan, Swanay supervised MC Productions, the student-led video production service for all campus streaming events, including Stampede TV weekly shows and the campus FM radio station, WUMC 90.5.
In April, the Dr. Carrie Swanay Studio in the Paxson Building at Milligan was dedicated to her. Swanay was presented the Fide et Amore award, Milligan's highest acknowledgment of service, during the college's commencement ceremony last December.
Over the weekend, Milligan lost another staff member to cancer; Tara Duggar served in the academic dean's office.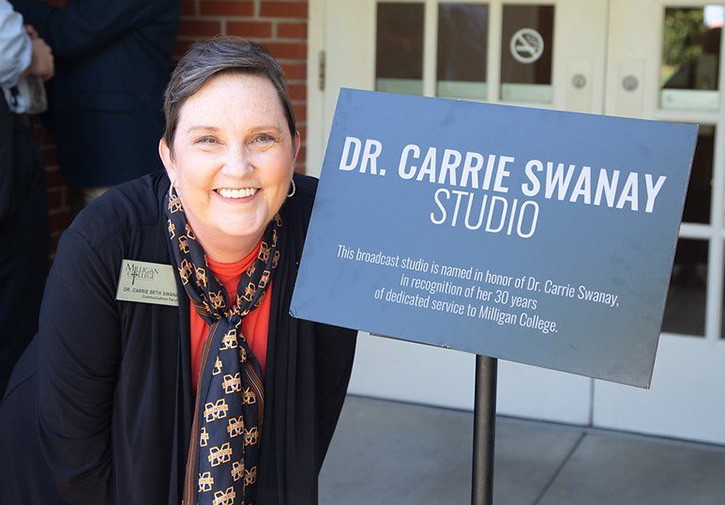 _ _ _
News Briefs
Johnson University Tennessee in Knoxville will officially dedicate its new Athletic and Recreation Complex Aug. 27 with a ribbon cutting at 8:30 a.m. and dedication service a 9 a.m. The ARC, which has been open for several weeks, was envisioned as "a hub for student life on campus, building a community of students and faculty who are growing physically, relationally, and spiritually." It includes basketball and volleyball courts, swimming pool, 6,100-square-foot recreation and athletic room with artificial turf for multiple sports, a game room, locker rooms, offices, and more. The outdoor portion includes athletic fields (baseball, softball, and soccer), tennis courts, walking trail, and cross-country course.
_ _ _
Kairos Church Planting is offering a Craft Lab Oct. 3 to 7 at University Church of Christ, Tuscaloosa, Ala. According to Kairos, "This five-day intensive lab will help you identify the areas in your church that are inhibiting growth. Once you've identified your challenges, we'll help you work through how to overcome them." Learn more here.
_ _ _
Christ In Youth was mentioned in a recent Christian Post article about the emergence of Kingdom Youth Conference, which has been holding two-day youth events at churches around the country since 2016.
The story noted that the market for Christian youth conferences shifted in 2015 after the closure of Teen Mania and its "Acquire the Fire" youth conferences. CIY, based in Joplin, Mo., was mentioned as another major Christian youth conference available to churches.
"There are a lot of groups hurting," CIY executive vice president Jayson French told the Post. "We could go through the groups that are shut down and are no longer in business, that are struggling financially, but I can't speak to why they struggle. For us, I know that the more we love the church and respect the church and the more that we call students to use their gifts and talents for the kingdom, the more we grow."
_ _ _
Central Christian College of the Bible's Heritage Day is set for Aug. 30. The annual gathering of parents, alumni, and friends of the college will include a chapel at 10 a.m., banquet at 12:15 p.m., and reception at 2 p.m. The schedule includes alumni class reunions, music and messages by CCCB graduates, and a celebration of the teaching career of Bill Walton, professor emeritus of Christian ministries. Register at CCCB.edu/events.
_ _ _
Partners in Ministry, a free minister and elder appreciation workshop, is planned for Sept. 14 in Cincinnati. The Center for Church Leadership, Bob Russell Ministries, and Vanderbloemen Search Group are partnering together for the event, which begins at 8 a.m. with a continental breakfast at Cincinnati Christian University. The first session is at 9 a.m. A free lunch will be at noon (between sessions).
Partners in Ministry is a five-year initiative to build Bible-based, healthy relationships between the minister and elders in Christian churches and churches of Christ.
Learn more and register at myccl.org/partners-in-ministry.
_ _ _
Shelby Christian Church in Shelbyville, Ill., will host a "personal protection seminar" for women on Thursday. According to the Shelbyville Daily Union, the event will include topics about how to be aware of one's surroundings, how to train children to be observant, and how to be safe while traveling.
_ _ _
Hope City Church in Joplin, Mo., held a meal-packing event last week to provide 30,000 meals for Watered Gardens Gospel Rescue Mission, an outreach for homeless and low-income residents in Joplin. The mission also serves as a shelter for homeless men and women.
"We've all been in a position where we need help," Charlie Landis, Hope City's development pastor, told the Joplin Globe. "This is a great opportunity to help others when we have what we need."
The church welcomed community involvement at the meal-packing event.
The meals for the event, which can be cooked in boiling water, came from the Pack Shack, an Arkansas-based nonprofit that partners with charities and churches.
_ _ _
Send news to [email protected].