(This story was updated July 3 with funeral arrangements for Jace Smothers.)
An Ozark Christian College student working with Christ In Youth this summer was killed Friday when a CIY van he was riding in was rear-ended as part of a multiple vehicle accident on Interstate 24 east of Paducah, Ky. The van carried four other CIY MOVE summer event staff members; all were injured.
Jace Smothers, 19, who had just completed his first year as a youth ministry major at Ozark, died at the scene. His funeral service will be at 10:30 a.m. today (Wednesday) at Norton (Kan.) Christian Church. his home church. (Obituary information was posted by Enfield Funeral Home.)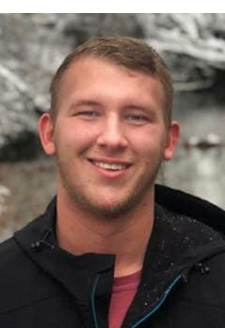 "Without question, this is one of the saddest moments in our history," CIY said in a statement at their website. "While serving as a CIY summer Event Staff member, Jace made a profound impact on everyone he came in contact with. Our entire team is heartbroken and have prayed constantly since we heard the news."
Smothers will be remembered for his "big smile, loud laugh, and huge heart for Jesus and teenagers," OCC president Matt Proctor wrote on the college's website. While attending Ozark, Smothers had served as a Young Life volunteer in the Joplin, Mo., area. The family has established the Jace Smothers Scholarship at Ozark in his honor.
Proctor noted that another Ozark student, Brandon Musselman, suffered minor injuries in the crash. He was released late Friday night, according to CIY.
Of the other three MOVE summer event staffers injured, Tyler Conway (who attends Evangel University, Springfield, Mo.) was released Friday night, Andie Montgomery (University of Central Arkansas, Conway) was released over the weekend, and Katie Danhour (Grand Valley State University, Allendale, Mich.) remained hospitalized Monday in stable condition.
CIY spokesman Eric Epperson said Monday morning that the outlook is good that both Montgomery and Danhour, who were more seriously injured, will make full recoveries. CIY appreciates prayers for all involved, he said.
Christ In Youth, which started in the late 1960s, works in partnership with the local church to provide more than 100 annual program events for students and leaders across the United States and in more than 10 foreign countries. MOVE has a series of five-day events held on college campuses throughout the summer. The student workers were traveling to a CIY MOVE event in Cleveland, Tenn., when the accident occurred.
According to various media reports, the multi-vehicle accident occurred at about 4:30 p.m. Friday when the CIY van slowed for construction on eastbound Interstate 24 just east of Eddyville, Ky. A semi-truck rammed into the back of the van, setting off a chain reaction that included other vehicles and motorcycles. About 22 people were involved in the crash, four were transported by medical helicopters, and two people remained in critical condition as of early today, the Murray (Ky.) Ledger & Times reported.
An early investigation indicates inattention by the semi driver may have been a contributing factor to the accident, according to the Ledger & Times.
CIY's website noted that its "leadership will continue to be in constant communication with the families of the team members who were involved in the accident." Some executive team members with CIY, which is also based in Joplin, Mo., had met with students' families in the hospitals where they were taken.
Of Smothers, CIY wrote: "Jace exemplified every good quality of a kingdom worker and he will be missed by many."
Proctor noted Smothers's recent Instagram post: "My first year of college was a dream! If I'm being honest . . . I was doubtful about God placing me at Ozark. But after classes started and I met these people . . . the entire game changed. God met me in a new way."
"We are grateful to have known Jace," Proctor wrote, "but we grieve deeply his absence."