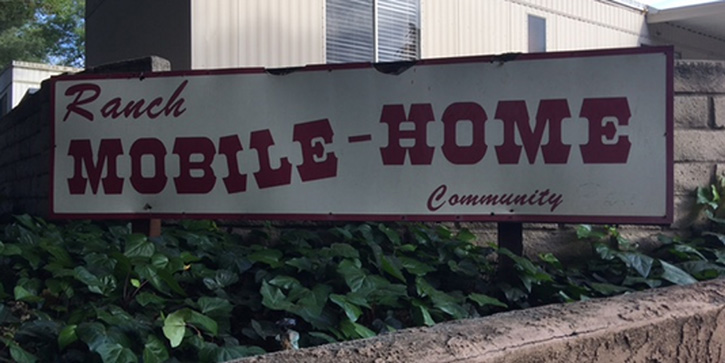 By Jim Nieman
For at least a decade, a California church has been investing in the lives of a group of folks that many tend to overlook.
The Christian Church of Thousand Oaks' ministry to senior residents of the Ranch Mobile Home Park started as an outgrowth of a local "Action" day when Christians are encouraged to get out and serve their neighbors and communities.
CCTO started by working on the grounds at a local mobile home park managed by a church member. The manager later recommended the church focus efforts at Ranch, an affiliated, but smaller, mobile home park for low-income seniors. The simple reason? Ranch residents had a greater need.
The Ranch is "easy to miss," says Marty Milligan, associate pastor of the Thousand Oaks, Calif., church of about 500 members. "Most people don't even know it's there."
CCTO initially duplicated its earlier efforts by simply sprucing up the grounds at the 72-unit park. But Milligan says the church expanded on that fairly quickly, as they try to build relational elements into all of their outreach ministries.
Early on, "I would just throw out ideas," Milligan said. For instance, "I asked [the office manager], 'What if we came and did a meal in your clubhouse?'"
Today, the church hosts monthly meals at the Ranch Mobile Home Park. Small groups at CCTO take turns arranging for the meal. "There's one tonight," Milligan said last Thursday. "We will end up feeding 25 residents in the clubhouse and take out another 10 to 12 meals to shut-ins [in the park]."
CCTO has a variety of ways it tries to engage with Ranch residents and bless them.
A "Helping Hands" ministry is one of the most important.
The church gave Ranch residents a refrigerator magnet with a phone number to call if they need help with mainly smaller repairs or tasks, such as repairing a leaky faucet or broken fan, or replacing a lightbulb or smoke detector battery. When a Ranch resident calls the number, Milligan's assistant, Linda Malone, takes down the information and determines whether someone on CCTO's 26-member Helping Hands team is available to assist.
Malone—who described Ranch residents as "really awesome people" and "the unknown residents of T.O."—schedules and coordinates the work.
The church takes care of repairs that are $30 or less. If the repair or small project costs more—and a church member is able to perform the work—the resident pays for materials and the church performs the work for free. Volunteers in this ministry include electricians and people with construction backgrounds, among others.
CCTO offers additional opportunities to bless the residents of Ranch Mobile Home Park. The church sends a large contingent of volunteers to spruce-up the grounds about twice a year, and at Christmas, children hand-deliver homemade cards and small gifts to the residents. Children and adults also sing Christmas carols.
An ongoing ministry involves CCTO's food pantry, whose representatives make deliveries to Ranch residents each week.
"There are people in here you can't imagine what they live on—that's how small the sum is for Social Security," Gayle Comfort, a 77-year-old Ranch resident, told the Acorn, a local newspaper. "Some use this as their grocery store."
She described a close-knit group of residents who try to help one another. "Then you get people like the church people coming in, and they just make it make it even nicer," she said. "Everybody here appreciates it so much."
"We just slowly built a relationship with the people in the park (and) now we have a presence there," Milligan said. The church engages with about half the residents—mainly the older folks in the 55-and-over community. "They appreciate what we do and we're grateful for the opportunity to be a part of their lives."
Over the years, a handful of Ranch residents "have come and been a part" of CCTO, he said.
"We believe the church exists to be a blessing to the community," Milligan said. "We believe in the idea of God loving us and then calling us to live a life of love toward others because of the love that God has for us."
And love can take many forms. About a year ago, Milligan conducted the funeral service for a Ranch resident whom he and others from the church had visited with regularly. (The church's relationship with the woman's surviving husband and their daughter continues.)
Jim Nieman serves as managing editor of Christian Standard.