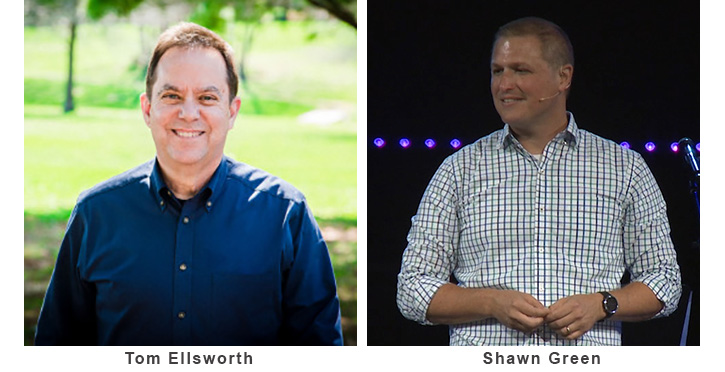 Tom Ellsworth plans to retire as senior minister with Sherwood Oaks Christian Church next spring after serving the church since January 1981. During his ministry, the Bloomington, Ind., congregation has grown from 80 people to nearly 3,000 people across three locations.
"What a joy it has been to lead Sherwood Oaks Christian Church and to serve the Bloomington and Bedford communities," Ellsworth said. "It's been an incredible journey, and I'm excited for all that is ahead."
Ellsworth and his wife, Elsie—who will be retiring as Sherwood Oaks' marriage coordinator and premarital counseling coordinator—say they want to take their years of experience and use it to encourage and help other congregations, especially smaller, struggling ones or discouraged ministers. The couple plans to remain in Bloomington after their final Sunday at Sherwood Oaks—April 26, 2020.
For the past year, Ellsworth and the SOCC elders have been meeting and praying about who would succeed him. Shawn Green, campus minister with Sherwood Oaks' Bedford Campus, has been asked to step into the role of senior minister and preach weekly from the Bloomington East campus. (Green's hiring is subject to congregational approval, as stipulated in the church's bylaws.)
"Shawn has a great blend of maturity, experience, humility, and vision to make him the right choice," Ellsworth said. "His leadership will energize and mobilize the life of this congregation."
Green will begin preaching some weekends this fall at the Bloomington East campus.
Green grew up in Cicero, Ind. He graduated from Lincoln Christian College and will be completing a master's degree from Johnson University next spring. He previously served at Owensboro (Ky.) Christian Church and NorthPointe Christian Church (Lincoln, R.I.). He is married with two daughters.
Taking Green's place as the Bedford Campus minister will be Bedford resident Tim Thompson, who currently serves as the main worship minister at the Bloomington East campus. Quentin Bemis, who previously was on staff at Sherwood Oaks, will move back from Portland, Ore., to take Thompson's open position as worship minister.
"I believe that our church family is in a very good and healthy spot being debt-free and led by a terrific, younger, and talented staff," Ellsworth said. "It's a good time."
Ellsworth is a graduate of both St. Louis Christian College and Cincinnati Christian University. In 2001, he served as president of the North American Christian Convention, Ellsworth is the author of five books: Beyond Your Backyard, Inverted, It's Your Move (On Board), It's Your Move (Out Loud), and Preaching James. He said he hopes to write more in retirement, and that he would consider doing interim or fill-in preaching.