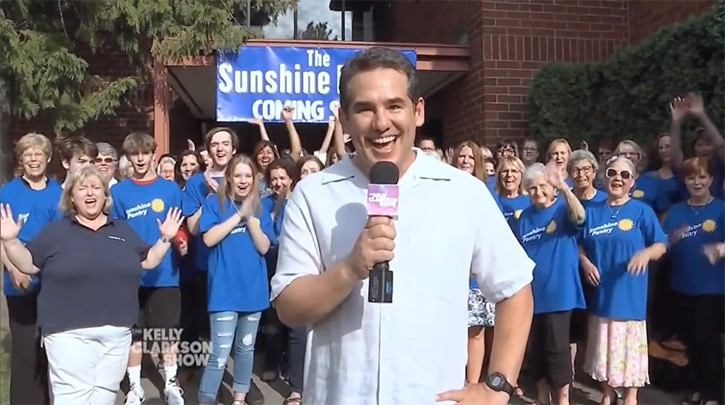 Compiled by Chris Moon and Jim Nieman
Beaverton Christian Church in Oregon is the new home for a significant local food pantry—and it made quite a splash in becoming so.
The announcement that Sunshine Pantry is relocating to the church was made Sept. 9 on the inaugural episode of The Kelly Clarkson Show, a syndicated talk show.
On the show, Clarkson interviewed Sharon Straus, the founder of the Sunshine Pantry—which started as a Cub Scout canned food drive that continued for years in Straus's garage before moving into its own warehouse more than a decade ago. Straus told how her longtime food pantry—which provides 500,000 meals per year in Beaverton and Washington counties—has closed temporarily because it lost its warehouse lease.
As the interview concluded, Clarkson revealed to Straus that an alternative location for her food pantry had been found at Beaverton Christian Church. It was made possible by a $20,000 fund-raising effort in Beaverton. The Kelly Clarkson Show added another $10,000. Fox 12 news covered the story.
"Sunshine Pantry has a long legacy of serving and loving the Beaverton community well," said Andrew Hansen, director of operations with Beaverton Christian Church. "We're excited they can continue to do so here, and look forward to seeing folks of all faiths and denominations, cultures, and generations lock arms in serving their neighbors."
The opening date is yet to be determined, Hansen said. Sunshine Pantry is working with the city of Beaverton to get the appropriate permits. Some expert help and general labor are needed to prepare the location.
The pantry will move into vacant space occupied for years—and until recently—by Arco Iris Spanish Immersion School, which has since moved into a dedicated facility, Hansen said.
After the school told BCC of its plans to move, "We began dreaming and praying about how we could use the soon-to-be-vacant wing to serve our surrounding neighbors and greater Beaverton community."
Sunshine Pantry is a good fit for the church's overall mission, Hansen said.
"We exist to inspire people to know, love, and follow Jesus, and one great way we can do this is by being generous with our facility to provide a robust suite of services that house partner organizations and serve people well with radical hospitality."
Sunshine Pantry will continue to be run as an independent organization.
_ _ _
News Briefs
Seymour (Ind.) Christian Church held special Sunday services this week to commemorate its founding 50 years ago. Former pastor Randy Roberts preached sermons and the church held an open-mic session during the Sunday school hour for members to offer testimonies about the church's impact on their lives. A cookout followed morning worship and a special prayer service focused on the next 50 years of ministry.
"We've got to carry the torch," senior minister Andy Schroeder told the Tribune, which published a feature story about the church last week. "We've got to continue to stay true to God's Word and continue to build upon what those before us laid the foundation for."
Schroeder told the newspaper nearly 130 people have been baptized or joined the church in the last 18 months or so. The church currently is remodeling certain areas and plans to enlarge its parking lot.
_ _ _
Second Church of Christ in Danville, Ill., is among the groups supporting a "Building Block" program at Danville Correctional Center, the News-Gazette reported. The mentor-driven program offers classes in leadership, communication, and anger management, while creating a sense of community and responsibility among the prison population.
The church offers Celebrate Recovery classes in the prison and donates paint, art supplies, and books. Altogether, the "Building Block" program has 448 participants and 30 mentors.
"Number one, these people are of value, especially in God's eyes, and we want to invest in them from that standpoint," executive pastor Dale DeNeal told the News-Gazette.
_ _ _
Enrollment at Milligan College hit an all-time high, reaching 1,332 students this fall. "This is the first time in our history to surpass 1,300 students," president Bill Greer said in an email to the Milligan community. Greer attributed the increased enrollment, in part, to a large incoming class of new students and a growing international population.
_ _ _
Students from Central Christian College of the Bible held a youth rally Sunday in California, Mo., that featured student testimonies and a worship band comprised of CCCB students. The main speaker was Grant Roth, a CCCB student and a 2019 finalist in Pepperdine University's "Next Gen Preacher Search," according to the California Democrat newspaper. The rally at the United Church of Christ of California was sponsored by the California Ministerial Alliance. Local church groups were invited.
_ _ _
Weston (Ohio) Church of Christ is planning a 125th anniversary celebration for May 31, 2020 (Pentecost Sunday). Bob Russell, retired from Southeast Christian Church in Louisville, Ky., will be guest speaker that day. "Enlarge Our Hearts" will be the theme. The schedule includes a 9 a.m. opening reception, 10:15 a.m. worship, and 12:15 p.m. fellowship meal (RSVP required).
After the meal, there will time for fellowship and viewing of various displays and memorabilia. Then, beginning at 2 p.m., afternoon worship will feature many former ministers and members and a challenge from Bob Russell. Friends and former members and ministers are invited. Gary Wackler serves as minister. Write to church@ westonchurchofchrist.org or call (419) 669-3895 for more information and to RSVP.
_ _ _
The International Conference On Missions—or ICOM—is less than two months away. It is set for Nov. 14-17 in Kansas City, Mo. The theme will be "Embracing the City." There also will be preconference events that begin Nov. 13. And don't forget about the Student ICOM (or SICOM) for those in grades 6 to 12 that runs Nov. 15-17. Learn more and register for ICOM and SICOM here.
_ _ _
Central Christian Church of Rockford, Ill., hosted its 15th annual car show Saturday. Proceeds benefitted the Walter Lawson Children's Home.
_ _ _
Send news to [email protected].