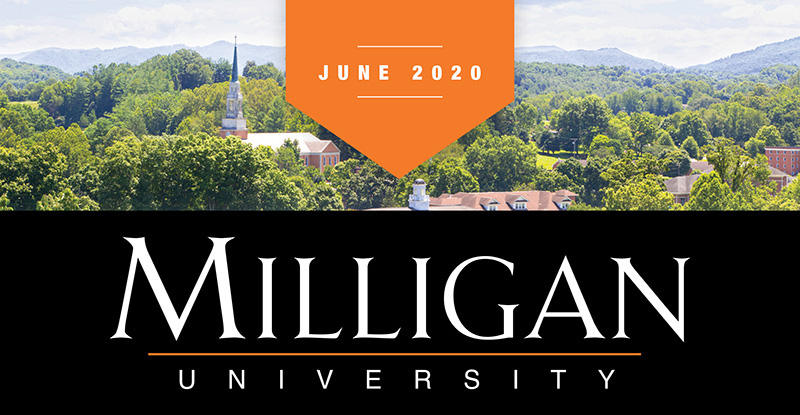 Milligan College kicked off Homecoming weekend Friday by announcing it will change its name to Milligan University effective June 1, 2020.
President Bill Greer and board of trustees chairman Ron Dove made the announcement after the fall board meeting. The decision followed two years of study and after considering input from alumni, faculty, staff, the college's strategic planning committee, and others, according to a news release.
"The name Milligan University reflects who we are today and our journey to this moment," Greer said. "While our name and program offerings may change, who we are at our core hasn't wavered for over 150 years. Our new designation affirms our resolve that 'Christian education is the hope of the world' and will help ensure that the impact of a Milligan education will endure for decades to come."
The last few years have brought much change to Milligan, but Greer said the eastern Tennessee institution remains committed to developing future servant-leaders through the Christian liberal arts.
In 2014, Milligan reorganized into five schools and established innovative programs at the undergraduate and graduate levels. In 2015, Emmanuel Christian Seminary became an embedded seminary within the college. Today, Milligan offers more than 100 undergraduate academic programs and 13 graduate programs, including a doctor of education and a doctor of ministry.
The university name is integral to a number of strategic goals of Milligan, including greater market recognition, continued enrollment growth, expanded international partnerships, and student recruitment, the news release said.
"Milligan's current student body already reflects a university setting with populations of traditional and nontraditional undergraduates, as well as graduate students," Greer said. The school has a record 1,335 students this fall, which represents 35 states and more than 30 countries. "One-third of Milligan's students are currently enrolled in graduate programs."
Milligan's international student population grew by 28 percent this year and now comprises 5 percent of all students. The word university will better position Milligan to continue this growth, because other countries often associate the word college with high-school-level education. This change also will help distinguish Milligan from two-year or vocational colleges.
"Milligan's board, along with Milligan's senior administration, have worked carefully, thoughtfully and prayerfully to discern what is best for Milligan," Dove said. "Milligan University best describes our commitment to creating a diverse and dynamic educational institution."
The Tennessee school was founded in 1866 as the Buffalo Male & Female Institute; it was renamed Milligan College in 1882.
Also Friday, Greer announced that a generous donation from the 3CLANE Family Foundation will help finance a revitalization of Milligan's student center beginning next summer.
The renovation will create a new external façade and entrance. Inside, the bookstore and the student gathering space, SUB7, will transition to open concept. The remodeled areas will flow into the recently updated dining area, Fireside Grill. Additional outdoor space will be added, connected to the building via doors that lift open. There will also be technology updates throughout the building and new furnishings in the gathering spaces.