By Jim Nieman
Milligan College's move to strengthen its ministry program is starting to generate momentum.
The school added several majors to its program last year, redesigned it to expose students to more ministry settings and incorporate more ministry practitioners, and beefed up the scholarship monies available to most students.
"It's been a whirlwind, but it's been really exciting," Ron Kastens, director of Milligan's new Ministry Leadership Program, said last Wednesday. "Friday morning [Oct. 18] a van leaves for Pittsburgh on a 'ministry expedition' . . . to help our students see what it looks like to do church in another community versus where the students have grown up."
Several students spent the weekend at Bellevue Christian Church, where Austin Gohn, one of five ministry coaches in MLP's lineup, serves as associate minister. (The other four coaches are Rick Rusaw, Melissa Sandel, and Mike and Jodi Hickerson.)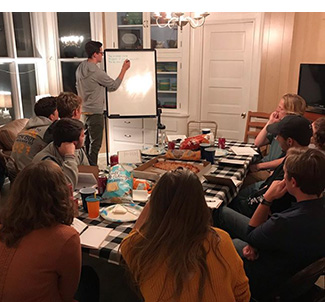 "We want to visit them [the coaches] on their home turf," Kastens said. Next semester, many of the 28 students in the MLP program are slated to visit Mission Church in Ventura, Calif., where the Hickersons serve.
It's an example of "experiences that may never be measured on a transcript" that Kastens has sought to provide for students since being hired to direct the Ministry Leadership Program just over a year ago. MLP officially started in fall 2018.
"The classroom part is really important," Kastens said, but it's also important to "get our students rubbing shoulders with people who are neck-deep in ministry." On the visits to various churches, students meet and learn not just from the ministry coaches, but also from other staff members.
Kastens said Milligan historically has been best known for its liberal arts approach and solid academics. To those established strengths, MLP has focused on adding more practical ministry training and exposing students to a variety of ministry settings: small, medium, and large churches . . . urban, suburban, and rural churches across the United States.
It's all part of the effort to "help students discern their calling" and better prepare them for their first ministry position.
"We do an off-site retreat at the beginning of every semester," Kastens said. "That really is helping our new students in interacting with our older students."
At fall retreats, each incoming freshman is paired with a junior ministry major for "an intentional friendship," Kastens said. And then, in two years, when today's freshmen are juniors, each one will be paired with an incoming student and will serve as their friend, guide, and confidant. By that time, the older student will also have an established relationship "with someone in seminary or out serving in ministry. . . . We'll really see the effect of that in another couple of years."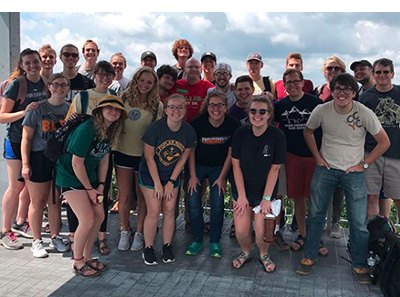 The spring semester retreats are for encouraging spiritual formation . . . "helping students put down roots," Kastens said.
The idea, of course, is to prepare students for success in ministry from the outset. The average age of ministers in America has been rising for several years, many longtime ministers are retiring, fewer young people have been choosing to train as ministers, and among those who do, many leave the ministry within only a few years.
"All of our churches and schools need to do a better job of looking at our high school students and evaluating them and encouraging them to consider ministry," Kastens said.
An important consideration for students and their parents is the cost of college.
At Milligan, "all students are automatically considered for academic and need-based awards," Kastens said. On top of that—and this is new—"for ministry students who do not receive talent- or interest-based scholarships [for athletics, music, theater, etc.], there is a $5,000 Ministry Leadership Scholarship. That's $20,000 over the course of four years that's available for most students who come to Milligan to study ministry."
Upon arriving at Milligan, students are taught by a staff that includes five full-time Bible and ministry faculty members. Additionally, one class each semester is taught by a ministry coach.
This semester, Rick Rusaw is teaching "Leading an Advancing Church." Next semester, Melissa Sandel will teach "Developing Healthy Teams."
These classes taught by practitioners offer "real-time information" and provide students an opportunity to get "up close and personal with leaders who are just red-hot and passionate about ministry," Kastens said.
On top of those opportunities, ministry students are required to find a local church to attend and serve with during their time at Milligan College.
And most ministry students ultimately spend a semester-long internship at Mountain Christian Church in Joppa, Maryland. While students are there, they serve with MCC staff for 25 to 30 hours each week, while taking a full slate of classes so they remain on track for graduation. The Semester in Ministry partnership with Mountain has been ongoing for about 10 years.
"Students come back from internships at Mountain excited about ministry," Kastens said.
Milligan College now offers six ministry majors: biblical & theological studies, children's ministry, church leadership, intercultural studies, student ministry, and worship leadership.
The number of students studying for ministry at Milligan College grew slightly from last year to this year, and Kastens and his coworkers are doing all they can to continue building momentum.
He also noted that students pursuing an undergraduate ministry degree at Milligan who plan to immediately enter seminary can smoothly transition to Emmanuel Christian Seminary at Milligan and often earn an MDiv in less time than would otherwise be possible.
Jim Nieman serves as managing editor of Christian Standard.