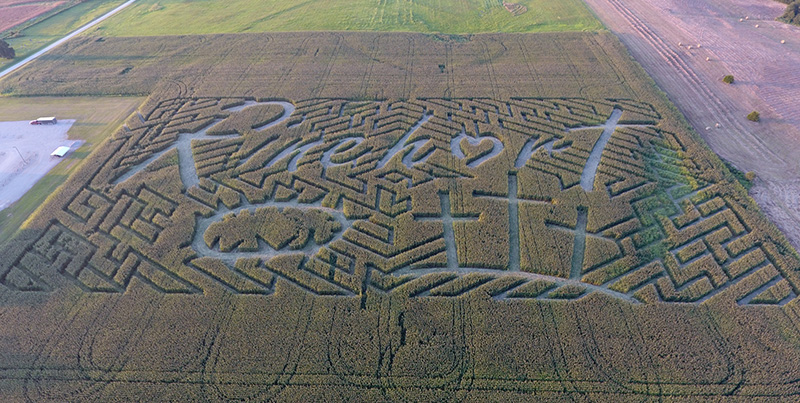 By Chris Moon
Rinehart Christian Church in Missouri is surrounded by cornfields . . . and that's a good reason to celebrate during October.
"This is a very rural area," senior minister Kevin Moyers told Christian Standard. But the church of about 200 people has a heart for families. It wants to see them come to know Christ and to spend quality time together. And so RCC created a corn maze on a 10-acre patch of land adjacent to the church property and is hosting a fall festival for people in the surrounding communities from 10 a.m. to 4 p.m. every Saturday this month.
"We think the people around here will go crazy over it," Moyers said. "It's all free." (Unfortunately, the first installment was rained out this past Saturday.)
In addition to the "Rinehart Corn Maze"—with the church's logo etched into the cornfield—Rinehart Christian is offering hayrides, free hot dog lunches, a photo booth, inflatables, a corn "sandbox," pumpkin painting, lawn games, and concessions.
Rinehart Christian Church's mailing address is Richards, Mo., but the church is almost 10 miles northeast of that village of 100. The church is located about midway between Kansas City and Joplin, Mo.
The corn maze and Saturday festivals fit with the church's mission.
"We are all about trying to reach people for Christ," Moyers said. "It's part of his Great Commission."
Elijah Pierson, student minister at the church, came up with the idea and brought it to Moyers. Pierson suggested the church use its rural setting for God's glory, Moyers recalled.
Given the green light, Pierson ran with it. And he soon learned how much he didn't know.
The church has several farmers in its congregation. Pierson approached them about the possibility of cutting a maze into their fields. It turns out it's not that easy.
"I'm ignorant when it comes to agriculture," Pierson said. "It's a little more complicated than that."
So, the church found a Kansas City company that specializes in corn mazes and asked that the church's logo, a crown of thorns, and three crosses be cut into the nearby field.
As those plans were taking shape, Pierson rounded up volunteers. He needed 60 for each Saturday. Church members are working in three-hour shifts. It's a tall order for a church of 200.
"There will be a lot of the church involved, which is really cool," Pierson said.
He put up Facebook videos with images of the corn maze. They have drawn more than 5,000 views.
"Every time I go on Facebook, people are sharing it, and I don't even know who they are," Pierson said.
The fall festival will include a prayer tent. And the church has installed multiple Scriptures on signposts within the maze itself.
The last Scripture, just before the exit of the maze, quotes Matthew 11:28: "Come to me, all who labor and are heavy laden, and I will give you rest." It's likely to be a timely spiritual truth if the maze proves difficult to navigate, organizers said.
"We are hoping as people come that we can point them toward Christ, that we can show the love of Jesus to them as we joyfully serve them," Moyers said. "We want them to know there is a church here that cares about them. And we want to have fun as well."
Chris Moon is a pastor and writer living in Redstone, Colorado.