By Jim Nieman
The first venture into multisite ministry by Third City Christian Church, Grand Island, Neb., started with a request for help more than a year ago.
First Christian Church in Broken Bow, Neb., about 80 miles away, had lost its minister, and the folks who remained thought the church "wasn't going to make it," said Third City senior minister Scott Jones, "[so] they reached out to us."
The folks at First Christian knew Third City was a healthy, growing church. TCCC averages about 1,500 on weekends and has a strong after-school program that sees about 350 students weekly.
After assessing the situation in Broken Bow, Third City's leadership decided it was best to relaunch the church under the Third City brand.
"It's been closed for a year," Jones said. "There's been a remnant" of 30 to 40 former members of First Christian who have continued to "meet together in different ways. We're transitioning [their] building . . . putting all of our core ministries in place . . . and training [people] for specialized roles."
The launch of Third City in Broken Bow is set for Oct. 13. Doren Michael, a member of the Grand Island church, will serve as campus pastor, host, and "the man on site in the community" of about 3,500, Jones said. Michael will do some pastoral teaching but won't be preaching.
"If there is one thing that would have kept us from doing this, it's the distance" between the two cities, Jones said. Grand Island, a city of about 50,000, is a "small metro area that draws from a large area." Broken Bow is to the northwest, three counties away, near the geographic center of Nebraska.
Ultimately, Third City leadership decided they could overcome the distance with the help of technology. The Crossing, which has multisite churches in three states in the Midwest, has been a helpful resource leading up to the Broken Bow launch, Jones said.
"For now, it will be a simulcast launch—live and video . . . a kind of hybrid," Jones said. There will be live worship about every other week. Some Third City–Grand Island staffers and members will serve in primary roles at Broken Bow, along with about 25 people who had worshipped at First Christian, Jones said.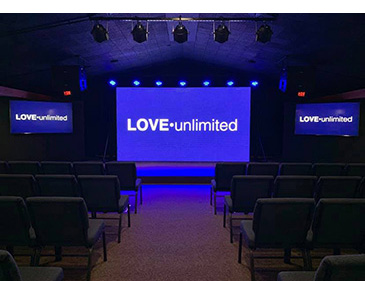 "Our congregation has been very supportive," said Jones, who has been with Third City for 25 years. Members have helped with renovation and updates at the Broken Bow site, mostly involving the building's interior and technology.
"The outside of the building will still look like it's from the 1980s," Jones said. "Inside, we're trying to give it as much of a Third City feel as we can." When it's done, it will accommodate about 120 and "be one of the nicest gathering facilities in that area."
"Our goal for this is emancipation," Jones said, "that one day [Broken Bow] will become its own entity."
A video at Third City's website announces the church's plans for Broken Bow. In it, Jones says Third City in Grand Island is a church with a 51-year history that offers "life-changing experiences for people of all ages." That vision is being planted in Third City Christian Church—Broken Bow.
"Third City is a casual environment where you will feel comfortable showing up just as you are," Jones says in the video. "This applies to what you wear as well as where you are in your spiritual journey. . . . We would love to help you use your God-given gifts to contribute toward reaching our world with God's love."
Jim Nieman serves as managing editor of Christian Standard.