Compiled by Jim Nieman and Chris Moon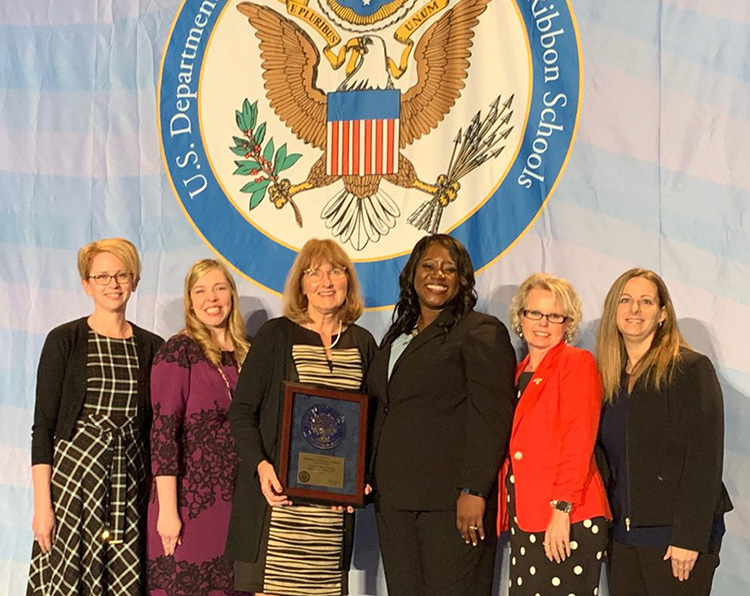 Northshore Christian Academy in Everett, Wash.—a ministry of Northshore Christian Church—was presented with a National Blue Ribbon School Award during ceremonies last week.
NCA was one of 362 schools—only 50 of them private—to be honored as a Blue Ribbon School.
Northshore superintendent Holly Leach, principal Diane Winningham, and other staff members accepted the award at a ceremony in Maryland, just outside Washington, D.C.
Leach told Heraldnet.com that Northshore stood out due to its faith, fine arts, STEM (Science, Technology, Engineering, and Math), and school culture. NCA's Cultural Connection groups include parents who are African-American; Spanish-speaking; of Korean, Slavic and Filipino descent; and those with ties to other parts of the world.
"We know Northshore is stellar," said Winningham. "It's a school led by God."
The school started in 1995. The Northshore campus consists of four buildings serving both the church and more than 1,000 Northshore Christian Academy and Early Learning Center students (toddlers, preschoolers, and prekindergartners through eighth-graders).
Secretary of Education Betsy DeVos highlighted the fact that only one-half of 1 percent of schools in America receive this award each year.
_ _ _
News Briefs
Nearly six months after multiple tornadoes ripped through the Dayton, Ohio, area—damaging homes and schools, and injuring several—SouthBrook Christian Church's Disaster Response Team is still on the job.
Dayton 24/7 Now recently tagged along with team leader Richard Wilson as he helped residents get their still-damaged homes ready for winter.
"What we're doing now is, it's called button-down," Wilson said. "We're trying to re-tarp the roofs that need to be re-tarped."
SouthBrook Christian is located in Miamisburg, just south of Dayton. Its Disaster Response Team has traveled the country—to Louisiana, Texas, Florida, North Carolina, and West Virginia—in response to natural disasters. The Dayton-area tornadoes occurred in May.
_ _ _
Dr. Terry Allcorn will be inaugurated as the sixth president of Kentucky Christian University during ceremonies at 10 a.m. this coming Tuesday, Dec. 3, in the Nash Chapel.
_ _ _
For the 15th consecutive year, singer-songwriter Amy Grant and her friends will help Lipscomb University in Nashville, Tenn., kick off the Christmas season with an annual Lighting of the Green concert. Joining Grant onstage this coming Tuesday will be musician Marc Martel, contemporary Christian group Anthem Lights, choirs from Lipscomb Academy and Lipscomb University, and other surprise musical guests.
"Lighting of the Green has become a beloved tradition in Nashville, and we couldn't have made that happen without the support and generosity of Amy Grant, who gives of her time and talent to perform and to schedule an exciting slate of artists each year," said Walt Leaver, Lipscomb's vice president for university relations.
Festivities begin at 4 p.m., the concert is at 6 p.m., and the event will conclude with a Christmas tree lighting.
_ _ _
The ministry of Bear Creek Christian Church is providing affordable housing at its campus—the site of the former Crossroads College and Minnesota Bible College in Rochester, Minn. BCCC was cited as a "reason for thanks" in a feature story in the Post-Bulletin earlier this week.
_ _ _
University Christian Church in Muncie, Ind., held its annual Operation Christmas Child shoebox drive last week without one of its longtime volunteer leaders.
The church's shoebox collection drive has been led by church members Bill and Sue Bousman for the past 24 years. They collected 35 boxes filled with gifts for children around the world that first year, and the number has grown each year to more than 1,000 boxes, according to NewsLink Indiana.
But Bill Bousman, 83, passed away in September.
At the funeral, his family asked people to bring children's gifts instead of flowers. The gifts will be packed into shoeboxes for Operation Christmas Child, a ministry of Samaritan's Purse.
"I will be involved in this organization until the day I die," Sue Bousman told NewsLink.
_ _ _
Bettie J. Parker led chapel at Mid-Atlantic Christian University, Elizabeth City, NC, last week. Parker is mayor of Elizabeth City.
_ _ _
A packed house of 270 international students and guests from Northwest Christian University and Lane Community College, both in Eugene, Ore., gathered for a traditional American Thanksgiving meal in NCU's Morse Event Center on Nov. 17.
_ _ _
Cross country runners from Ozark Christian College, Joplin, Mo., did well at the NCCAA Division II National Championships at Point Lookout, Mo., on Nov. 16. The men's squad finished second, while the women's team finished fifth.
_ _ _
Send news to [email protected].