By Chris Moon
Another year, another "Journey to Bethlehem."
For some Restoration Movement churches, the "Journey" is a tradition that has spanned decades. Christian Standard found two churches that have been at it for at least 25 years—New Hope Christian Church in Washington, Ind., and Capital City Christian Church in Jefferson City, Mo.
"Things kind of gain a life of their own," said Joe Coquillard, lead pastor of New Hope, which held its 25th annual "Journey to Bethlehem" last weekend.
He said 1,791 people participated in the interactive Nativity that guides participants through a series of scenes that tell the story of Jesus' birth.
New Hope's "Journey" starts in the church building before participants exit into a wooded area behind the church. The path takes people by a giant Roman wall with gates and a bridge, various booths—including one where a blacksmith is doing actual work—and a lot of sheep and goats.
"It's just been improved over the years," Coquillard said.
He says the "Journey to Bethlehem" has been a mainstay at the church because it connects the community to the congregation and builds camaraderie within the church body.
KEEPING THINGS 'FRESH AND ALIVE'
Of course, things haven't always gone smoothly.
Coquillard said when he came to pastor the church about 10 years ago, the "Journey to Bethlehem" push each December wasn't cohesive within the congregation. The staff wasn't fully behind it, and some of the main volunteer organizers for the "Journey" didn't want to make needed changes. Plus, it was becoming difficult to find new volunteers.
"You could just tell there was a rift there," Coquillard said.
Even he was about ready to pull the plug. But his elders advised him to continue working on it. And the church did.
Several small changes have made a big difference.
The church started hosting "Journey to Bethlehem" during just one weekend, rather than two, which made things easier on the volunteers.
The church also dispensed with issuing tickets for the "Journey." Coquillard said issuing tickets actually reduced the number of local residents who would participate because many of the tickets were snapped up by people from other communities. The first-come, first-served policy helps the church draw in more locals with whom it can try to maintain lasting relationships—which is a chief goal of "Journey."
The church held its "Journey to Bethlehem" on Friday and Saturday nights and then held a big meal to celebrate after the church service on Sunday. New Hope averages 250 to 300 in attendance on Sunday.
"We're just figuring out how to do it better . . . [and] keep it fresh and alive," Coquillard said.
A BAPTISM, A FIRE, AND 'KINGS' AT A DRIVE-THROUGH
Coquillard said the program is a great way to involve new people and build community within the church. And you never know what new people can bring to the table.
"We baptized a guy who has a lot of animals," Coquillard said. That man provides the sheep and goats for "Journey to Bethlehem."
And the memories are priceless.
Coquillard has a picture from a few years ago when the "kings" took time out to go through the McDonald's drive-through together.
"[And] we had somebody catch on fire a few years ago," Coquillard said. But it wasn't too serious, thankfully.
_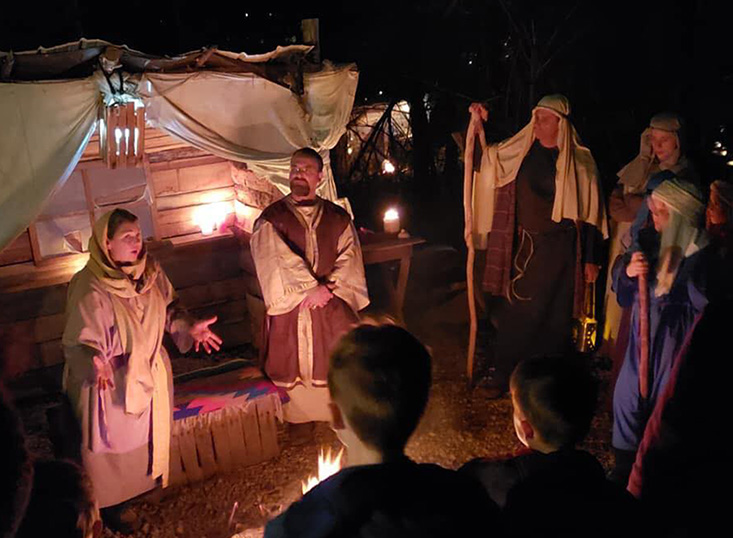 A PLACE TO HEAR THE STORY
Meanwhile, 300 miles to the west, Capital City Christian Church in Missouri is recovering from its 27th production of "Journey to Bethlehem."
"For our church community, really, it has been a constant because it has been one of those big events in the year that has the people within our church community spend time with each other," teaching pastor Frank Goehringer told Christian Standard. "There are people who are meeting each other for the first time (while volunteering for "Journey"), and they've gone to our church for years."
Two hundred volunteers help organize and run the program, which takes place in a wooded portion of Capital City's property. The church averages about 800 people on Sunday.
Goehringer said there aren't many places a person can go today to hear the Christmas story.
"As our culture continues to move into this post-Christian era, we think things like this are really valuable to maintain environments to hear the biblical story of the birth of Jesus," he said.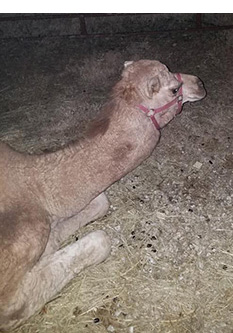 A CAMEL NAMED LEROY
This year's rendition of Capital City's "Journey to Bethlehem" saw a new addition to the church family. Within the past few months, Goehringer said, the church became part-owner of a camel that is used in one of its "Journey" scenes. In the past, the church had rented a camel to fill that role, which was a major expense.
But now it has Leroy, which it co-owns with the nearby Where Pigs Fly farm.
The presence of a camel is always a big hit with the kids.
"They are shocked that there is a camel there," Goehringer said.
This year, the church has worked extra hard to make its "Journey" trail more accessible to the elderly and those with disabilities. On one night of the program, the church used ATVs to shuttle people along its trail rather than having them walk.
"That was a really, really cool thing to be able to work out for this year," he said.
All totaled, Goehringer said, 2,500 people participated this past weekend.
Chris Moon is a pastor and writer living in Redstone, Colorado.