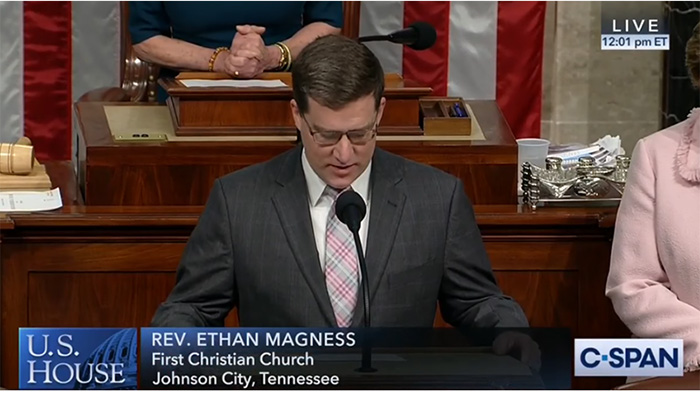 Ethan Magness, senior minister with First Christian Church in Johnson City, Tenn., gave the opening prayer on March 4 in the U.S. House of Representatives, WJHL.com reported. Magness's prayer is available at YouTube.
U.S. Rep. Phil Roe (R-Tenn.), who hosted Magness at the Capitol, called Magness "a great religious leader in our community."
"It was great to have him here in Washington to share the word of God this morning," Roe said in a statement.
_ _ _
Point University has named a music lab in its fine arts building for a local man who has donated 16 pianos to the college in recent years.
Bill Owens is a longtime resident of Lanett, Ala., which is adjacent to Point University's home in West Point, Ga. In recent years, he's donated 16 pianos to Point University as well as purchased an acoustical piano and refurbished a grand piano for the school.
The Bill Owens Piano Lab is located in the Scott Fine Arts Center.
_ _ _
Southeast Christian Church's newest campus will begin meeting on Easter Sunday, April 12, at Eastside Middle School in Mount Washington, Ky., WDRB.com reported. Plans for a Bullitt County Campus had been reported previously, but the timing and worship location weren't announced until recently.
_ _ _
Dr. Sharon Watkins, the new pastor of Bethany (W.Va.) Memorial Church and the former president of the Christian Church (Disciples of Christ), gave an address on "Alexander Campbell's Problem" at a service honoring the 180-year history of Bethany College, which Campbell founded.
"Unity with justice is a worthy vision and goal, but we're not there yet," Watkins said in the Founder's Day address, the Intelligencer newspaper reported. "And Alexander Campbell's problem is still our problem."
The Disciples, along with the noninstrumental churches of Christ and the Christian churches and churches of Christ—the main constituency of Christian Standard—trace their roots back to the Restoration Movement forged by Campbell and others in the early 1800s.
_ _ _
Salina Heights Christian Church in Salina, Kan., will host a bed-building event Saturday to help serve children in foster care. The church is partnering with an organization called Care Portal, which works with foster care agencies to satisfy various needs, the Salina Journal reported. The local Chick-fil-A restaurant hosted an event Monday that gathered bedding and other needed items for the church's ministry.
_ _ _
The number of practicing Christians in America has gone down dramatically over the past two decades, Barna reports.
"In 2000, 45 percent of all those sampled qualified as practicing Christians," defined as people who "identify as Christian, agree strongly that faith is very important in their lives and have attended church within the past month." However, said Barna, "that [45 percent] share has consistently declined over the last 19 years. Now, just one in four Americans (25 percent) is a practicing Christian."
_ _ _
Paradise Valley Christian Church, Casper, Wy., will host the Bloom Women?s Conference this Friday and Saturday featuring leaders of Embrace Grace, an international program based in Texas. Embrace Grace assists churches with establishing support groups and systems to embrace young women experiencing unplanned pregnancies and single parenthood.
_ _ _
Sgt. First Class Sam Wilco, an Army recruiting instructor stationed at Fort Knox, Ky., who worships at the Elizabethtown Campus of Southeast Christian Church, selected Nick Jonas as his coach after both Jonas and Kelly Clarkson buzzed in during blind auditions for TV's The Voice.
Wilco said he loves Clarkson, but automatically selected Jonas in deference to his twin 12-year-old daughters who are both big fans of the Jonas Brothers, www.wave3.com reported.
_ _ _
Send news to [email protected]