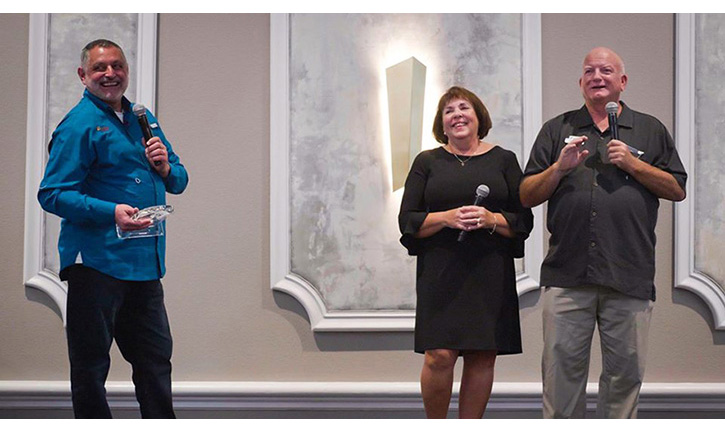 Compiled by Jim Nieman and Chris Moon
Tom and Debbie Jones recently received a new award from Stadia Church Planting that is named in their honor.
The Dr. Thomas and Debbie Jones Church Planting Impact Award was presented to the Joneses at Stadia's annual Celebration and Dessert Party at Exponential in Orlando, Fla., on March 3. In the future, the award will be presented to leaders like the Joneses who champion the cause of church planting.
Together, the Joneses planted two churches, before Tom joined Stadia in 2003. He soon became executive director of the nationwide church planting organization. His leadership has been instrumental in Stadia's growth to where it recently helped its 1,000th planter start a new church. He also spearheaded Stadia's global church planting efforts by creating a partnership with Compassion International in 2011. As a direct result, hundreds of churches have been planted in Latin America and more than 50,000 children have been sponsored.
In 2007, Debbie Jones created Bloom, a ministry that empowers and paves the way for women in leadership at church plants all across the country. Bloom has now served 1,000 women.
_ _ _
News Briefs
Amor Ministries recently celebrated its 40th anniversary with a ceremony at Hope International University in Fullerton, Calif., where the ministry started.
Amor founder and HIU alumnus Gayla Congdon and her husband, Scott, developed a passion to serve poor neighborhoods in Mexico while attending Pacific Christian College, as HIU was formerly called.
During its existence, Amor Ministries' purpose and focus has been to provide adequate housing to help keep families together. Staff and volunteers with Amor build homes and share the grace and love of Jesus by providing security, safety, and stability to families who would otherwise be without. As HIU writes, "In rural Mexican pueblos, having a house provides safety, opens doors for children to go to school, and provides hope for families in unthinkable poverty."
Since its start in 1980, Amor has built 19,890 houses, planted and built 374 churches, and had 390,668 participants join their organization on short-term mission trips.
Amor honored HIU—a strong supporter of the ministry since the beginning—with the Angel Dominguez Award for "faithful support of Amor Ministries the families we serve in Mexico."
At the start of 2020, the Joneses both transitioned to new roles within Stadia.
_ _ _
The Army Women's Foundation inducted Chaplain (Lt. Col.) Karen Diefendorf, now retired, into the U.S. Army Women's Hall of Fame on March 11 at a ceremony in Arlington, Va.
Diefendorf, a 1975 graduate of Lincoln Christian College and a 1983 graduate of Lincoln Christian Seminary, served as a U.S. Army chaplain for 24 years.
She was endorsed as a chaplain in 1985 and entered active duty in 1986 after completing the Chaplain Officer Basic Course. After her first assignment in Fort Benning, Ga., she was assigned to the 507th Parachute Infantry Regiment, where she became the first female chaplain to become a paratrooper and first to be assigned to an operational airborne unit, the foundation wrote. Diefendorf rose through the ranks and retired in 2006 serving in the Force Structure Office for the Chief of Chaplains at the Pentagon.
She was recalled to active duty in 2009 at the U.S. Army Chaplain Center and School to serve as director of training development, overseeing the development of all training from private to colonel, before retiring from active duty in 2014.
Diefendorf has been a regular contributor to Christian Standard through the years. She now leads a team of 100 chaplains who support 122,000 employees at Tyson Foods, as detailed in a recent story in Christianity Today.
_ _ _
The Taylor family's music video, "COVID-19," a parody of "Come On Eileen," is going viral.
As of Tuesday, the YouTube video has 24,750 views and has been shared more than 1,600 times on Facebook. The song was written by Cincinnati Christian University graduate Chris Taylor and performed by A Side of Taylors in the family's living room. The family musical group has played at such events as the Ohio State Fair in Columbus, Ohio, and Redsfest in Cincinnati, and even had the opportunity in 2012 to audition for the producers of America's Got Talent. Band members include Chris Taylor and J.J. Mason Taylor and their children, Laurel, Mason, Lydia, and Maxwell. They are members of Lifespring Christian Church in Cincinnati. J.J., also a graduate of CCU, said her mom, Karen, and dad, Lee, were originally supposed to be involved the video, but that plan was scrapped with "social distancing and all."
_ _ _
Longtime Christian minister Dean Rutherford, 87, of Fresno, Calif., died Monday. He served many years as minister of Countryside Christian Church in Wichita, Kan. He was married to Patti for 67 years, and together they had five children—David, Dean, Dudley, Dreama Ayers, and Deborah Trotter—all of whom graduated from or attended Ozark Christian College. A funeral service is scheduled for 11 a.m. March 25 at CrossCity Christian Church in Fresno. Yost & Webb Funeral Home, Fresno, is handling the arrangements.
_ _ _
New Beginnings Christian Church in Tampa, Fla., didn't need to do anything radically different to serve people concerned about COVID-19. Instead, church leaders suggested regulars and visitors attend the drive-in worship service on the church property—a 48-year tradition.
More cars than usual pulled up in front of the church this past Sunday, according to wtsp.com.
""There are a lot of people here that . . . are normally insiders," church member Trisha Shirey told the news station.
_ _ _
Nebraska Christian College's 75th Anniversary Gala, which had been scheduled for May 1 in Omaha, has been postponed indefinitely—out of an abundance of caution—related to the COVID-19 outbreak.
For that matter, most all gatherings at Christian college campuses have been canceled for the foreseeable future. See our article, "Christian Universities to the COVID-19 Pandemic."
_ _ _
John Hasty, 94, who served as the fourth president of Great Lakes Christian College, Lansing, Mich., died March 11, the college reported. Hasty was president from 1967 to 1974. A service is slated for 3 p.m. May 17 at Dade City (Fla.) Christian Church.
_ _ _
IDES (International Disaster Emergency Service) is assisting in East Nashville and Cookeville, Tenn.—two areas severely impacted by tornadoes that swept through the state March 3. Learn more at ides.org.
_ _ _
Send news items to [email protected].