By Chris Moon
William Jessup University's new aviation program is just getting off the ground.
The college in Rocklin, Calif., announced plans in January 2019 to offer a Bachelor of Science degree in aviation, starting last spring. Since then, much time and effort has gone into securing the necessary Federal Aviation Administration approvals for its flight school and curriculum.
That work is nearly done, said Loo Ng, a retired U.S. Air Force lieutenant colonel who directs Jessup's aviation program.
Two students are working their way through the program, and Ng expects as many as 10 students to be enrolled within the next year. The university just began to market the program on a large scale.
"There is more and more interest now as we're going to social media and starting advertising," he said.
Jessup has contracted with a local flight school to provide the hands-on flight training, and the university is providing the remaining curriculum for the full bachelor's degree.
Both the flight school and university sought the FAA's Part 141 certification, which allows for an accelerated aviation program that is closely regulated by federal aviation officials, Ng said. Because the program is accelerated, it should be appealing to prospective students, he said.
"It's a little niche for us," he said.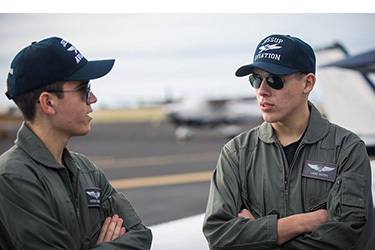 The flight school recently received its certification, and the university expects its certification soon. That process took a little longer than the university expected, Ng said.
"You give them what you need, and then you wait," he said. "We knew it would take a long time."
But the university has remained committed to the effort, knowing WJU would be the only school in a 120-mile radius with an aviation program. And Christian universities with such programs are even more rare.
Ng said the program is in demand because major airlines require a bachelor's degree along with a pilot's license—and students will be able to secure both of those through Jessup's program.
WJU has several instructors who are Air Force pilots that Ng has known from his military career. He said that should give Jessup's program a competitive edge.
"These guys have thousands of hours of command experience," Loo Ng said. "You've got guys with stories."
And when it receives final certification, the program will really take flight, Ng predicts.
"We're at the tail end of this."
Chris Moon is a pastor and writer living in Redstone, Colorado.