By Chris Moon
Tom Ellsworth jokes that his "crystal ball" must have been broken when he announced last year his plan to retire at the end this month.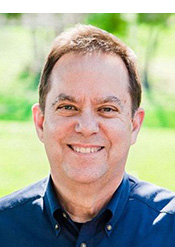 Ellsworth has put in nearly 40 years of service as pastor of Sherwood Oaks Christian Church in Bloomington, Ind. He's seen the church grow from an attendance of about 80 people to more than 3,000 on two campuses.
But 40 years is a good biblical number, and Ellsworth had his 65th birthday earlier this year. The church began working on a retirement plan a couple of years ago, and Shawn Green was tapped as the next lead minister of the church.
Everything was planned out last August . . . when no one was anticipating the present COVID-19 pandemic.
"It's just such a strange time in our country's history," Ellsworth said.
Like churches across the country, Sherwood Oaks has been forced to abandon its campus gatherings in favor of online services.
Ellsworth originally had planned his last Sunday for April 26. The church has decided to push that back until the church can meet in person again. The leadership didn't want Ellsworth's last sermon to be preached only on the Internet.
But despite the awkwardness of the uncertain timing and the national uncertainty surrounding COVID-19, Ellsworth says he's still ready to retire. He was advised once that it is better to retire one year too soon than one day too late.
"It just seemed like the right time to start a new venture in life," he said.
A LONG MINISTRY
Ellsworth started at Sherwood Oaks Christian Church in January 1981.
He locked himself out of his office on his first day on the job. He was left standing outside his office, his keys on his desk inside, and the phone was ringing—out of reach.
So he ventured across the street to borrow a neighbor's phone. He called one of the church's 80 members to bail him out.
"I learned a lesson that day," Ellsworth said.
Ellsworth said he never envisioned remaining in one church for nearly 40 years.
He grew up in Huntingburg, Ind., and attended St. Louis Christian College and then Cincinnati Bible Seminary. He'd had one short ministry in southern Indiana before coming to Sherwood Oaks Christian Church.
The church had struggled and wasn't meeting budget, "which I didn't find out until I signed on the bottom line," Ellsworth notes.
His original hope was to stabilize the church and help it grow to about 150 members. His vision of ministry at the time was to stay in a church for five or six years, serve the people well, and then perhaps move on.
If someone had told him he'd stay at Sherwood Oaks for 40 years and watch it grow well past his original goal of 150, "I would have thought, Oh my, I don't think I can do that. It was not on my radar."
GROWING A CHURCH
Ellsworth said he can't identify any single, specific reason for Sherwood Oaks' growth.
Having a good group of elders was important. So was preaching the Word of God and keeping the church Christ-focused. And the church did a good job of being an integral part of the larger community and finding ministry niches, such as among the international students at the University of Indiana.
Ellsworth said the congregation at Sherwood Oaks always has been willing to try new things.
"It makes all the difference in the world," he said.
His aim was to be positive from the pulpit and to foster an atmosphere of peace.
"I think it draws people," he said.
He said Sherwood Oaks has rarely had internal church "fights." And it has pulled together well over the years.
In 1991, the church building burnt down, and the church had to use a local high school for two years while its new facility was under construction. The church stuck together.
And about six years ago, the church paid off all its debt—a significant blessing in this time of economic uncertainty, Ellsworth said.
"All of this is God doing it," he said. "God knew what he was going to do here. I sure didn't have a clue," he said.
In retirement, Ellsworth said he hopes to help smaller, struggling churches and discouraged ministers. And he plans to remain in Bloomington with his wife, Elsie, their two grown daughters and six grandchildren.
Chris Moon is a pastor and writer living in Redstone, Colorado.