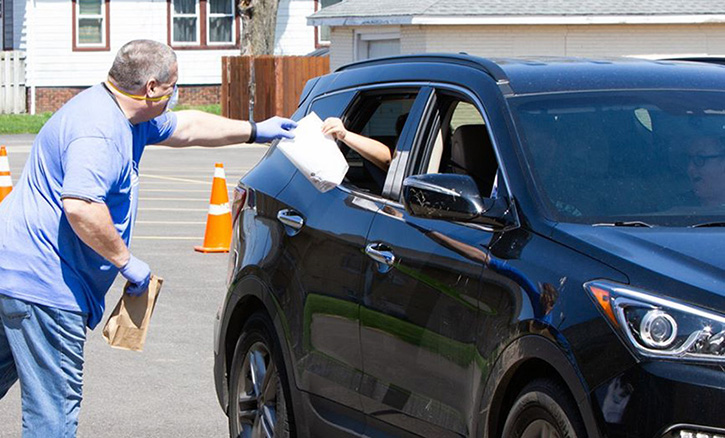 Compiled by Jim Nieman and Chris Moon
South Side Christian Church in Springfield, Ill., didn't stage its annual Easter Eggcitement event featuring bounce houses, games, and eggs filled with candy this year, according to the State Journal-Register. Instead, on Sunday—because of the COVID-19 outbreak—children's pastor Rodney Hull wore a protective mask and handed out treat bags to children in cars via a drive-through process.
"I haven't seen the kids for a few weeks, except on Zoom," Hull told the paper. "So it's a chance to wave to them and enjoy a little piece of Easter we've put together for them in a safe way."
The 280 bags were filled with candy, small toys, and craft ideas to help families get ready for a socially distanced Easter.
Like many churches, South Side Christian will offer its Easter services online because of the COVID-19 pandemic. The church also will have a "digital choir" on Easter.
"It's upended every routine and every rhythm of everybody," lead pastor Brooks Wilson acknowledged. "Some of that is good because people were over-committed. Some of it is hard with not seeing people or loved ones."
_ _ _
News Briefs
Centerpointe Christian Church in Lexington, Ky., devised a "Virtual Community Easter Egg Hunt" open to three groups: children, walkers/drivers, and a third that requires the use of Lexington traffic cameras. There are 27 eggs "hidden" along Leestown Road and throughout downtown.
Family pastor Lane Hassloch told wtvq.com that the game is a practical way for families to have fun. "We're not asking anything from them [other than] just to have a great time."
_ _ _
Southeast Christian Church is among seven churches that will have an Easter service at Sauerbeck Family Drive-In in La Grange, Ky. Online reservations are required. Southeast's —which is already sold —will be at 7:30 a.m. Sunday.
_ _ _
Community Christian Church and First Methodist Church, both in Fort Scott, Kan., are partnering to feed families in need, Fort Scott Biz reported. A drive-through system has been incorporated. CCC is handing out meals on Monday nights and FMC is doing so on Wednesdays.
_ _ _
Southland Christian Church's campus in Danville, Ky., is serving as a daily food distribution site in a partnership with Boyle County Schools. The church has also ramped up its backpack ministry in an effort to provide food for families on weekends, according to a column by sportswriter Larry Vaught.
_ _ _
At the encouragement of Tim Wallingford of the Christian Church Leadership Network, veteran minister Bob Russell taped a 7-minute video message of encouragement for young preachers. You can view it on Facebook.
_ _ _
BridgePointe Christian Church in East Providence, R.I., has produced messages —including videos for nursery, preschool, and elementary—for its "BP Kids at Home" page on its website. This is "Superhero Week." The church says it is "getting through this [the coronavirus outbreak] one week at a time."
_ _ _
NewThing Network has dedicated a page of its website to helping churches and church leaders cope during this age of coronavirus. Go to www.newthing.org/covid19.
_ _ _
Whitewater Crossing Christian Church decided that merely streaming their Sunday service wasn't quite good enough. The church, located just west of Cincinnati, worked with two local TV stations to secure a slot to broadcast worship at 10 a.m. Sundays on WSTR Star64.
_ _ _
SouthBrook Christian Church, Miamisburg, Ohio, teamed with nonprofit Grace2Griddle and Orthopedic Associates of Southwest Ohio to prepare and deliver more than 250 meals to two nearby medical centers on March 30. Church leaders then encouraged dozens of people to line up in their cars to pray for healthcare workers, according to whio.com.
_ _ _
Season 2 of Stadia's Church Planting Podcast with Greg Nettle started Monday. "We're so excited to share stories on how God has shown up in the lives of church planters and leaders," says a post at the podcast's dedicated Facebook page.
_ _ _
Exponential—in partnership with the Billy Graham Center's Send Institute, Leadership Network, Catalyst, Discpleship.org, and ARC—conducted a survey of church leaders and pastors to collect their responses to the COVID-19 epidemic and quarantine. The purpose was to gain a better understanding of the state of the church and the significant challenges they are facing as they adapt to their new reality of remote ministry. Exponential writes, "Over half of the leaders surveyed (54%) registered their uncertainty about the future and a willingness to only take things one week at a time." Go to Exponential.org to download the free report.
_ _ _
Passion 4 Planting, Chantilly, Va., offers a free resource each Friday via its Facebook page. This past week it was a church plant budget worksheet. There are also free resources and downloads at P4P's website.
_ _ _
Brent Storms, president and CEO of Orchard Group (long associated with New York City), started a recent blog post: "Over the past couple of decades with Orchard Group, I have experienced a handful of crises: the terrorist attacks on 9/11, the 2008 recession in the global economy, and the brutal impact of Hurricane Sandy on New York City." Storms then shared four things he tells himself and new church leaders about staying spiritually healthy in times of crisis.
_ _ _
Send news items to [email protected].