Compiled by Jim Nieman
Breandon McTighe of Reclaim Christian Church will be among the participants at a National Day of Prayer event at 5:30 p.m. Thursday in the parking lot at Ansonio (Ct.) High School. Reclaim is loaning its FM transmitter for the drive-in event. McTighe preached RCC's Easter service in the same high school lot, which provided inspiration for this gathering, which will include speakers from several area churches.
_ _ _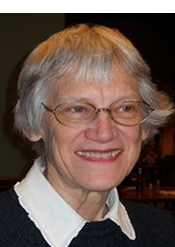 Our friend Ruth E. Davis, 79, who served faithfully as news editor of Christian Standard from 1997 until her retirement in 2006, succumbed to the effects of Parkinson's disease on May 1. She was born into a preacher's family and graduated from Cincinnati Bible Seminary. She was a longtime stay-at-home mother, but later became an editor with Standard Publishing, which then owned Christian Standard. She is survived by her husband of 58 years, Ronald Davis, a frequent contributor of Communion meditations to the magazine. Additional survivors include two daughters, three grandchildren, three sisters, and one brother. Complete obituary information is available from Neidhard-Young Funeral Home, Cincinnati.
_ _ _
Several folks from Beechwold Christian Church dressed in costumes and paraded around Worthington Christian Village on Saturday to help cheer up the residents who aren't seeing many visitors these days because of COVID-19. The Columbus Dispatch took several pictures of the marchers, who dressed in costumes ranging from construction workers to dinosaurs. Most carried signs, such as "God Loves You and So Do We."
_ _ _
A LifeWay Research study found that 99 percent of churches gathered for in-person worship at the beginning of March, but only 7 percent physically gathered for a final monthly service on March 29. Also, 9 in 10 Protestant pastors said their churches did not meet for in-person worship during April.
On a somewhat related note, 2 in 5 Protestant pastors (40 percent) said their church applied for assistance through the Small Business Administration CARES Act, with about 59 percent of the applicants being approved for assistance.
See LifeWay's story from May 1 for many other interesting findings from the ministry's recent study.
_ _ _
Timber Lake Christian Church in Moberly, Mo., has taken several steps to live out their mission during the COVID-19 pandemic. On Easter Sunday and each week since, TLCC has hosted two or three "Drive-In Church" services for the community. The services are also being broadcast via radio and livestreaming. TLCC has distributed more than 650 care packages to shut-ins, care centers, and healthcare employees. Additionally, the church makes biweekly deliveries of activity packets, snacks, and fun stuff to support their young families during the state's "safer at home order."
_ _ _
The Newtown Bee wrote a lengthy feature story about Jack Tanner, who has served Newtown (Ct.) Christian Church for the last 40 years. Tanner plans to retire as minister in June.
Tanner was working at Lincoln (Ill.) Christian College when he spent his summer hiatus preaching at Newtown, where his cousin worshipped. He had already returned to Lincoln when he finally accepted one of the church's overtures that he become their full-time preacher.
_ _ _
George A. Roberts, 96, who served as president of both Toronto Christian Seminary (1960–65) and the Wisconsin Evangelizing Association, died April 8. He attended Kentucky Christian College (now a university) and entered the ministry in 1948. He ministered with churches in Kentucky, Illinois, Wisconsin, Indiana, and Florida. He also was vice president of the Florida Christian Convention. Arrangements were by Hiers-Baxley Funeral Services in Florida.
_ _ _
Send news by [email protected].