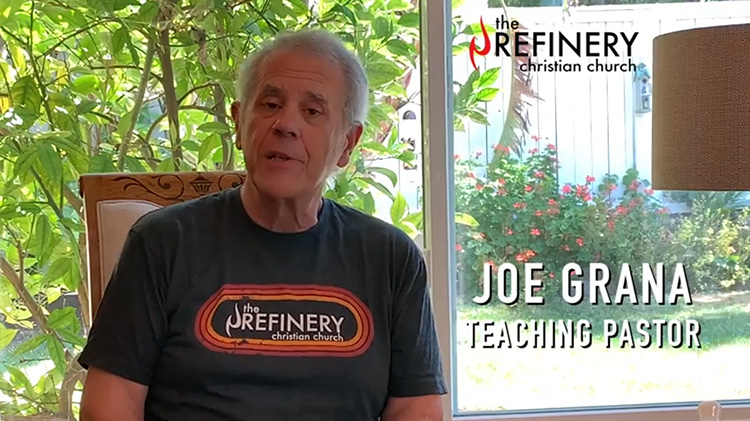 By Chris Moon
Joe Grana is staying active in retirement.
The former longtime professor and administrator at Hope International University in Fullerton, Calif.—who retired June 1—has taken his expansive biblical knowledge to the local church. Grana has signed on as an associate pastor at Refinery Christian Church in Goodyear, Ariz., near Phoenix.
During the COVID-19 pandemic, Grana has been producing three-minute videos for the church teaching basic theological concepts, from baptism to the inspiration of Scripture. The idea for these "3-Minute Theology" videos is to better equip the Refinery church with theological truth, something Grana senses many Christians need today.
"They don't really know the Bible, and they don't know theology," he said.
Grana got connected with Refinery Christian Church through his work with HIU and was offered the opportunity to help the church on a part-time basis.
PLANS CHANGE
Before the pandemic, the plan was for Grana to teach a series of Saturday seminars on basic theology to church members, as well as to preach 8 to 10 Sundays per year. The "3-Minute Theology" video plan emerged as an alternative when in-person gatherings came to a close because of the pandemic.
So far, Grana has produced videos on the Lord's Supper, baptism, and the inspiration of Scripture. The videos—released weekly by the church via Facebook and Instagram—have been well-received. When the church began in-person services a couple of weeks ago, Grana said multiple people approached him to thank him for his work.
He said future videos will focus on topics like the Trinity, Heaven, Hell, and theodicy. Grana said Refinery lead pastor Chad Goucher and executive pastor Aaron McKee are guiding the topics.
"They know the church better than I do," Grana said.
Grana said once he gets a topic, it's sometimes tricky to figure out how to present the information in such a short period of time. He has spent weeks teaching on some of these subjects during classes at HIU.
"It's tough to know what to choose and how to say it, so I do the best I can," Grana said.
STAYING BUSY
For Grana, the ministry is one of two ways he's staying busy after retiring from 33 years of service at HIU. He also is serving as special assistant to the president of the university, Paul Alexander, working part time in alumni relations.
Grana also is helping to set up ministry depression and soul care seminars taught that Alexander teaches along the West Coast.
Grana will live mostly in California, where his family resides, but will spend time in Arizona as needed.
"I'm glad I have both of these things to go to," Grana said of his work with Refinery and HIU. "I don't think at this point in time I could just [stop working]."
Chris Moon is a pastor and writer living in Redstone, Colorado.