When Charles "Chuck" Faber began as a full-time professor at Boise Bible College, he committed three years to the school before considering anything else. Forty years later he is still at BBC, influencing young and old to study, think, and live God's way.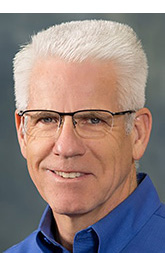 Faber, who grew up a missionary kid in Japan, attended Cincinnati Bible College and Seminary, where he graduated with honors.
In 1980, when invited to move his family to Boise, Idaho, for his first job after college, Faber and his wife, Patti, sold their house in the Cincinnati area, rented a truck, and drove to Idaho with their 1-year-old daughter. They had never visited the campus or even seen pictures of the area.
In his first three years, Faber prepared from scratch 22 different classes. His first class was public speaking, and he taught everything from New and Old Testament to introduction to church history.
Faber has always had high standards, is an analytical thinker, and seeks excellence in all walks of life, said BBC director of development David Davolt. Combined with a deep passion for spiritual development of Christian leaders, he has applied those traits well in his role as academic dean, a role he assumed in 1994. Today, Faber also serves as compliance and assessment officer, professor, friend to all, and the school's walking "procedure and policy" manual, according to Davolt.
Faber turned 65 in March, but when asked about retirement, he said he's "sitting tight" for another four or five years. He told Christian Standard his ministry at BBC has been rewarding and worth doing.
In four decades at BBC, every graduate has had at least a few classes taught by Faber, meaning he has influenced more than a thousand students over that time.
_ _ _
News Briefs
Compiled by Chris Moon and Jim Nieman
Southeast Christian Church in Kentucky has announced plans for two new "community campuses" to reach specific demographics not being served by any of the church's many regional campuses.
Associate pastor Matt Reagan said via a weekend YouTube video that SE Multination will be a multinational campus that seeks to reach immigrant families. The campus is expected to open Aug. 16, but already includes a couple hundred people. Charles Mwungura, from the Congo, will lead the congregation as its campus pastor.
The second community campus will be SE Beechmont, slated to open at Hope Place on Sept. 13. Beechmont is a Louisville neighborhood where 100 languages are spoken in a very small geographical area, Reagan said. Staff member Matt Robison is slated to lead that campus.
_ _ _
Sam Rosa, the senior pastor of Delaware (Ohio) Christian Church, wrote for his local newspaper about his experience as an Uber driver during the pandemic.
"I started driving Uber to get to know and feel the pulse of the community I am called to serve," he wrote in the Delaware Gazette. "A great majority of those I serve either at church or driving are right now struggling in life."
Rosa wrote it can be easy to be concerned with major national or global issues and overlook the needs of one's neighbors. He recounted growing up in Brazil and seeing his pastor-father bring home people who were in need of help . . . and watching those people's lives be transformed.
"Could it be that our world needs more people who are willing to know, value, and care for the individual instead of knowing, valuing, and caring for a cause, topic, or an object?" he asked.
_ _ _
A book about the early history of the Restoration Movement in Illinois was recently published.
The History of the Restoration Movement in Illinois in the 19th Century, by James L. McMillan and Thomas H. Olbricht, chronicles the role Illinois played during the early years of the movement.
In 1880, Illinois was home to more members of the Restoration Movement than any other state or country, according to a news release by the book's publisher, Sulis Academic Press.
McMillan and Olbricht have both served in local church ministry and with Christian colleges. McMillan currently serves as an archival associate with the Disciples of Christ Historical Society, Bethany, W.Va.
The book is available in eBook and paperback formats.
_ _ _
Demand is up at the food pantry operated by Fortville (Ind.) Christian Church.
"I'd say now our average is about 120 [contacts] a week, where in early March our averages would have been 55 a week," the pantry's Erin Flick told the Greenfield Daily Reporter.
The pantry allows patrons to drive through in order to pick up food, something elderly people tend to do instead of going out to get groceries, according to the newspaper. A group of churches in Fortville—Fortville Christians United—has been helping with food donations.
_ _ _
Children from a summer ministry program at Third City Christian Church in Grand Island, Neb., visited a local retirement home to bring a little cheer to residents during the COVID-19 pandemic. The kids carried signs and waved to residents as they walked around Lodge Riverside Retirement Community.
"We thought it'd be really good to give back and be able to go share some love with people," said Quest program director Cassandra Westpfahl told KSNB 4.
_ _ _
University Christian Church in Manhattan, Kan., helped to give away 50,000 potatoes to help fight hunger.
The church coordinated an event with a local soup kitchen to distribute potatoes donated for food relief during the COVID-19 pandemic, according to the Manhattan Mercury.
The church hosted one giveaway site in its parking lot. Volunteers put potatoes in the back seats of cars that drove through.
_ _ _
Send news to [email protected].