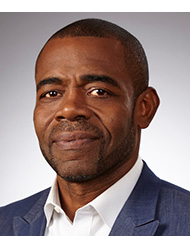 Compiled by Jim Nieman and Chris Moon
Leonard Phillips has been appointed chief diversity officer at Point University, West Point, Ga. In this newly created position, Phillips will report to university president Dean C. Collins and lead all of Point's diversity initiatives. He will also work to facilitate racial unity through the church in the various communities Point serves. Phillips has served the past two years as vice president of church and business partnerships with Point.
"Leonard's extensive background in the Atlanta business community and as a lay pastor in various churches makes him immensely qualified for this important role," Collins said. Phillips will "lead [Point] as we work to increase racial trust and promote racial unity at Point and in the church."
About half of Point University's students are non-white.
_ _ _
News Briefs
Not all July Fourth activities have been canceled this year because of the COVID-19 pandemic.
Tomorrow, McCook (Neb.) Christian Church will host its second annual Southwest Nebraska Freedom Festival—complete with food vendors, live music, and fireworks after dark.
The McCook Gazette reports the festival is in honor of active military members, veterans, law enforcement officials, and first responders.
_ _ _
"Boost—A Retreat for Ministers" will take place July 13-15 at Great Lakes Christian College, Lansing, Mich. The college is planning a "restful, safe, and inspirational three days" featuring Steve Larson, interim lead minister with 2|42 Community Church, speaking Monday and Tuesday evenings. Morning workshops are planned, and there will be free time and fun activities in the afternoons. There is no registration fee and on-campus housing is free. Learn more at www.glcc.edu.
_ _ _
Passion 4 Planting's nine-month distance church-planting residency program will begin in September. Participants will remain in their local context during the cohort. Click here to learn more. Contact the organization by July 15 to reserve a spot.
_ _ _
First Christian Church's annual December "Birthday Gift to Jesus" offering helped fund more than half of a "top-of-the-line" outdoor basketball court that opened in Springfield, Ohio, on Friday. The new $90,000 community basketball court replaced a dated court that has been used for years by a nonprofit called H.O.P.E. for a free basketball camp. FCC donated $54,000 to the project, according to the News-Sun.
_ _ _
Christopher Aumiller, 25, one of three victims killed in a workplace shooting Friday at Bunn-O-Matic Corp. in Springfield, Ill., had formerly been part of the youth group of Pawnee (Ill.) Christian Church. Senior pastor Chris Covey spoke about Aumiller in an interview with the Register-Mail.
_ _ _
Kissimmee (Fla.) Christian Church recently baptized two men who participate in the church's ministry to the homeless. KCC feeds and preaches to a congregation of homeless on Sunday mornings and at a separate ministry in downtown on Tuesday mornings.
_ _ _
New Hope Christian Church in Crawfordsville, Ind., will host its own Christ In Youth conference July 5-7.
CIY had to cancel all of its summer conferences this year because of the COVID-19 pandemic. But it has made its MOVE and MIX content available to churches to use at home.
New Hope is partnering with a local community group called Unite C-ville to host a three-day CIY conference, which will be open to junior and senior high students, according to the Journal Review. A local radio host and pastor will be a guest speaker. A live band will lead worship.
"For students who have been to a CIY before, it's going to feel very much like the real thing," a spokesperson for Unite C'ville told the Journal Review. We want students to know summer isn't completely canceled. We are working hard to make this a fun, safe, and impactful few days."
_ _ _
Eagle (Idaho) Christian Church sponsored a Kruz-In Car Show Saturday that was free to attendees and to entrants—there was even free food. The annual car show is the second largest in Idaho. KTVB previewed the event.
_ _ _
Send news to [email protected].