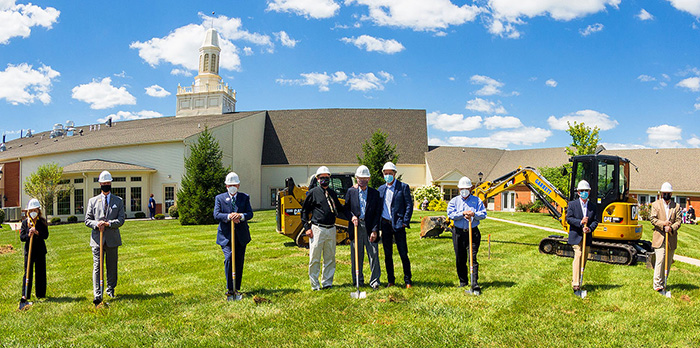 The Christian Village at Mason in Ohio held a groundbreaking ceremony Wednesday for the new Stone Worship Center and Auditorium, named in honor of former Christian Standard editor Sam E. Stone and his late wife, Gwen.
The worship center will replace the existing chapel as the primary building for Sunday worship services and also will provide a place for various events, banquets, concerts, and meetings for residents of the 85-acre senior living community located north of Cincinnati. The center is expected to be completed in the fall of 2021.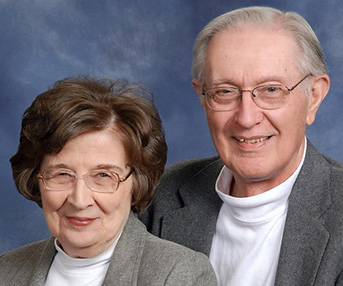 Prior to the coronavirus pandemic, the existing chapel had been seeing Sunday morning worship attendance that exceeded available space, which created a barrier to growth. (Worship has temporarily transitioned to online.) The current chapel also serves as CVM's only resident gathering space, and its size is inadequate for those needs, as well.
"The auditorium will become the community's new Sunday worship center, expanding the current chapel capacity fourfold, and eliminating the need to have multiple weekly worship services for all who regard the village as their church home," said Larry Monroe, CEO of Christian Village Communities, which oversees the Christian Village at Mason. "We are very anxious to see the completion of this beautiful new addition to our community."
The center will honor Sam and Gwen Stone for their lifelong Christian service, especially in the Greater Cincinnati area. Sam served as a minister and as professor and dean of the Graduate School at Cincinnati Christian University for many years; he finished his career as editor of Christian Standard from 1978 to 2003. Gwen worked beside Sam through their many years of ministry. Sam became a resident of The Christian Village at Mason shortly after Gwen died in December 2015. The Stones were married 57 years; they are the parents of two minister sons, Jeff Stone and Dave Stone.
The Stone Worship Center and Auditorium will be approximately 11,000 square feet; it will include a spacious lobby and refreshment center and seating for nearly 400 people.
The fundraising campaign thus far has raised $2 million from individual, church, and corporate donors; the goal is to reach the $2.87 million goal before the Stone Center is completed.
More information about the Stone Center—including how to donate—is available at www.stoneworshipcenter.org or by emailing [email protected].