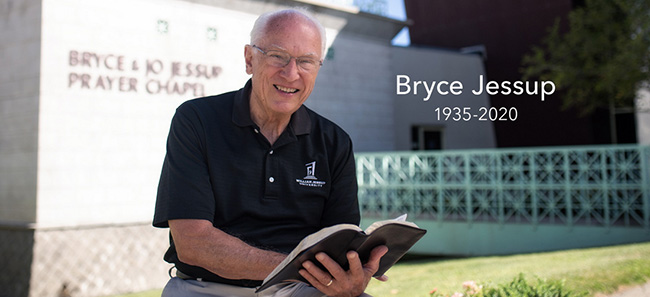 Bryce Jessup, 85, who served as president of William Jessup University in California for 25 years— until his retirement in 2010—died of a heart attack July 30 during a fishing trip to Yosemite with his son Jim.
Bryce Jessup was the son of the university's founder, William Jessup. The school started in 1939 as San Jose Bible College, was subsequently renamed San Jose Christian College, became William Jessup University in 2003, and moved from San Jose to a much larger campus in Rocklin, Calif., in 2004.
"During his presidency," WJU shared, "the university substantially improved its financial position, achieved regional accreditation, significantly increased enrollment, broadened the curriculum, and moved to Rocklin. . . . Dr. Jessup [also] worked as a professor, pastor, coach, and dean of students."
At Jessup.edu, the university shared how Dr. Jessup was "called home," while also announcing a "graduation celebration" in memory of the school's longtime president that is scheduled for 1 p.m. Aug. 29.
"Bryce Jessup has a legacy stream that runs deep at Jessup, through the churches of Northern California, and in the lives of hundreds of men and women," WJU president Dr. John Jackson said via Facebook. "Bryce was a father figure, mentor, and encourager to me personally and to many others. . . . Bryce is already missed, but his legacy will continue to grow!"
The Sacramento Bee wrote an interesting feature obituary about Dr. Jessup. We conducted a Q&A interview with Dr. Jessup in 2007.
_ _ _
News Briefs
Compiled by Jim Nieman
Ozark Christian College in Joplin, Mo., and Milligan University in Tennessee have each independently added "dashboards" to their websites to track active cases of COVID-19 among students and employees.
As of 6 a.m. Wednesday, Ozark was reporting 3 total active cases—2 among students and 1 case involving an employee. (Ozark reported 11 total people in quarantine—9 students and 2 employees.)
At Milligan, also as of 6 a.m. Wednesday, the school was reporting no active case of COVID-19 among students or employees. (Cumulatively, there have been 9 total cases of COVID-19 among students and 1 case involving an employee, for a total of 10.)
At Milligan, about 10 percent of undergraduate students have chosen to take their coursework entirely online this fall.
Ozark started classes on Monday, while Milligan will begin in-person instruction this coming Tuesday.
_ _ _
First Christian Church, Mountain City, Tenn., is opening its Life Center from 9 a.m. to 3 p.m. weekdays to students in need of reliable, high-speed internet access. Such access is important because Johnson County schools have started the year "virtually" because of COVID-19. The church is also providing tutors, according to WCYB.com.
_ _ _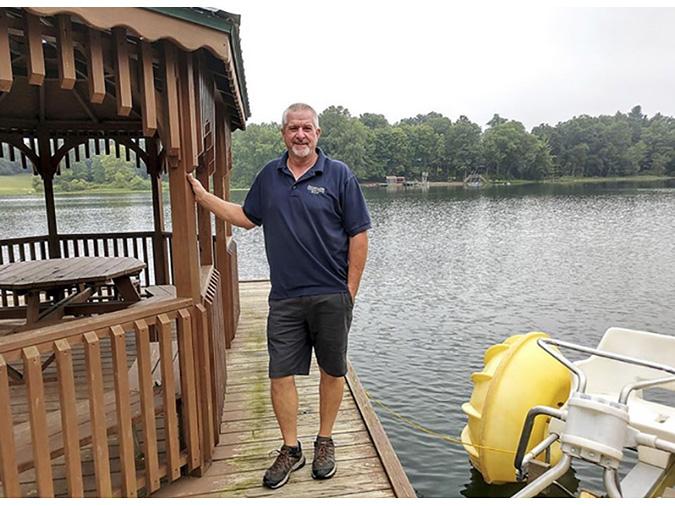 For Lance Powers, manager of the Round Lake Christian Camp, working at camps has been a lifelong experience, he told the Times-Gazette of Ashland, Ohio.
"When I was just 2 years old, my mother served as a volunteer at a camp in Carroll County, and took me along when she went into work," Powers said from his office at Round Lake Camp. "I have spent at least a week at a camp every year since. . . ."
Powers described Round Lake as "more than just a camp." During the peak camping season most years, which he said occurs between June 1 and Aug. 1, Round Lake serves about 2,000 kids a summer, in 42 different camp sessions over the eight-week period. COVID-19 has impacted operations this year, Powers said, but 129 partner churches "have kept us afloat."
(Read the entire article at the Times-Gazette website.)
_ _ _
Bob Russell, the retired senior minister of Southeast Christian Church in Louisville, Kentucky, announced via Facebook late last week that he had tested positive for COVID-19. Russell wrote, "[F]or a few days, I had a low-grade fever and bad cough, but no severe symptoms. . . . Today, other than a persistent cough, I feel almost normal." Several Louisville news stations reported on Russell's diagnosis, including WAVE and WDRB.
_ _ _
Northeast Christian Church, Rockford, Ill., opened its building last week to neighbors who were without power due to storms that rolled through the area. The church provided guests with free WiFi and charging stations in an air-conditioned space that also allowed for social distancing, according to WIFR.com.
_ _ _
Renew.org will offer an online forum on "Disciple Making in a COVID-19 World" from 9 a.m. to 3 p.m. (CT) Aug. 29. The forum will feature Douglas Jacoby, Tom Brown, and David Young, among others. There is a fee. Register at https://renew.org.
_ _ _
Central Christian Church and New Life Fellowship are joining together to invite the Huntington, Ind., community for a "Grass Roots Outdoor Worship and Prayer Time" at 6 p.m. this Sunday, Aug. 23, at CCC. The gathering will focus on the Huntington community during the coronavirus pandemic, a local newspaper reported. Nonperishable food and cash donations also will be accepted on behalf of the Huntington Downtown Meals Ministry.
_ _ _
The Messenger-Inquirer recently published a feature article on Kegan DeWitt, 31, the children's minister with Owensboro (Ky.) Christian Church. Last fall, DeWitt, 31, took on the additional role of communications director for the church.
_ _ _
Milligan University is home to the first electric vehicle charging station in Carter County, Tenn., thanks to a partnership with Elizabethton Electric System and Seven States Power Corp. The charging station is located in the parking lot across from Milligan's newly renovated McMahan Student Center.
_ _ _
Manchester (N.H.) Christian Church—which had resumed in-person services at its three locations July 12—has switched back to online-only services amid the COVID-19 pandemic, the Union Leader reported.
"Due to some recent announcements from the governor's office and some mandates regarding masks and the risk involved with in-person worship gatherings, our eldership has made the decision to go to online-only for right now," senior pastor Bo Chancey said via a video at the church's website. "We are going to evaluate it every single week."
_ _ _
Send news to [email protected].