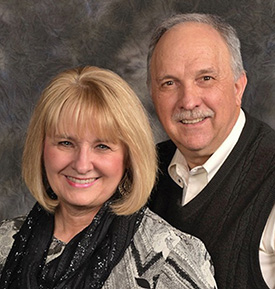 Chuck and Amy Emmert were presented the Dr. Doty Divine Servant Award on Aug. 29 as a part of the Commencement service for the 2020 graduates at Great Lakes Christian College, Lansing, Mich.
The Emmerts started ministry in the local church in 1975 while attending GLCC and served the Memorial Church of Christ (Livonia, Mich.), Novesta Church of Christ (Cass City, Mich.), and the Duplain Church of Christ (St. Johns, Mich.). Chuck and Amy graduated in 1978 and 1977, respectively. The Emmerts will conclude their ministry with the Duplain Church of Christ on Dec. 31 and retire.
The Divine Servant Award is given to senior students or alums who exemplify the servant example of Christ and of Dr. Brant Lee Doty, who was a professor, dean, and chancellor of GLCC.
_ _ _
News Briefs
Compiled by Jim Nieman
The Corner House Christian Church cemetery in Hubbard, Ohio, was rededicated Sunday. Over a period of several weeks, stones were straightened and cleaned, topsoil was added, and grass was planted. Among those attending were several descendants of Jesse Hall, who organized and donated land for the cemetery. There are 178 people buried there, including veterans of the Revolutionary War, the War of 1812, and the Civil War, according to a story in the Tribune-Chronicle. Avis Mathews-Grove, a church member for 61 years, organized the cemetery project.
_ _ _
Gateway Christian Church, Mount Sterling, Ky., is making its WiFi available to area students during a period of online learning in the local school district. The church has been seeing new faces in its parking lot and inside its building since classes resumed, senior minister Bill Kilgore told Spectrum News 1.
_ _ _
The Pioneer Bible Translators organization is featured in an article on the Missions Box website. The article described PBT's "holistic approach to Bible translation and Christian missions," adding that through its collaborative efforts with ministry partners, "Pioneer is serving 43 million people in 18 countries with 92 language projects."
_ _ _
On Aug. 31, John and Bob Russell personally encouraged and prayed for the first class of 18 Russell School of Ministry students to meet at the new Christian Church Leadership Center in Florence, Ky. RSM formerly was part of Cincinnati Christian University, which closed at the end of last year, but now is a key part of the Christian Church Leadership Foundation. This new CCL Center is serving as the hub of ministry education and church support in the Greater Cincinnati area.
The nonprofit CCLF operates in partnership with Central Christian College of the Bible to steward key ministry assets that formerly were part of CCU, namely the Russell School of Ministry, CCL Network, and the George Mark Elliott Library.
Churches and individuals who are interested in learning how they can utilize and participate in the work of the CCL Center may contact Shawn McMullen, vice president of partner relations, at [email protected] or (513) 273-1099. For more information, visit www.facebook.com/thecclf. To become a friend of the center, visit www.ccleadership.org.
Another option is to participate in a Russell School of Ministry roundtable discussion from 11 a.m. to 6 p.m. Sept. 17. Register here.
_ _ _
Richard Koffarnus, professor emeritus of history and philosophy at Central Christian College of the Bible, Moberly, Mo., has announced this will be his final year teaching. Friends and students (current and former) are invited to jot a note to him for inclusion in a journal. The journal was available during CCCB's Heritage Day and Commencement this past Friday, but it will also be available for the remainder of the academic year. Those who won't be visiting campus can email a note to [email protected] with "note for Richard Koffarnus" in the subject line.
_ _ _
Carolina Christian College (Winston-Salem, N.C.), Agape Baptist Fellowship, and the Twin Cities Sons of Thunder are organizing an outdoor worship event to honor essential workers. The service will take place at 11 a.m. this Sunday at CCC.
_ _ _
This fall, the Christian Village at Mount Healthy, near Cincinnati, will open the Serenity Center, a skilled long-term-care nursing area featuring 16 large private rooms with tiled restrooms, wide corridors, spa, and other high-end flourishes. Learn more at christianvillages.org.
_ _ _
Hope International University's 14th annual Golf Challenge Aug. 31 at the Monarch Beach Golf Links raised $60,000 to fund student scholarships and departmental programs for the Fullerton, Calif., school.
_ _ _
Send news to [email protected].