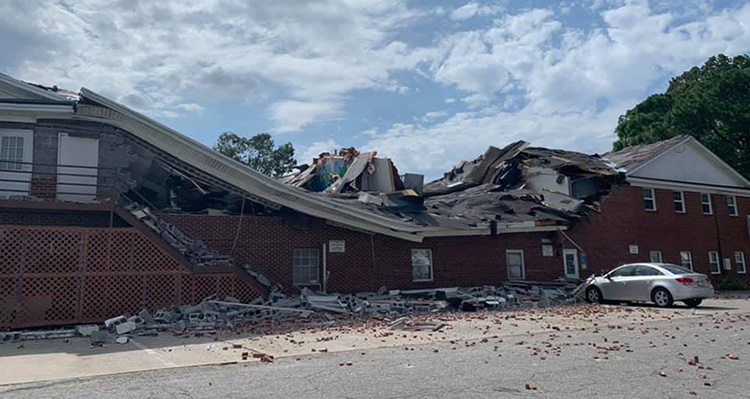 At about 11:15 a.m. Saturday, Heritage Hall, the primary classroom building at Mid-Atlantic Christian University, partially collapsed while it was undergoing roofing work.
No one was injured or killed.
"God's protection of human life made this a good day," the university wrote at its website.
"The roof was being reshingled and they were here beginning work that morning," John Maurice, president of the university in Elizabeth City, N.C., told 13newsnow.com. "The neighbors basically said they started to hear the building shifting. Fortunately the roofers were able to get on the ends where it was safe."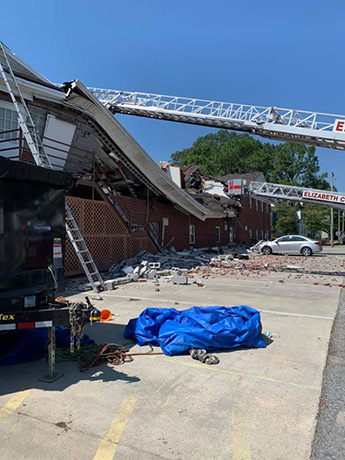 "The collapse is believed to be in connection with the weight and location of shingles placed on the roof during replacement," Maurice wrote at MACU's website.
Heritage Hall has the university's largest classrooms, as well as the cafeteria and some academic offices. The building is closed for the foreseeable future.
No classes were taking place inside the building on Saturday morning.
"The section that collapsed [was above] our three largest classrooms," Maurice said. "We could have had 24 students in each of those classrooms so we're thankful that nobody was in the building."
MACU was closed on Monday but reopened today after some classroom reassignments. The College of Albermarle, located nearby, has offered some of its classroom space to MACU.
School officials are serving meals in the gymnasium while working on a long-term solution. The university asked the Elizabeth City community for some help with meals through the end of the week; about 95 students are expected at each of three daily meals. (Cash donations are being accepted here.)
The university thanked local first responders for their help. There was a period of time after the collapse that officials worked to determine that everyone was accounted for.
The school's insurance company will investigate to determine the extent of the damage. An unofficial estimate of replacement cost of the building is $4 million to $5 million.
"We still can't quite believe the events of September 5, 2020," Maurice wrote, "but in a year that has thrown many curveballs, we put our faith in something much greater than our circumstance!"
On Monday, Maurice shared several specific prayer needs, including:
• for no further collapse
• for internet and servers to be fully restored
• for new class locations to work smoothly
• for kitchen and cafeteria relocation to work
• for students to be strengthened through yet another change!
• for staff and faculty offices to be moved easily
• for records and needed items to be restored online or in files
• for provision and support in the coming weeks and months
• for clarity and wisdom in making plans
• for Christ-centered leadership from all.
(Photos are from Mid-Atlantic Christian University's Facebook page.)