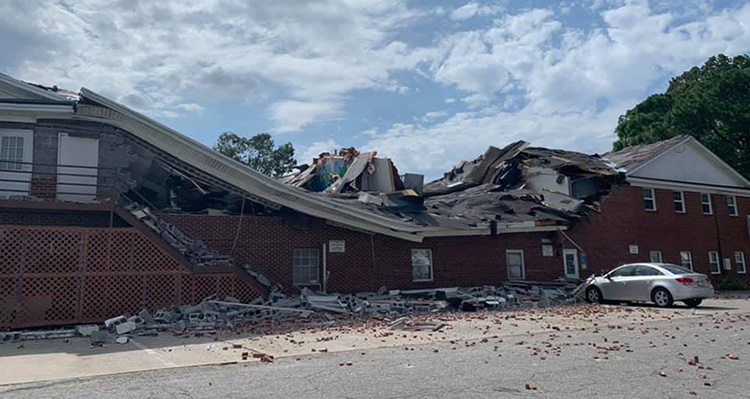 By Jim Nieman
Mid-Atlantic Christian University is awaiting a report from engineers who were on campus early this week to assess viability of Heritage Hall, which partially collapsed on Saturday, Sept. 5, as roofing work was commencing. President John Maurice said MACU's insurance company will use the assessment to "make a determination on total demolition or partial, based on cost."
"Either way," Maurice said, "this will be a long process."
Classes were not in session at Heritage Hall that morning—a good thing, as the collapse occurred above the school's three largest classrooms.
"If this would have occurred on [a] Friday we would have had serious injuries and possibly death on campus," Maurice said this morning, only minutes after internet service was restored to his office at the school in Elizabeth City, N.C.
Maurice said insurance will not cover all costs associated with the collapse at Heritage Hall. He said the school's leaders are studying various options.
"We need to expand the footprint of the building for growth and not rebuild to a 1968 structure," Maurice said. "We are currently working with an architect to assess our requirements and future needs for a campus master plan.
"Our trust is in God, and we believe he will bless us with a larger and more useful building which will help us grow to serve a new generation of Christian leaders."
FOOD SERVICES
In addition to being MACU's primary classroom building, Heritage Hall also housed the school's cafeteria and some academic offices. Essential records and computer servers were retrieved from the building and moved to safe locations within days of the collapse (and prior to the arrival of rain).
"The largest impact upon students has been the loss of our normal food service quality and choices and not having WiFi service," said Maurice, adding that WiFi should be restored by Monday.
"Churches, businesses, universities, and individuals have stepped forward with offers of meals, assistance, and financial support," he said. Several churches and restaurants in town provided meals after an appeal was made a day after the collapse. Meals have been distributed via the school's gymnasium.
"First United Methodist Church has a fully functional kitchen they have offered—and since they are nearby, this will be a good partner for us," Maurice said. "They reached out to us wanting to help."
CLASSES MOVED
Classes are now meeting in two other MACU campus spaces. Also, "College of The Albemarle has . . . offered us classrooms free of charge. We already had some classes there that required biology/chemistry labs." The two schools are located about 1.5 miles apart.
"We are looking to provide temporary classrooms back on campus by January."
"Our students, staff, and faculty have shown quite a great deal of resiliency," Maurice said. "We have stepped up weekend events and weekday activities for students such as bowling, community nights, and cornhole tournaments [and] water events." Plans are in place for a student preaching contest, mission emphasis week, and focused spiritual development. Athletic events probably will resume next semester.
"Our alumni, churches, and individual donors have increased their giving to some extent," Maurice said. "God has blessed us with a gracious Mid-Atlantic family."
All in all, he said, "It has been interesting to try to manage this crisis in an already existing crisis of COVID-19."
Jim Nieman serves as managing editor of Christian Standard.