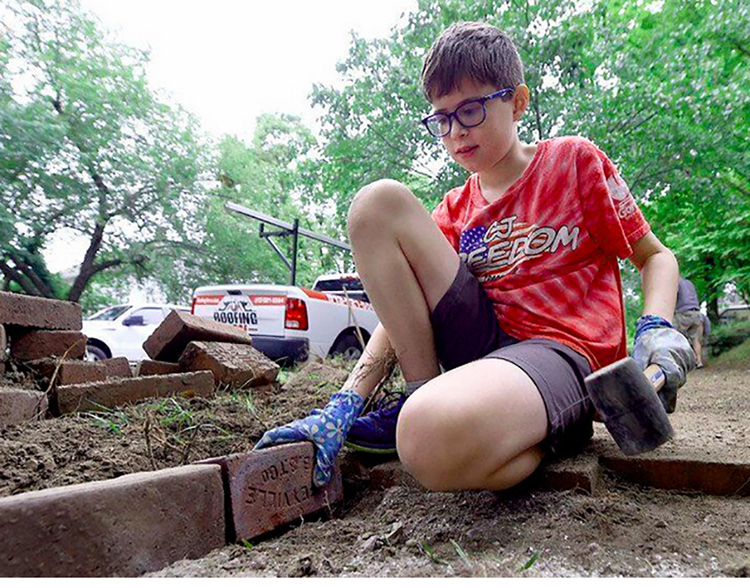 Volunteers in the North Heights neighborhood of Joplin, Mo., spent the weekend "digging up brick sidewalks and working to restore them," according to a story in the Joplin Globe.
The bulk of the work occurred in the area around the Neighborhood Life House, a church-supported nonprofit that provides programs for children and adults. Volunteers with NLH and another neighborhood group provided the manpower. The sidewalks were identified as a key neighborhood concern in a survey earlier this year.
"We're restoring lives and we're restoring the neighborhood and trying to put some life back in it," NLH board member Neil Robinson told the Globe. The repairs should help make it easier to walk around the neighborhood, live, and raise children.
At the same time, said Robinson, "We're restoring this historic building."
The Neighborhood Life House, which serves as a sort of community center, was home to Ozark Bible College (now Ozark Christian College) in the 1940s and '50s, and later was home to North Joplin Christian Church, which closed in 2008. (We profiled Neighborhood Life House in the article "Putting Life Back in the Community" in March 2016.) NLH started as a ministry of College Heights Christian Church but quickly transitioned into a separate, independent nonprofit in 2009.
_ _ _
News Briefs
Compiled by Jim Nieman
Wayne Armstrong, who served 40 years as a professor in Lincoln, Ill., has died at age 94.
Armstrong started teaching at Lincoln Bible Institute in 1955. Upon his retirement from Lincoln Christian College and Seminary in 1995, Armstrong was honored with the title Professor Emeritus of Old Testament. (The school became Lincoln Christian University in 2009.)
At the time of his retirement, this was written of Armstrong: "He has demonstrated through four decades of teaching a heart like David, a passion like Isaiah, and a faithfulness like Job. And like the Old Testament scholar and scribe Ezra, Mr. Armstrong has spent a lifetime devoting himself to the study and observance of the Law of the Lord and teaching it."
Read more at LincolnChristian.edu.
_ _ _
Virgie Christian Church, Fair Oaks, Ind., will mark its 100th anniversary with a celebration Sunday that will include a catered meal for 200 people.
"The church was dedicated in 1920, but the bones of the church are actually the Good Hope Community Church in Parr [Ind.]," the Rensselaer Republican wrote last week. "Good Hope was broken down . . . and transported by horse and wagon from Parr north to Virgie, a trip that covers 11 miles, in 1916."
Bill Taylor, a former firefighter, has served as pastor of the church since 2018.
_ _ _
A majority of adults in the United States now agree with the statement, "Jesus was a great teacher, but he was not God." Among those surveyed, 52 percent agreed with that statement (with 28 percent strongly agreeing), while 36 percent disagreed (with 27 percent strongly disagreeing). Read more about what Americans believe about God, salvation, ethics, and the Bible in "The State of Theology" report based on a survey conducted early this year by Ligonier Ministries and LifeWay Research.
_ _ _
Television station KPLC reported that IDES (International Disaster Emergency Services) is "helping Lake Charles locals and members of the South City Christian Church get back to normal" in the aftermath of Hurricane Laura striking Louisiana in August.
_ _ _
Point University tennis coach Chad Simpson has published a book called The Freshman "intended for anyone starting something new—whether school, a new job or a new season of life." The "spiritual fable" follows Chris as he begins his freshman year of college. During that year, "Chris learns and applies fifteen simple lessons that help him discover why he was created and his purpose in life."
Simpson said he wanted to create a helpful resource for his athletes to not just graduate college but to thrive throughout their lives. The Freshman is available from Amazon.
_ _ _
Scott and Jen Jeffrey were the focus of a feature article in the St. James Plaindealer. In June, Scott became senior pastor of Cornerstone Christian Church in Redwood Falls, Minn., and Jen became youth and family ministry coordinator.
The couple turned to Christ during adulthood. Jen became a Christian shortly after the 9/11 attacks. Sometime later, Scott—who had worked in newspapers for years—became a "50-year-old freshman" at Central Christian College of the Bible, Moberly, Mo.
_ _ _
Boise Bible College continues to share articles spotlighting some of its alums in celebration of its 75th anniversary. Among the most recent profiles:
• Doug Macauley ("Never Wanted a Degree")
• Connie Jo Connolly ("Unlikely Missionary")
• Chaplain Bill Robinson ("From the Army to Bible College & Back")
• Jesse Whitford ("Preaching, Loving His Family, and Fly-Fishing")
_ _ _
A recent article in the Washington Post prominently featured a new book by Kellie D. Brown, professor of music at Milligan University. The Sound of Hope: Music as Solace, Resistance and Salvation During the Holocaust and World War II was published in June by McFarland Publishing.
The book is available from the Milligan Bookstore, Amazon, and elsewhere.
_ _ _
ICOM executive director David Empson will be guest speaker this Sunday at Markle (Ind.) Church of Christ's 56th annual Faith Promise mission initiative. The three-week event serves as the primary catalyst for congregational commitments to mission work in the coming year. MCC's mission budget for 2020 is $252,400, representing 28 percent of the church's overall budget.
_ _ _
The Christian Chronicle, a newspaper for noninstrumental churches of Christ, conducted numerous interviews for an interesting article, "Trump vs. Biden: How to keep politics from stirring division among Christians."
_ _ _
Send news to [email protected].