By Jim Nieman
A small, rural, eastern Indiana church that faced multiple challenges after its 1850s-era building was destroyed by a tornado in June 2019 is on the cusp of a deal that would see it move into another historic church building about 6 miles away.
For most of the past two months, Bentonville (Ind.) Christian Church has been meeting at Ebenezer Presbyterian Church in Lewisville, Ind., in a building that is "old, stately . . . a lot like our old building," said Bentonville minister Don Miller.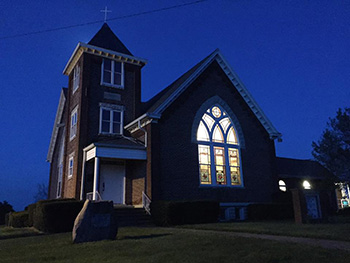 The Ebenezer congregation ceased meeting at the end of June, and BCC has an agreement to purchase their building, Miller said. The concerned parties are waiting for final approval from the presbytery.
In the year-plus since the tornado destroyed BCC's building, events have followed a strange path. After cleanup, the Bentonville congregation met in the local fire department building and at Manlove Park in nearby Milton, Ind. . . . until the coronavirus put an end to in-person meetings for several weeks, Miller said.
BCC first considered rebuilding on their existing site, but the church's property deed listed the owner as the Bentonville Association—and no one had ever heard of that group. Before researching the deed too deeply, however, Miller said the church opted to investigate water well and septic issues at their historic site.
In May, BCC learned that upgrading the well and septic system would be required; that cost, when coupled with rebuilding, was just too expensive. ("We didn't have nearly enough money," Miller said.) But two days later Bentonville representatives heard that the Ebenezer property was coming available for $90,000. Before BCC could meet to discuss the matter, Ebenezer lowered the asking price to $60,000.
After BCC met to worship at Ebenezer's building June 21, the congregation voted to purchase it.
"It was just one of those things that was too good . . . but it was true," Miller said. After everything the Bentonville congregation went through for a year, what seemed to be a slow feedback from the state's Department of Natural Resources ended up being a blessing when the DNR's decision about the water and sewer coincided with the Ebenezer Presbyterian Church property becoming available.
Bentonville Christian—which had been averaging 15 to 20—has been worshipping at Ebenezer rent-free every week since July 12, and during that time about 8 to 10 folks from that now-closed church have been joining them, Miller said.
Miller anticipates the presbytery will approve BCC's purchase of Ebenezer's building. In turn, he further anticipates Bentonville Christian Church's historic property ultimately will become part of the adjoining Bentonville community cemetery.
Jim Nieman serves as managing editor of Christian Standard.