By Jim Nieman
The annual Apple Butter Makin' Days festival in Mount Vernon, Mo., was canceled—yet another casualty of COVID-19—but then Mount Vernon Christian Church stepped up.
The church participates in the festival each year. In fact, MVCC is one of three organizations that actually makes apple butter on-site during the three-day event at the Lawrence County Courthouse square located downtown.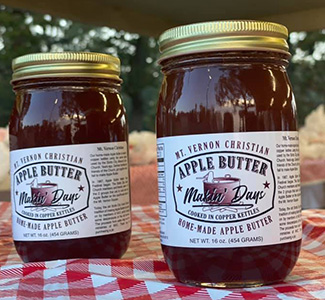 "Our recipe is the best," MVCC lead pastor Jeff Kruger confided. (It's the old Stotts City Union Church apple butter recipe that has been passed down through family members.)
So, upon learning the three-day event was canceled, MVCC—a church that averages about 95—decided to host their own Apple Butter Day on Saturday, Oct. 10, on the traditional weekend for the larger festival that dates back to 1967.
"I called the chamber of commerce and told them what we were doing," Kruger said.
The church's event served a number of purposes: It preserved some normalcy in the community during a year of chaos, it provided 25 vendors from the area an opportunity to participate at no cost, and it helped MVCC successfully continue their largest annual fundraiser.
You see, MVCC clears about $45,000 each year selling apple butter and peach butter, and the vast majority is sold at the annual festival, Kruger said. The money goes toward missions, youth, and outreach.
But there was one additional major factor.
"We had already done [virtually] all of our cooking" when the main festival was canceled, Kruger said. (Festival weekend is largely an exhibition of "apple butter makin'," it's not when the church does the bulk of their cooking.)
It just made sense for the church to host their own apple butter event.
IT WAS 'NEEDED'
"Our community needed this," Kruger said. The vendors MVCC welcomed were "local people who were affected by the cancellation."
The event was "awesome" and had a "great turnout" of mainly area folks, said Kruger, though he acknowledged it was significantly smaller than the 100,000 or so who attend the annual courthouse gathering. The church utilized their 7-acre campus and all events were held outside. Social distancing and masks were encouraged.
"One of the key things we went through was, 'How can we do this safely?'" Kruger said. The church is pleased to have put on a safe, fun, family-friendly event.
COOKING AND SELLING
MVCC cooks up batches of their apple butter in big copper kettles that hold 320 pounds of Jonathan apples and 106 pounds of seasonings. All totaled, MVCC prepared almost 10,000 jars of apple butter and 1,500 jars of peach butter this year. The apple butter sells for $6 a jar, while the peach butter is $8.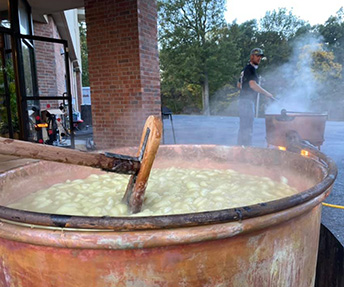 The marathon cooking and canning sessions require dozens of church volunteers of all ages; these gatherings run from 3 a.m. to 6 p.m. on several Saturdays in advance of the October event.
During a typical 15-hour session, the church's four kettles each produce two batches of apple butter. Each kettle batch generates about 300 16-ounce jars.
Unfortunately, the church wasn't able to sell nearly as many jars and cases of apple butter and peach butter at their shorter, smaller apple butter event this year.
"Typically, we would have sold almost all of it at the festival," Kruger said. As a result, "we have had to become creative with how we sell it."
This year, the church has made arrangements to market their butter products via outlets in Mount Vernon and at shops as far away as 40 miles away in Joplin, Mo. MVCC also is accepting online orders, with calls coming in from as far away as Florida, California, and Arizona.
"My poor secretary is now operating a shipping center."
PUTTING THE PROFITS TO WORK
The profits from all of the apple butter and peach butter are put to good use.
The peach butter profits are assigned to the youth of the church to help pay for and/or offset costs of such programs as Christ In Youth, church camp, and others.
The much-larger apple butter sales help with national and international missions the church supports (Rapha House, Living Water Christian Mission, and the Christian Prison Ministry of Mid-America, among them) and a local ministry called Hope Center.
The church also supports the schools. This year MVCC paid for new backpacks and all of the school supplies for every kindergartner through fifth-grader in the local school system—about 750 children, in all—while also helping with supplies for junior and senior high students.
Before school started, parents of schoolchildren picked up about 600 backpacks filled with supplies at the church one Sunday afternoon. "We had people comparing [our operation] to Chick-fil-A," Kruger said. "That's about as good as it gets."
The church also used $5,000 from last year's apple butter sales as seed money to help with their plans to start a state-licensed day care, something that's really needed in the area because of the ongoing pandemic.
"We haven't stopped ministry," Kruger said. "We're actually starting ministries."
Kruger said MVCC is happy that everything has worked out so well this year, but they are hoping and praying for a return to normal next year, when the church plans to again participate in the city's Apple Butter Makin' Days.
Jim Nieman serves as managing editor of Christian Standard.