By Jim Nieman
The International Conference On Missions' executive director, staff, and this year's president have had to overcome monumental challenges in planning this year's event in the age of COVID-19.
Work for the November conference essentially had to begin anew over the summer when ICOM announced it was switching to a hybrid format—both online and in-person.
ICOM officials have promised the in-person portion will be safe and comfortable, but limited mainly to the popular exhibit area where so many friends and mission agencies connect. The virtual aspect, meanwhile, will be robust and comprehensive, so that as many as possible will be able to participate, no matter their health or travel limitations.
You can learn much more about the particulars of this year's ICOM event—slated for Friday and Saturday, Nov. 20 and 21, in Indianapolis—in our story from August and especially by going to ICOM's website (where you can also register).
But for this article, we asked ICOM executive director David Empson to share some of the trials and triumphs associated with planning this year's event.
________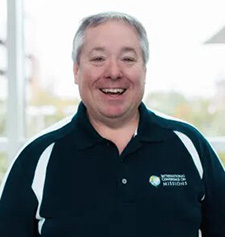 CHRISTIAN STANDARD: How has planning this year's ICOM been unlike any previous event?
DAVID EMPSON: The key words this year have been unpredictable and wait. [2020 ICOM President] Jeff Vines and I had been planning for months; it was all set for Indianapolis—the biggest attendance city for ICOM. This should have been our biggest year—and it still might be—and then COVID-19 hit. . . .
What challenges have you and your team faced?
Everything we do has been impacted by the coronavirus and how it has impacted our country and our churches. Our initial printed material was quickly ruined/out-of-date. Our ability to communicate with many of our friends and supporters was strangled by people working from their homes. Our fundraising efforts were disrupted by horrible communication [such as churches that were closed and could not return calls]. We had to cancel 41 meetings around the state [of Indiana] that we had already set up with preachers. Ten more meetings with youth ministers from around Indiana were canceled. Then [main speaker] Ravi Zacharias passed away, and another speaker has stage 4 cancer and can't come. And then all international travel was suspended. So many churches had to stop all spending due to the virus; as a result, we have raised only about one-fifth of the money we need.
In our office, there were two staff changes in addition to a [staff member who gave] birth. Plus, another staff member decided to go part-time due to her husband nearing retirement. And then I had open heart surgery—very unexpectedly. My surgery happened in the midst of hiring a new student director. It was around the time we were facing the obvious necessity of going virtual and deciding whether to do any facets of the in-person/downtown conference.
All during this time we were constantly getting notes from folks saying, "We can't wait till November!" and we honestly didn't know what was going to happen in November. We made the decision to go virtual three weeks after I got home from surgery.
Now we are retooling almost everything. We have never done a virtual conference before—it's a massive change.
Can you speak to the impact of the pandemic on ICOM's finances?
There are some big financial bullets we're having to dodge. Historically with this ministry, exhibit funds are received early and help carry us through the leaner winter, spring, and early summer months when registration, advertising, and sponsorship funds are not available. That was problematic this year.
Additionally, if we had canceled ICOM we would have faced a $243,000 bill from the Indianapolis Convention Center. The convention center always is a stickler with regard to finances [as outlined in the contract]. I prayed to the Lord for favor with the convention center. And evidently the lawyers for the Future Farmers of America Convention & Expo [taking place right now] were able to negotiate a more favorable deal. . . . So, eventually, we were able to reduce our footprint and drastically reduce that quarter-million-dollar bill.
Then came the exhibitor fees we need to function. Again, I asked for the Lord's favor, and by working with a bunch of great people, we have only had to refund 13 percent of more than $325,000. With many exhibitors, we were able to offer credit for the 2021 gathering, or redirect it for advertising, and move our exhibit hall online for 2020. Plus, about 5 percent was given to us as donations. . . . There are so many gracious people associated with ICOM.
Still, we are not out of the woods yet. Our bills are much less, but so is our income.
What's the most discouraging thing you all have had to cope with?
It's all been just so unpredictable. At first I thought the virus would be over before our conference, but there has been so much fear. . . . And it just takes so much time and planning to pull off what probably would have been our biggest event ever.
What has been encouraging?
I am encouraged that God is still in control. And I've been encouraged by many circumstances and individuals:
• My heart surgery—I have no damage to my heart.
• Jeff Vines—We chose Jeff as president almost three years ago, and his vision, optimism, passion for the Great Commission, and overall encouraging spirit have been incredible.
• My staff—They have been right there, through my surgery. They have been troupers, resolving problems, working from home. ICOM has an awesome staff!
• All of the great people make up ICOM . . . from my corporate officers to our faithful attendees.
Tell us about this year's event. What should people expect with the hybrid approach of in-person and virtual?
IN DOWNTOWN INDIANAPOLIS:
• SICOM (the "Student ICOM") will be meeting in person. Students today are not responding well to virtual ministry. They want community. And yet, we also will have students streaming in from all over the Greater Midwest for this one day of great ministry with the Global Student Team from RZIM (Ravi Zacharias International Ministries).
• Exhibit Hall—We have 125 missions/missionaries who still wanted to come together; that represents over a third of our original group. Lots of people still want to get together, even with masks and distancing. We will show the main sessions for a small viewing area, but mass seating is one of the biggest conference fears, so the viewing area will seat only about 50 people.
THE VIRTUAL EVENT:
Online, the schedule will run very similar to a normal ICOM event. Main sessions will be at 7:00 p.m. Friday and at 10:30 a.m. and 7:00 p.m. Saturday. Workshops will be at 9:00 a.m. and 2:00 and 4:00 p.m. And we are also creating an "ICOM Hub." (ICOM's corporate officers did not want a sterile website to define ICOM.) So, in between all of the activities, we are going to run a SportsCenter type of desk with all kinds of interviews, videos, and hosted features to spotlight everything that is happening. The Hub will operate from downtown but will target the online viewers.
 The Virtual ICOM Pass system we have created this year is something we have wanted to do for years, but there are a lot of challenges to creating it (such as staffing limitations). . . . We have created an affordable opportunity to register at various levels . . . including a lifetime pass. [Go here to view all of the virtual registration options.]
We are offering much more than a person can actually take in during the two days of ICOM. We are offering registration levels for viewing main sessions, workshops, Bible studies, etc. through the end of the year and even permanently. . . . Some of these resources will be things people can use back home in their church or small group or with their missions team.
We still will have 15 workshops running simultaneously via Zoom, webinar, or [in some cases] prerecorded. We also have about 15 workshops that we do not have time and space for on Saturday, but which can be viewed with one of the registration packages.
There also will be special features: Missionary Moments, Bible Study by Jeff Vines (focused on the book of Daniel), a Women of Purpose session (which includes a Bible study course by the Bold Movement), and a special Bible translation exhibit walkthrough by Pioneer Bible Translators (led by Greg Pruitt), and much more.
Youth ministers will be able to access all the SICOM weekend activities using the lifetime pass.
Jeff Vines and his ONE&ALL Church team in California have set up the main sessions so that every major continent will be able to view the main sessions in their own time zone. People in China and India will not have to watch ICOM main sessions in the middle of the night.
What most excites about you about the 2020 ICOM?
ICOM will have a virtual program from this point on. The work we have done will be something we will be able to do again, even after the virus crisis has subsided.
Jeff Vines has done this work on his own, through his own international ministry. ICOM's main sessions will have a potential viewership of 5 or 6 million people through Jeff's networks in the South Pacific and England. I didn't even know Jeff did all this! He is an incredible man of vision who is driven to spread the Great Commission. His love for ICOM is so strong and deep. And God brought him to us when we didn't even know what was coming. God is in control!
During this tumultuous time, I have learned so much more about the ICOM community. There is a huge love for ICOM. So many people have done so much, been so kind, and offered up so many prayers for us this year.
What can our readers do to help make this year's ICOM a success?
Register—I remember when I was a kid and my parents registered for the NACC for $7. We only went to the convention when it was in Indy, but we registered more often. Your registration supports ICOM, and now you can visit ICOM virtually, again and again, through the Virtual ICOM Pass system.
Support ICOM—This has been the perfect storm. (And, yes, I find it ironic that I am describing a horrible storm by calling it "perfect.") God is still in control. You may be being made aware of our need through Christian Standard so that you can give to ICOM. We have a huge need.
 Include others when you watch—Church leaders will find a lot of inspiring, motivating, and instructional resources when they take part in ICOM. Consider purchasing a Virtual ICOM Pass, maybe even a lifetime pass. We have watch parties going on across the country the weekend of ICOM . . . join us!
Jim Nieman serves as managing editor of Christian Standard.