By Jim Nieman
Mark Scott, longtime professor of preaching and New Testament with Ozark Christian College, has announced he will conclude his full-time service with the school on May 31, 2021, so he can focus on ministry with Park Plaza Christian Church in Joplin, Mo.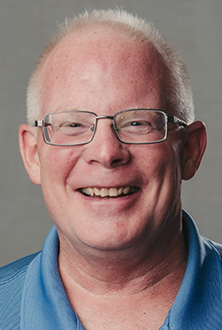 In a memo to Ozark faculty and staff, Scott wrote, "I cannot put in words or quantify what it has meant for us to serve at OCC. When you cut us, we bleed OCC blue. How can I thank you for the privilege of serving with you for these 35 years? Thank you, OCC, for giving us a clear call to come and teach in 1983. We owe the college more than we could pay in a thousand lifetimes. 'Therefore, my beloved brothers and sisters, be steadfast, immovable, always abounding in the work of the Lord, knowing that in the Lord your labor is not in vain' (1 Corinthians 15:58). Soli Deo Gloria!"
During his years with Ozark, Scott has served in a variety of roles, including assistant academic dean, academic dean, and chair of the preaching department. Scott said it's possible he might continue teaching part-time.
"My role and title for the Park Plaza Christian Church will be preaching minister," which essentially will be the role of senior minister, Scott told Christian Standard, for whom he writes the weekly Bible lesson treatment. Scott said he will begin preaching at PPCC "quite regularly" on Nov. 29, pending approval of his hiring by the congregation next month.
"The church has grown under B.A. Austin's leadership these past years from 70 to 200," Scott said. "We would certainly love to see that trend continue." The plan is for Austin to remain on staff part-time and focus on such ministries as pastoral care and hospital visitation, and for Scott to focus on preaching, evangelism, and leadership development.
Scott, who is married to Carla, said, "The attraction of the church for us is winning my boomer generation to Christ." He said boomers are the second largest demographic in America, "and [there are] lots of them on the south side of Joplin."
In announcing Scott's pending departure via Facebook, Ozark said Professor Dr. Jason Poznich will succeed Scott as director of the preaching department.
_ _ _
News Briefs
Ozark Christian College's Preaching-Teaching Convention will take place exclusively online this winter. The theme "Still True" will be developed in main sessions, breakout webinars, and the president's address on Feb. 23 and 24, 2021. Among the speakers will be Bob Russell, Aaron Brockett, Randy and Julie Gariss, Frank Smith Jr., Shane J. Wood, and Jason Poznich.
All main sessions will be free. Those who pay a $20 registration fee will also receive access to the webinars. downloadable recordings of all main sessions and all webinars, and additional exclusive content.
Learn more and register at occ.edu.
_ _ _
An article in Christianity Today about political polarization in churches quoted LeRoy Lawson (a retired minister and Christian college teacher and administrator) and Glen Elliott (senior minister with Pantano Christian Church in Tucson, Ariz.).
"The polarization is so deep now," Lawson said, "[that] most churches lean to the Left or lean to the Right and they think only left or right can be true Christians."
Elliott told the magazine that demographic diversity creates opportunities for outreach.
"If I say this is a right-wing Republican church, well, that's who comes," he said. "We want to reach lost people. Not just lost people of a certain segment. I want to reach anyone who doesn't know Jesus."
The article, "At Purple Churches, Pastors Struggle with Polarized Congregations," also quotes several other evangelical church and faith leaders.
_ _ _
The upcoming MultiplyUs 2 conference will feature a network of DMM (Disciple-Making Movement) trainers, researchers, strategists, and implementers. The conference will take place from 11 a.m. to 1 p.m. (EDT) Nov. 7. Learn more about the conference and sign up at https://multiplyus. The virtual event is staged in partnership with 24:14 and MoreDisciples.com.
_ _ _
James McCracken said he started a four-year transition from the lead pastor role to executive pastor "because I'm getting older and I look old." The 67-year-old's ministry title and role with Boulevard Christian Church in Muskogee, Okla., changed at the beginning of the year, according to a feature article in the Muskogee Phoenix.
The Oklahoma native graduated from both Ozark Christian College and Lincoln Christian University. He has served two stints with Boulevard Christian, from 1983 to 1990, and from 1993 to the present.
"Every pastor is temporary," McCracken told the newspaper. "Even though I've been here 30 years, I'm still temporary."
In his new role as executive pastor, McCracken's duties include administration and discipleship. "I think my job description's changed about four times since they wrote it," he said.
_ _ _
Traders Point Christian School in Whitestown, Ind., had its fourth ribbon-cutting in four years last week when it opened a new 13,000-square-foot junior high school for seventh- and eighth-graders, the News and Tribune reported.
TPCS started as a nursery school ministry of Traders Point Christian Church in 1976. It now has 563 students—78 of them in seventh and eighth grades.
"These seventh- and eighth-graders were in modulars that were used when we bought them 10 years ago," head of schools Paul Williams told the newspaper. "That space was not conducive for what we wanted to communicate."
The new classrooms cost $2 million and fundraising began only 13 months ago. The church donated the land for the school.
The school also announced two new partnerships with local businesses to improve STEM (science, technology, engineering, and math) instruction.
_ _ _
A church in Mountain Home, Ark., has 48 padded pews it is selling for $4,000. Contact Jeff Crownover at (870) 461-0119 for information.
_ _ _
Send news to [email protected].