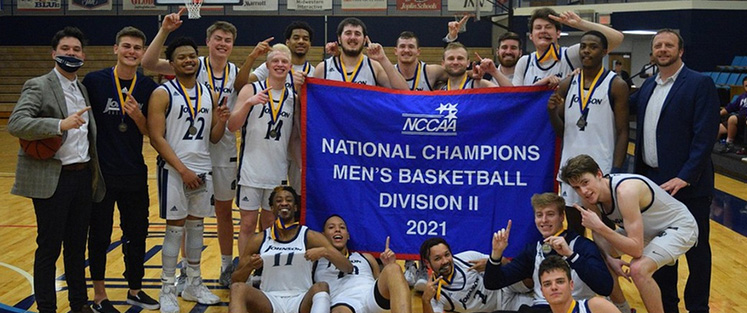 The Johnson University Royals claimed the Knoxville, Tenn., school's first-ever national championship Saturday when the men's basketball team defeated Arlington (Texas) Baptist University 95-74. The 2021 NCCAA DII National Championship game was played at Ozark Christian College in Joplin, Mo.
Coby Jones led the Royals with 30 points and Miles Long added 22. Jones, a senior, was named the tournament's most outstanding player. He also was named First Team All-American and won the Pete Maravich Award, given to "the outstanding NCCAA student-athlete in men's basketball [who] highlights excellence in competition, skill, academics, and Christian service during his career."
In the National Semifinal game, the Royals defeated Kansas Christian College 92-67, but their biggest scare came in the National Quarterfinals when Johnson defeated Manhattan (Kan.) Christian College 97-92 double overtime.
According to JU's website: "Johnson led for over 37 minutes of the contest and stretched the lead to 13 in regulation, but the [MCC] Thunder would not go away. The Royals had a game winning jumper rim out in regulation, and Jordan White of Manhattan Christian hit a 75-foot desperation heave in overtime to force a second extra period. Finally in double overtime, Johnson took charge and pulled away for the win. Coby Jones had 38 in the win. . . ."
The Royals are coached by Brandon Perry, who also serves as Johnson University Tennessee's athletic director.
Some of the NCCAA's other award winners included: First Team All-Americans, Trent Temple and Isiah Reed (Great Lakes Christian College, Lansing, Mich.); Second Team All-American, Jordan White (Manhattan Christian College); Third Team All-American, Trey Black (Central Christian College of the Bible, Moberly, Mo.); Scholar Athletes, Nate Awbrey and Jeffrey Butler (Manhattan Christian College); and Pete Maravich Award finalist, Miles Dressler (Ozark Christian College).