(This article originally appeared in the News & Eagle, a newspaper in Enid, Okla. We thank them for permitting us to post it here.)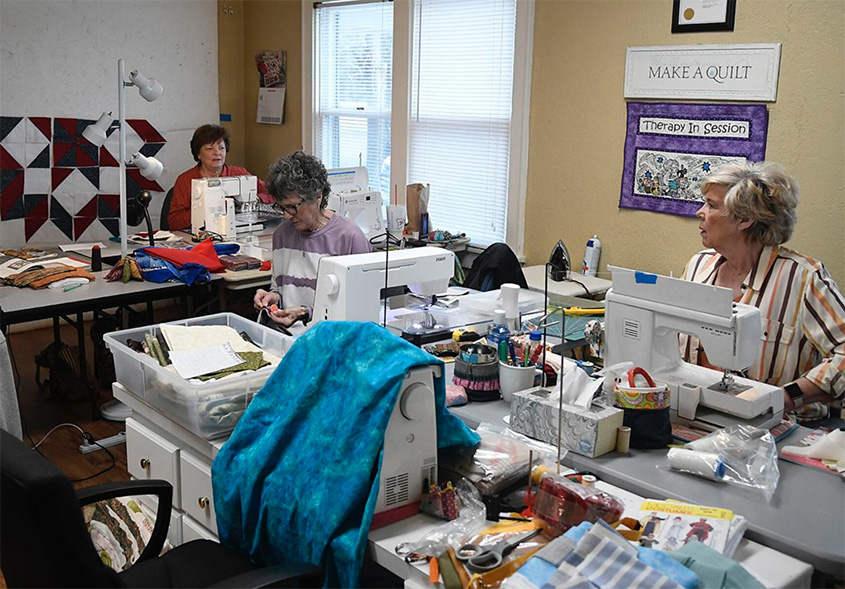 By Kelci McKendrick
Reporter, Enid News & Eagle
In a little white house in Enid, Okla., for a six-hour window once a week, the focus turns to quilting.
From 9 a.m. to 3 p.m. every Tuesday, women in His Quilters of Oakwood Christian Church gather in that house to make quilts to give away, and almost nothing will interrupt them, said Diane Goodwin.
"We don't go to the dentist, to the doctor, anywhere on Tuesday, unless it's an emergency," Goodwin said. "We try to schedule everything around Tuesdays."
His Quilters members make and donate their creations to various individuals—babies, cancer patients, nursing home residents, and foster children—and organizations. During the COVID-19 pandemic, the quilters even shifted their focus a little to make more than 2,000 masks for residents, companies, and institutions in Enid.
EXTENSION OF FAITH
The quilters' ministry began about 11 years ago after a small group of women heard a story of a mother who was keeping her newborn baby warm in a pile of clothes in front of an oven.
They made the baby a quilt, and Goodwin said from there, they made more and more donation quilts, and the group grew with the contributions, with up to 11 women now.
Eric Keller, senior minister at Oakwood Christian, said what started out as a bunch of women who loved to quilt has turned into an extension of their faith.
"They were taking their skills and just trying to figure out, 'How do we leverage our passion for quilting and our passion for this, and our passion for God's church? How do we leverage our talents and abilities and use them for kingdom work?'" Keller said.
One of the biggest things the group accomplishes these days is making numerous quilts to donate to Oakwood Christian's dessert and quilt auction, which helps send children and youth to church camps.
One quilt at the auction this year sold for $1,200, which Keller said would send six middle school kids to camp and four high school kids. The quilts bring in around $3,000 to $4,000, Keller said, with this year being around $5,000.
The quilts come in varying sizes depending on who they're going to and how fast they're needed. Most work on their own quilts, and some work together.
Sharon Melrose said she and a few other quilters made about four homespun—warm—quilts in two weeks for Forgotten Ministries.
STARTING OUT, MOVING HOME
His Quilters started out quilting inside a room at the church but have since moved into a house on Randolph Avenue—just south of Oakwood Christian—which the church owns and maintains. The house is set up with quilting machines, sewing machines, ironing boards, fabric, irons, and more, Melrose said.
Keller said the church bought the house before his time. It used to be a counseling center, he said, and then it sat empty for months before the quilters moved in, since it gave them more space. Now, the quilters are wall-to-wall in the house because they each need space to do work.
Melrose said His Quilters gets a lot of donations, too.
"We've got a room full to the brim with fabric," she said. "We finish one and start another. . . . We go in and start digging through our stash."
'BUILDING A BRIDGE'
Shirley Sims said when she and Goodwin helped start His Quilters, both women were retired and wanted to find something to do.
"It gave us a purpose," she said.
Mayor George Pankonin proclaimed Feb. 18, 2021, "His Quilters Day" for the group's "longstanding and continuous support of the Enid area and its residents.
Goodwin said the proclamation showed people how much work the quilters truly do for the community and beyond and the people they touch—from Mercy House babies and fire victims in western Oklahoma to the Philippines, where the quilters have sent 50 quilts.
The quilts open up an invitation to the church—"building a bridge," Keller said.
"We can't cross the bridge for them, but we can sure build the bridge to them, and when that time comes, when they hit rock bottom, or their marriage is on the rocks, their kids are unruly or they're going through something, then they might choose to cross that bridge," Keller said.
'JOY OF GIVING'
Keller said His Quilters opens doors to share the gospel and help not only the community but also the mission of Oakwood Christian.
"Part of our philosophy of ministry is 'find out where the needs are, meet the needs and then interject the gospel,'" Keller said. "A lot of times if there's a felt need—someone needs a blanket or a quilt or they're going through something like cancer or kids in foster care—[it's important] to try to meet some of those needs of comfort or the physical need of a blanket, and then to be able to do that in God's love."
Wherever there's a need, the quilters will help and have the "joy of giving," Sims said.
Whether it's by donating a stack of quilts to Forgotten Ministries during cold weather like Enid saw in early February or sewing clothes for the church's Easter pageant, His Quilters do it out of love for the skill and love for the community.
"The deal is we all love to quilt, and I have closets full of them—we all do," Goodwin said. "It gives us an outlet to make them and give them away."