By Michael C. Mack
In May, we conducted an informal survey about how COVID-19 affected the celebration of the Lord's Supper in corporate church services. We received 65 responses to three questions:
1. What form of Communion supplies are you currently using?
More than 6 in 10 people (61.5 percent) said they are using "prepackaged kits purchased from a retailer," more than a quarter of them (26.2 percent) are using "stacked cups prepared onsite (e.g., bread in bottom cup and juice on top)," 7.7 percent are using "separate cups for bread and juice prepared onsite (in one or two trays or other containers)," and 4.6 percent are using other forms of Communion supplies (individual cups and bread/wafers served on a tray or plate).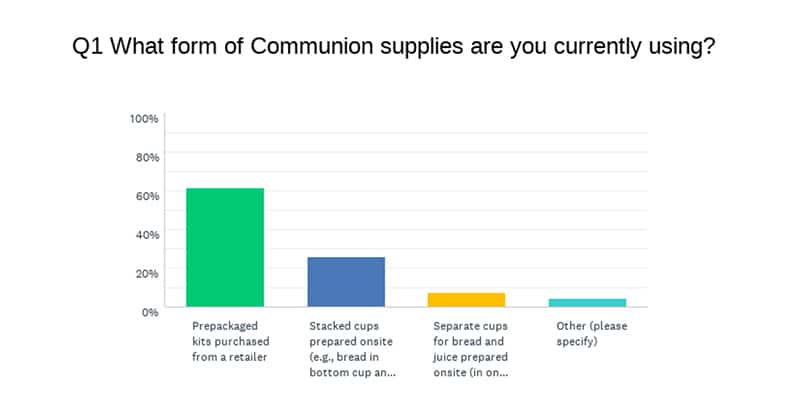 2. How are you currently serving Communion?
Slightly less than half (49.2 percent) responded that "people pick up Communion emblems at the entrance," while 23.1 percent said, "People go to Communion table/station(s) set up in the worship area." Smaller numbers said, "People pass trays," 10.8 percent; "Servers distribute Communion to people individually (not passed down rows)," 9.2 percent; and "People go to a Communion table/station set up in a separate room," 1.5 percent. Other means of serving Communion accounted for 6.2 percent of responses. These included prepackaged Communion available in the backs of pews, Communion placed on tables at which people are seated, and Communion placed on small tables in each chair section. Not surprisingly for Restoration Movement churches, no one reported they suspended Communion in corporate church services because of pandemic restrictions.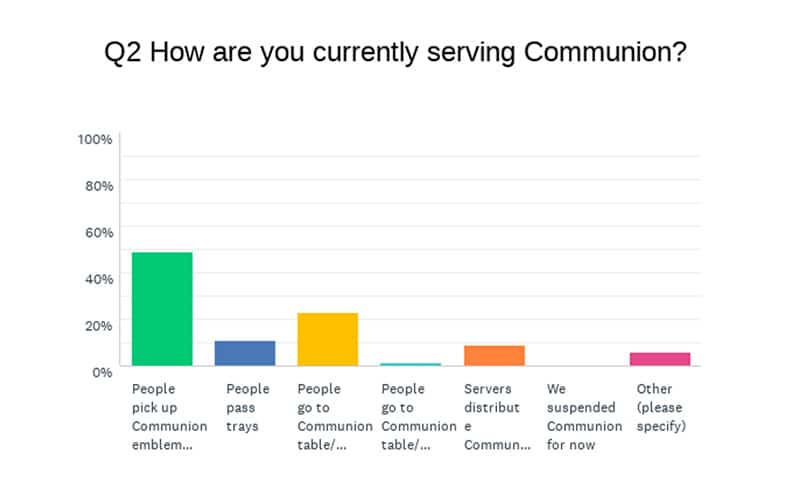 3. What changes are you planning for taking Communion?
More than 4 in 10 respondents (43.75 percent) said, "We made changes because of the pandemic, and we plan to continue with what we are currently doing." On the other hand, 26.6 percent said, "We plan to go back to what we did prepandemic." A smaller number of respondents said, "We plan to take Communion in a new way" (4.7 percent) or "We never changed what we did prepandemic and are continuing as usual" (1.6 percent). A large chunk of responses (23.4 percent) to this question fell into the "other" category, which indicated many churches are still deciding what they will do.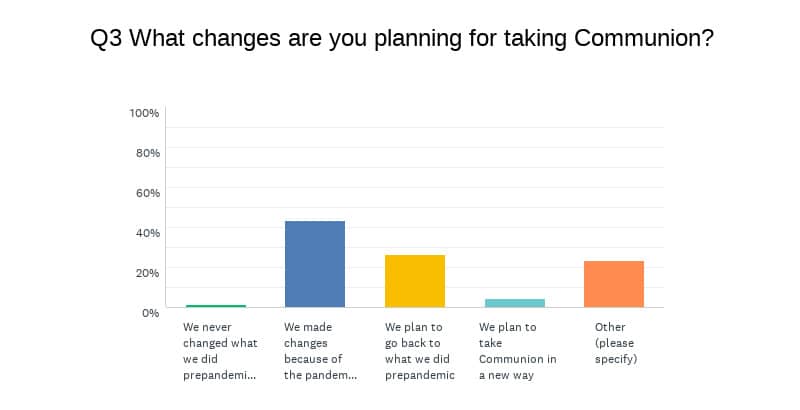 I also asked several Facebook groups associated with independent Christian churches and churches of Christ about current Communion practices. One concern is what brands of disposable Communion kits are preferred. One minister said, "The disposable ones actually allow for more thought and less distractions unless you go cheap and get the ones that have Styrofoam for bread." Another person observed that many people have found some of these disposables difficult to open, which interferes with their thoughts during the Lord's Supper. One leader who responded to our survey wrote, "The taking of the emblems is the single most important element of the worship service. The prepackaged elements do not provide the spiritual uplift of individual components. I want to move toward having segregated individual servings of freshly dispensed elements."
The pandemic has forced us to rethink some of the ways we carry out practices such as the Lord's Supper. About half the churches surveyed report they will be doing Communion in a different manner in the future than they did prepandemic.
While a survey can't instruct us about the best methodology for every congregation, we can see that church leaders are seriously deliberating how they can best celebrate the Lord's Supper, making sure people are "discerning the body of Christ" (1 Corinthians 11:29) as they partake of the emblems. "For whenever you eat this bread and drink this cup, you proclaim the Lord's death until he comes" (v. 26).
Michael C. Mack serves as editor of Christian Standard.