First Christian Church of Johnson City, Tenn., hosts a drive-in vigil at 7 p.m. every Sunday in the parking lot of Johnson City Medical Center to pray for staff and patients.
"When the pandemic got bad before we kind of started this, we prayed as long as things were bad," Ethan Magness told WJHL. "Recently things have gotten bad again. We've heard from the health care workers that they were tired and they needed support. "
The public also is invited to participate in the prayer sessions; all participants are asked to remain in their vehicles while praying.
Additionally, the church recently prepared 200 goody bags that were distributed to JCMC's COVID-19 staff.
_ _ _
IDES's partners have begun constructing the first of 30 homes the ministry plans to help build during the first phase of recovery efforts from the devastating Aug. 14 earthquake in Haiti that destroyed nearly 61,000 buildings and damaged many, many more. Thousands of people are homeless. In addition to rebuilding efforts, IDES has been providing food, supplies, and medical care.
IDES (International Disaster Emergency Service) is thankful for the generosity of a supporting church that provided $100,000 to build the first 10 homes, director of church relations Jeff Greene said. The ministry invites other churches and individuals to partner with them to rebuild even more homes during subsequent phases. Visit ides.org to learn more.
_ _ _
David Kennedy, 79, a graduate of Cincinnati Bible College who served as a senior pastor for churches in Ohio, Kentucky, and Indiana before becoming head of pastoral ministry and minister on call with Southeast Christian Church in Louisville, Ky., for nearly 20 years, died of a stroke Sept. 23.
In addition to his wife, Cindy, he is survived by three children, six grandchildren, two stepgrandchildren, and one brother.
Visitation will be at the Jeffersonville Campus of Southeast Christian Church from 11 a.m. to 2 p.m. and 3 to 6 p.m. today, followed by a 6:30 p.m. service officiated by Bob Russell and Jon Talbott. Memorial contributions may be made to White Mills Christian Camp, P.O. Box 129, White Mills, KY 42788, or online at whitemillschristiancamp.com, where he volunteered as a camp dean for many years.
A complete obituary is available at the News-Gazette website.
_ _ _
Christian Mission South Haiti lost some churches and buildings—including a guest house for visiting missionaries—in the Aug. 14 earthquake. More importantly, the mission lost three members and several others who were seriously injured and/or left handicapped. The mission's office also was destroyed.
CMSH—which has more than 10 churches of Christ, an orphanage, and a school—has been feeding the hungry and providing medicine since the quake. It is working to repair its church buildings. Monetary donations to help with recovery can be made to 631 Sun Bluff Lane, Apopka, FL 32712.
_ _ _
Hope Baltimore had their first worship gathering on Sunday. The Orchard Group church plant is led by planters Joshua and Ericka Symonette.
_ _ _
Cedar Falls (Iowa) Christian Church is holding a clothing drive daily through Monday for Afghan refugees placed at Fort McCoy in Wisconsin. New clothing is requested.
Church officials told KWWL that 8,700 Afghans are at Fort McCoy with little to no clothing. The need is growing as the weather gets colder.
_ _ _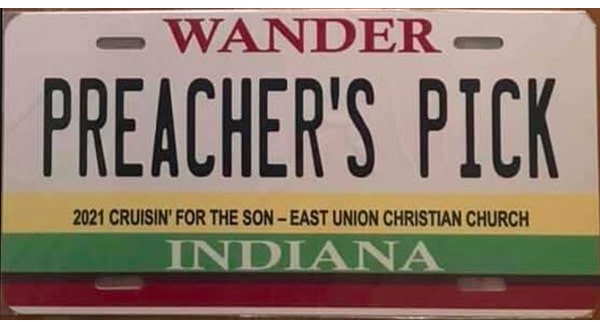 East Union Christian Church, Atlanta, Ind., will hold its seventh annual Cruisin' for the Son Car Show on Saturday. (Rain date is Oct. 9.) The church will award specialty license plates to the winners (see their Facebook post).
_ _ _
More than three in four evangelical Protestants have now attended a church's online worship service, and a majority of survey respondents want the online worship option to continue when the pandemic ends, according to a new report, "The Ripple Effect: Congregations, COVID, and the Future of Church Life," from Infinity Concepts and Grey Matter Research.
In a news release, researchers said the study raises several questions: "If online becomes an accepted option for many evangelicals, how will that impact giving? How will it impact Sunday school, youth and children's programs, and other traditionally in-person activities that may not be available online? What will happen with smaller churches that may not have a high-quality streaming service, or even any at all?"
_ _ _
David C Cook, a leading producer of Christian resources, has named John Aden as the ministry's new CEO. Aden has served as an executive with several top companies, including Walmart, Frito-Lay, and Mac Tools.
Aden believes the future is bright for David C Cook, which was founded in 1875. Via news release, Aden said he desires for the global nonprofit to become a destination for creative geniuses being called to impact the church through relevant, creative and thoughtful, Christian resources.
_ _ _
Send news to cs@christianstandardmedia.com.