By Jim Nieman
During October, the Council for Christian Colleges & Universities has been "sharing inspiring stories of alumni who are making a difference in their communities and around the world." Among the "young alums" CCCU has highlighted are Grace Minter, a graduate of Mid-Atlantic Christian University, and Craig Corzatt, an alum of Lincoln Christian University.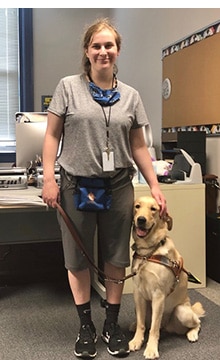 GRACE MINTER
At its Facebook page on Oct. 21, CCCU wrote of Minter: "She's been undeterred from obstacles throughout her life, and [she] strives to embody the importance of faith as she teaches Braille literacy to her students. Born legally blind, this Mid-Atlantic Christian University #CCCUYoungAlum demonstrates how 'any challenge can be overcome with the right mindset. I demonstrate that physical limitations do not hold me back. I want my students to see this and be motivated to overcome their own struggles.'"
We featured Minter in an article last December shortly after she was named North Carolina Student Teacher of the Year for her work with J.C. Sawyer Elementary School in Elizabeth City, N.C. Minter, who graduated from MACU in May 2020, now serves as a Braille education teacher with Governor Morehead School for the Blind in Raleigh, N.C.
"I really love my work," Minter told Christian Standard this week. "It is challenging at times and constantly dynamic, but very rewarding to have assurance that I am using the time God has given me the way I know he wants me to use it."
Minter shared that "my beloved faithful partner, guide dog Stormy, . . . passed away suddenly in May." She is thankful that "Leader Dogs for the Blind has . . . blessed me with a second wonderful guide named Ella."
She also shared that "a cochlear implant has enabled me to keep teaching despite profound hearing loss and regain the ability to communicate."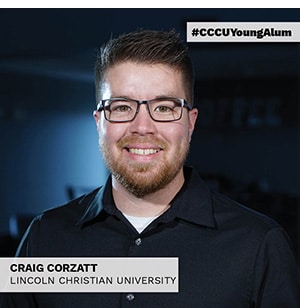 CRAIG CORZATT
On Oct. 15, CCCU wrote of Craig Corzatt: "He draws people into the presence of God & helps them express their worship in ways they didn't know they could. This #CCCUYoungAlum from Lincoln Christian University was thrust into a role of overseer, along with minister, due to the COVID-19 pandemic, and yet he has continued to keep his focus on investing in the spiritual formation in the lives of others."
Corzatt told Christian Standard he graduated from LCU in Lincoln, Ill., in December 2014 with a degree in spiritual formation and a minor in music. In fall 2018, he began serving as East Venue minister with Madison Park Christian Church in Quincy, Ill.
Corzatt said when the pandemic arrived in spring 2020, and MPCC switched exclusively to online worship services for a time, "the uncertainty that came with the pandemic was more than overwhelming to a lot of us [on staff]. I would say it was a team effort in how we moved forward in making sure that our church was still connected and worshiping. I admire the staff I get to work alongside and the way that we 'locked arms' through the heaviness of that year.
"Through the pandemic, my role at Madison Park shifted toward worship ministry because that is where I was needed the most through that season," Corzatt said. "In the midst of the chaos of that year, God revived a passion in me that is ministering to the church through worship. And, praise God, I'm able to continue doing that a year and a half later."
Jim Nieman serves as managing editor of Christian Standard.