By Kent Fillinger
It might seem hard to believe, but the millennial generation is approaching middle age! The oldest millennials will turn 38 this year, which means they were entering adulthood before today's youngest adults were born. Many researchers and demographers are now shifting their attention from millennials to generation Z to learn more about them.
Researchers quibble about when the millennial generation ends and generation Z begins—the years range from 1996 to 2002—but a Pew Research Center article from January indicates people in the two age groupings aren't all that different. Here's the article's headline (so judge for yourself): "Generation Z Looks a Lot Like Millennials on Key Social and Political Issues."
This Pew report's notable findings about the young adults of gen Z include these:
• 35 percent know someone who uses gender-neutral pronouns.
• 70 percent believe the government should do more to solve problems in this country; thus, they favor a more expanded role for government.
• 62 percent see increased racial diversity as good for society.
• 48 percent say same-sex marriage and interracial marriage are good for society.
• 67 percent are indifferent about cohabitation, while 20 percent see it as a good thing for our society.
Is Generation Z a Priority for Pastors and Churches?
A July 2018 Lifeway Research study on the "Future of the Church" found that the largest percentage of pastors, and 40 percent of Protestant pastors, said "reaching the next generation" was their biggest concern. By comparison, the next highest area of concern was the "lack of discipleship in the church" (16 percent).
Almost one-third of these pastors (32 percent) said church attendance by 18- to 29-year-olds increased in the last five years, while 29 percent reported a decline, and 39 percent said attendance stayed the same. Almost three-quarters of pastors (72 percent) predicted attendance among 18- to 29-year-olds would increase over the next five years.
Is Engaging Young Adults a Priority for Our Churches?
For the first time, our annual church survey asked church leaders to respond to this statement: "Our church puts a significant priority on training and developing the next generation of church leaders." Survey response options ranged from "strongly disagree" to "strongly agree." Here's a breakdown of responses from leaders of churches of various sizes: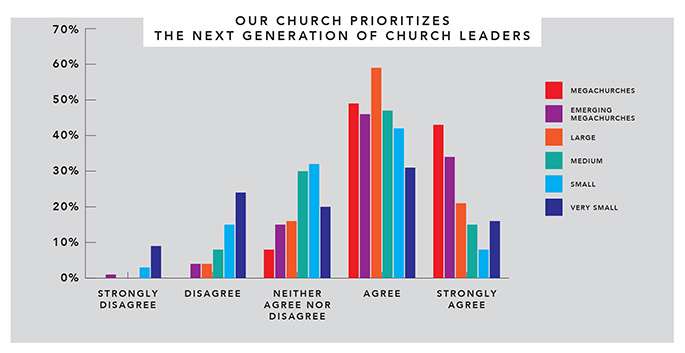 When looking at the combined percentage of churches that either "agreed" or "strongly agreed" on the importance of developing next-generation leaders, it's notable that 92 percent of megachurches reported it's a priority. Emerging megachurches and large churches were next, at 79 percent and 80 percent, respectively.
There was a noticeable drop-off among medium-size churches (62 percent), small churches (50 percent), and very small churches (47 percent).
What Impact Does This Have on Church Life?
Breaking the data down even further, a church's emphasis on developing next-generation church leaders seems to impact other areas of church life, as evidenced by this chart: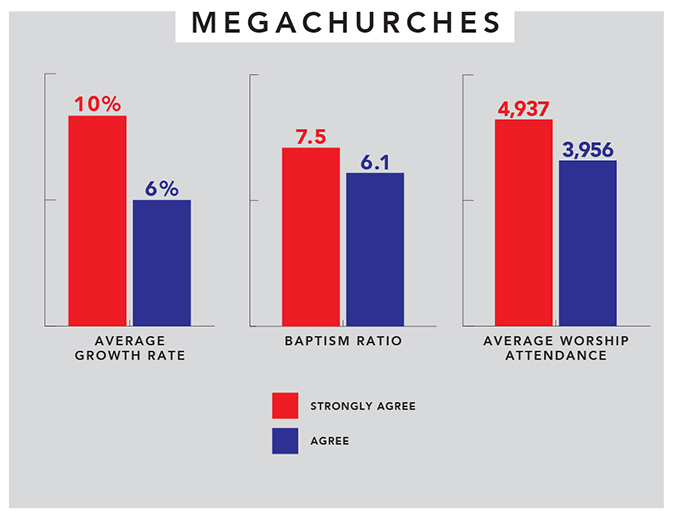 The chart shows megachurches that "strongly agreed" on the importance of developing next-generation church leaders grew almost twice as fast as megachurches that "agreed"; the megachurches that "strongly agreed" baptized more people and had almost 1,000 more people in attendance each week.
The same trends held true for emerging megachurches, although the differences between the two groups ("strongly agree" vs. "agree") were less pronounced. The gap was wider, however, among emerging megachurches that "neither agree nor disagree":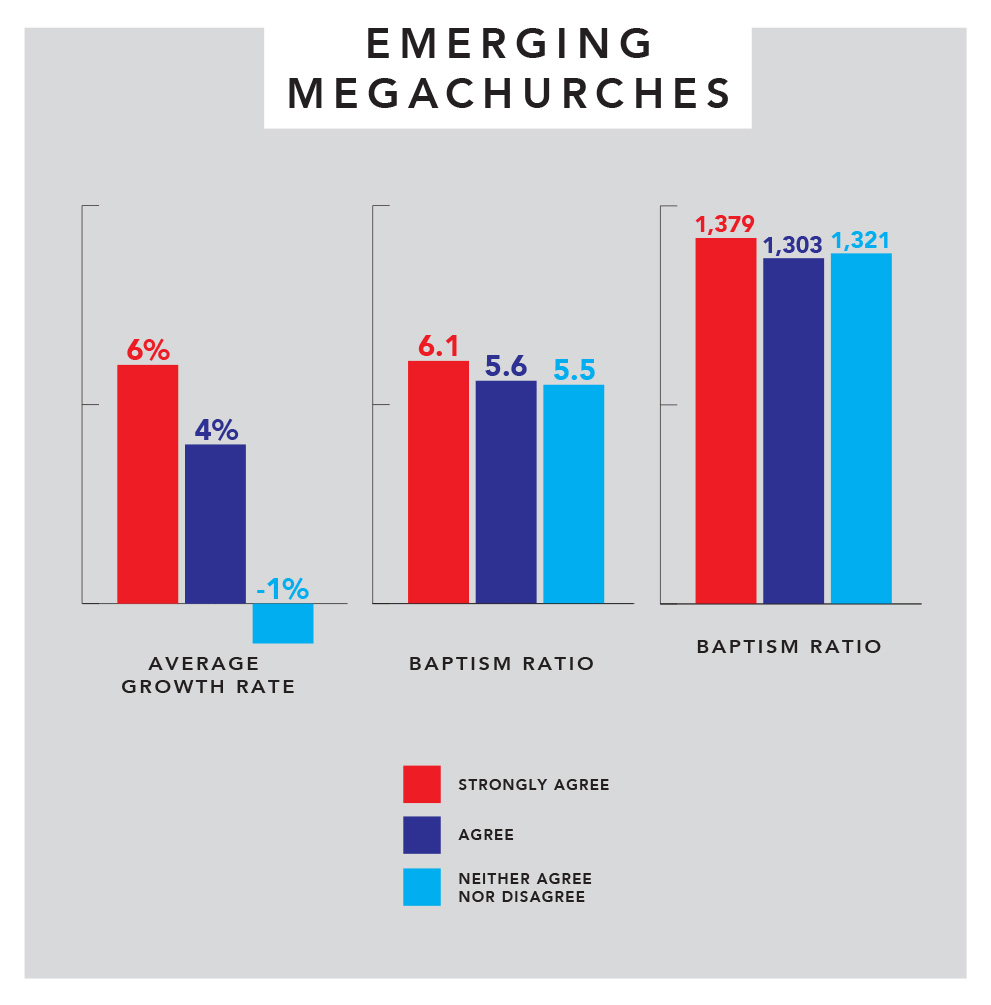 These statistics indicate a positive correlation between placing a high priority on developing next-generation church leaders and overall growth metrics.
What Are Our Churches Doing to Reach the Next Generation?
Another new question this year was, "What is the best thing your church is doing to engage young adults in worship, discipleship, and/or ministry?"
This question received 366 responses ranging from "we don't have anything for young adults" to "we have a vibrant, thriving young adult ministry."
I appreciated this response from one small church leader:
Our church has struggled for many years to attract young adults, therefore engaging them is difficult. We remain a predominantly older church, however we do have more young adults now than a few years ago. A primary reason our church struggles to attract young adults is because of a desire to hold on to past ways of doing church and the personal preferences of an older, vocal minority.
It was just one comment among several, but my hunch is many of the churches in our movement are fixated on preserving man-made traditions at the expense of reaching the next generation for Christ.
Fortunately, the majority of the responses were more positive and upbeat, and demonstrated many of the churches in our study are very committed to adjusting their ministry styles and investing staff, time, and money to reach and engage the next generation.
Here are the 10 basic responses to the question, "What is the best thing your church is doing to engage young adults in worship, discipleship and/or ministry?"
• Young adult and/or college-age ministries
• Small groups for young adults (several churches mentioned using "Rooted" to help with this discipleship process)
• Hiring a young adults minister to focus on reaching the next generation
• Hiring a younger staff to attract a younger demographic
• Recruiting and engaging young adults in volunteer ministry roles inside the church and out in the community and world (many of the churches mentioned using young adults for specific help with worship ministry and children's ministry)
• Residency and internship programs to provide a forum for leadership development
• Designing, changing, and/or adding worship venues geared to reaching and engaging young adults (several churches mentioned adding Thursday night or Sunday night worship venues for this purpose)
• Mentoring programs for young adults
• Special events and activities for young adults
• Giving young adults a voice and opportunity to lead ministries in the church
Will Churches Pass the Baton?
It's time for churches and church leaders to embrace generation Z. A 2017 LifeWay Research study found that 66 percent of young adults who attended church regularly as teens dropped out of church as they transitioned into adulthood. This was a slight improvement from a 2007 report that showed 70 percent of teens who were active in church during high school dropped out during their college years. (See "How Can Churches Keep Teenagers Connected?" January 15, 2019, Facts & Trends.)
Of the 66 percent of young adults who left the church during college, 71 percent didn't plan on taking a break. And only 31 percent of the 66 percent who left said they came back to church and now attend regularly again. Among those who stayed, 54 percent said they had regular responsibilities at their church; conversely, only 15 percent of those who dropped out had regular responsibilities.
Let's take the steps necessary to ensure the next generation of church leaders and members are in place so we can pass on the baton of faith!
Kent E. Fillinger serves as president of 3:STRANDS Consulting, Indianapolis, Indiana, and regional vice president (Ohio, Pennsylvania, Michigan) with Christian Financial Resources.