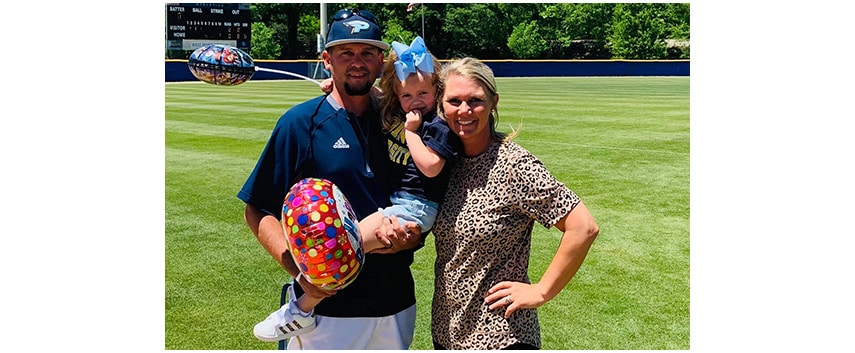 By Jake Sutherlin
Jennifer Perkins Tyler—now entering her 12th year as Point University's head softball coach—is a former NAIA First-Team All-American (2007) and a member of the Hall of Fame at Trevecca Nazarene University, for whom she holds program records for most home runs in a season and career.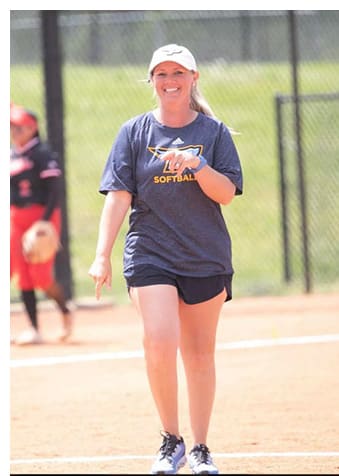 She can swing, catch, and throw with the best of them. So, a while ago, when a batter smacked the ball into deep left field—where Jennifer was positioned for a staff softball game—she was more than capable of making the catch.  
But her husband, John Tyler—Point's head baseball coach (who was positioned in left-center field)—is extremely competitive. 
"John ran over, right in front of her, and caught the ball," said Rusty Hassell, a longtime friend of the Tylers, who was playing shortstop at the time.
"I saw her look at him, and he knew immediately he'd made a mistake," Hassell laughed. 
Hassell, the chief enrollment officer at Point University, located in West Point, Ga., has had a front-row seat for much of the Tylers' relationship. He was John's roommate in 2011 when John and Jennifer started dating. When Jennifer, or "Perkins" as Hassell calls her—that's Jennifer's maiden name—makes family dinners, he is always a welcome guest. Hassell himself is also very competitive; he played soccer for the school back when it was called Atlanta Christian College. 
John Tyler played baseball for four years in college, the final two at Point, and he is often Hassell's partner when the Tylers have Hassell and his girlfriend over for games. 
"Our current game is 'hand and foot' [a card game]. John and I are on quite a win streak, and we like to rub it in a little bit," Hassell said.
ESTABLISHING A LEGACY
It's a competitive bunch, and the Tylers are not shy about that, and that's part of why they have established a legacy at Point University. 
Jennifer has more than 250 career wins as the softball coach, a program she has been with since it began. John helped lead the baseball team to an NCCAA DII National Championship as an assistant coach in 2010, and then led the team to the NAIA World Series in 2016 as a first-year head coach. 
The pair fiercely support each other, their programs, and the mission of Point University "to educate students for Christ-centered service and leadership throughout the world."
The students that John and Jennifer recruit all know that faith is the cornerstone of both the university and the athletics programs, but not all the athletes are believers. 
"We get people from all different stages [of faith], and it makes the job worth it to help them see how God is working in their lives," Jennifer said.
Whether it be through devotions before baseball practice, or through guest speakers for the softball team, the Tylers are intentional about keeping Jesus the focal piece of their ministries.
As a married couple coaching at the same university, they get to serve as a clear and present example of what a Christian man, woman, husband, wife, father, and mother (their daughter, Millie, will soon turn 5) look like. 
But that is not always easy. 
"We try to eat dinner at the table every night," Jennifer said. "During the season, this means that sometimes we are eating pretty late, but it's something we started doing with Millie right off the bat, so we try to continue that."
SUPPORTING EACH OTHER
Head coaching is a round-the-clock business. Recruiting is year-round. Workouts can occur early in the morning and late at night. Team buses roll in from weekend trips in the wee hours of the morning. Trying to maintain meaningful and constructive relationships with 30 or so collegiate athletes is no simple task. The lives of head coaches involve long hours and a lot of time away from home.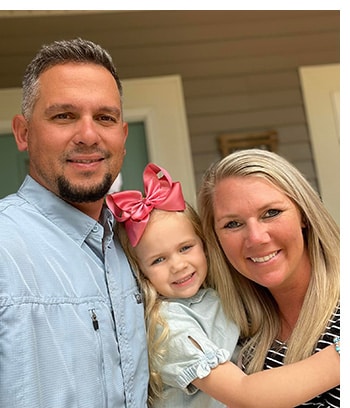 "To have a partner in crime who recognizes the time it takes and the love you have, who sees what God has called you to be in, who understands it and gets it, has been a blessing," John said.
"The first thing that comes to mind is unconditional love," added Jennifer. "As head coaches, you have a lot of really good and bad days. It's great having someone who understands what you're going through, who is going to be in your corner and listen to you and back you."
Hassell said it has been amazing to see how the couple have grown both as coaches and people of faith.
"When we started 11 years ago in our mid-20s, we embraced the roles as resume-building opportunities," Hassell said. "For all of us it's changed to building a legacy and growing and embracing the mission of the position."
Over the past decade, the Tylers' passions and competitive nature have helped shape countless students. They have a drive to serve and improve, to do better, to be better in all facets of life. 
And it's a drive and mentality people get to see poignantly with little Millie, who loves playing basketball and softball with her mom and dad. 
"We don't usually let her win," John said.
"She's got two coaching parents," Hassell observed. "Even as they play ball in the backyard, they're coaching a 4-year-old, encouraging her. There isn't an 'everybody gets a trophy' mindset. If you fail, you grow and learn from it."
The Tylers are continuing to strive to learn and improve as coaches and as parents.
John says his prayer is that God will grant them the will to "be steadfast and hungry, to put God first, and to lead their players down the right path."
Jake Sutherlin, who earned a bachelor's degree in journalism from the University of Missouri, works as a youth intern for a church in Mississippi.