James I. Fehl, 87, a longtime editor with Standard Publishing who dealt with the effects of polio his entire adult life, died at his home in Lebanon, Ohio, on Aug. 21, 2022.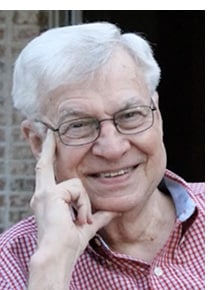 After dedicating his life to full-time Christian service in 1951, and then graduating from high school in suburban Cincinnati in 1952, Mr. Fehl contracted polio during freshman orientation at Cincinnati Bible Seminary and did not return to school for three years. After recovering as much as possible from the effects of the disease, he re-entered CBS in 1955 (in a wheelchair) and graduated as salutatorian of his class in 1959.
A year later, he started as an editorial assistant in the Youth Department at Standard Publishing, Cincinnati, later transferring to the Adult Department. He then was promoted to be editor of the Standard Lesson Commentary, Standard's lesson manual for the teaching of adults. He held that position from 1967 until his retirement in 1994.
At CBS, he met Donna Overton, whom he married on Aug. 13, 1960. (Donna Fehl also worked at Standard Publishing, including serving 24 years as office editor of Christian Standard.) Together they raised four children, and Donna lovingly cared for her husband for more than 62 years. In addition to his wife and children, he is survived by 12 grandchildren.
Visitation was Aug. 27 at Oswald-Hoskins Funeral Home in Lebanon. A complete obituary is available here, and watch our website and this newsletter for a more in-depth look at Jim Fehl's life in the upcoming week.
_ _ _
News Briefs
On Monday, Glen Elliott shared via Facebook that two buildings at the Tavriski Christian Institute (TCI) campus just outside Kherson, Ukraine, have been hit by shelling. The campus has been occupied by Russian forces since early in the war, which started in late February. TCI was started in 1997 in Kherson. The institute is currently relocated in western Ukraine, but also has extension sites in several Central Asian countries. 
_ _ _
Mission Interchange will take place from 5:30 to 7:30 (ET) Nov. 14. The online conference is for volunteers who gladly serve on mission committees, mission teams, and short-term mission trips globally. Mission Interchange will become a network that provides a storehouse of knowledge for mission-minded folks who face similar challenges and opportunities in their local church settings. Register at www.missioninterchange.com to help boost the effectiveness of your missional network. (Mission Interchange is facilitated by the same people who, since 2005, have staged the annual Missions Ministers Roundtable.)
_ _ _
Second Avenue Christian Church in Newton, Ill., broke ground for a new building on Aug. 21. Among those participating were several charter members of the church, which was founded in 1967. The new multipurpose building "will have a stage, basketball/volleyball court, pickle ball, large kitchen area and many other features," according to the Jasper County Daily News.
_ _ _
Vera Mushrush, 95, of McCordsville, Ind., who was very active in missions, practicing hospitality, and Deaf ministry, died Aug. 28, 2022. She worked at IBM for 44 years and was a member of Fortville (Ind.) Christian Church for more than 70 years, teaching second-grade Sunday school and serving on the Missions Committee for 50-plus years. She enjoyed short-term mission trips, traveling to 35 countries and 50 states. Friends may call from 10 a.m. until the noon service Friday at Fortville Christian Church. Complete obituary information is available at both www.sealsfuneralhome.com and www.legacy.com.
_ _ _
On Aug. 21, the Milford (Ill.) Christian Church marked the 50th anniversary of construction of their worship center. The "new" worship center, completed in July 1972, replaced a church building destroyed by fire in March 1971, according to an article in the Times-Republic. During the celebration, a time capsule from 1972 was opened.
_ _ _
SICOM—the student portion of the International Conference On Missions—is for students in grades 6 to 12. SICOM's purpose is to engage and empower the next generation to pursue missions and ministry for the kingdom. This year's theme, "Thy Kingdom Come," will focus on the power and significance of prayer while listening to God's direction for our lives. The event will be Nov. 4-5 in Columbus, Ohio, and feature Mallory Jenkins as host and Anne Wilson and Stephanie Freed as speakers.
_ _ _
B&H Recycling helped raise funds for Mattoon (Ill.) Christian Church recently. The company gave area residents who stopped by the Teutopolis Village Maintenance Building a rare opportunity to dispose of difficult-to-recycle items. "We donate all our funds and all the checks we get to Mattoon Christian Church," Fred Honaker of B&H told the Daily News. MCC is still recovering from a November 2020 arson fire that destroyed their building.
_ _ _
Send news to [email protected].