(This school year is different at Central Christian College of the Bible in Moberly, Mo. After a combined 130 years of service to the school—65 years each—Lloyd Pelfrey and Gareth Reese retired following the Spring 2022 semester. The pair had served the school since it opened in 1957. Daniel Schantz, who worked alongside those men at CCCB for many years, wrote this appreciation.)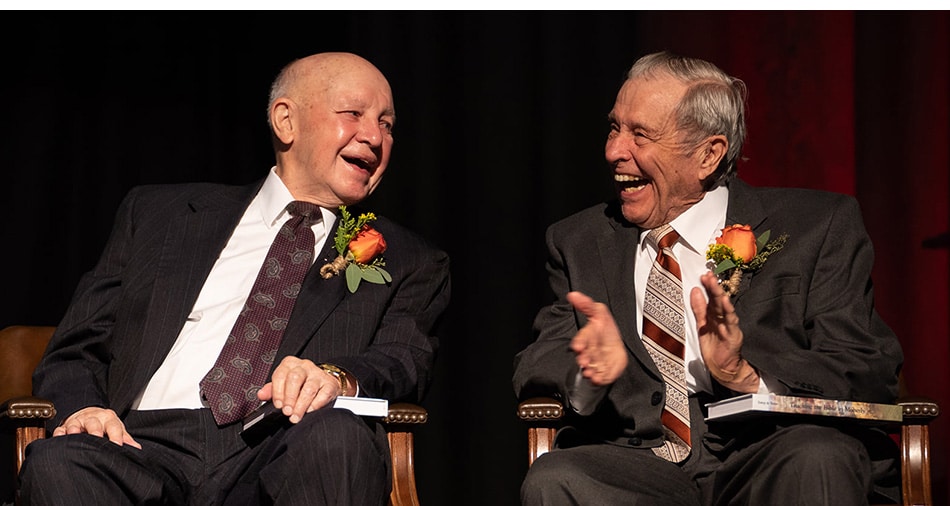 By Daniel Schantz
I zoom my little white Volkswagen bug out of Lansing, Mich., and aim it west to Moberly, Mo., 10 hours away. It's January of 1965, and I am 22 years old. My new bride is at my side, and the moving van is following us.
We are headed to Central Christian College, which is a college "of the Bible," and Bible is what I am looking for. I was told that Central has many Bible courses and two of the best Bible teachers in the country: Lloyd Pelfrey and Gareth Reese.
I'm a little nervous about meeting these two scholars, but they turn out to be just regular people. Lloyd is trim, with thinning brown hair and light blue eyes. Gareth is shorter, muscular, with black hair and dark eyes. I am six feet one, with green eyes and dark brown hair.
Gareth shakes my hand, grins, and says, "I don't know about this guy, Lloyd. I don't trust anyone over six feet tall." I laugh and come back with, "Well, that's funny, because I don't trust anyone under six feet." It's an icebreaker, and these men turn out to be much fun.
LLOYD PELFREY: AN OT SCHOLAR AND MORE
As a teacher, Lloyd was a human ATM, dispensing Old Testament facts instead of cash. He had a Velcro memory and could summarize years of study into a few sentences.
Recently I asked him, "Who was Ishbi-benob?"
He thought for just a moment. "Ishbi-benob was the Philistine soldier who almost killed King David when David grew faint. His name means 'dweller in Nob,' and Jewish tradition says that he was a giant, the brother of Goliath, but, if so, he was a runt, because his spear weighed only half as much as Goliath's." Etcetera, etcetera, etcetera. (Not bad for a 91-year-old brain.)
Lloyd knows more about the Old Testament than Moses. After all, Moses died before most of the Old Testament was written.
I took a Hebrew language class from Lloyd that met at 6 a.m., and I was not an early bird. Which is why the only Hebrew word I remember is Shalom, which means "peace" (I think).
Lloyd and Gareth were not interested just in their own departments, but in the entire college and in the kingdom of God at large. Besides teaching, Lloyd served as academic dean in his early years, then as president of the college for 26 years, and, finally, as chancellor in his latter years. He preached on Sundays, wrote for Standard Publishing, founded a new church organization, and much more. But his first love was always teaching the Old Testament to young minds.
GARETH REESE: A NT SCHOLAR AND MORE
Meanwhile, Gareth was covering the New Testament, methodically and meticulously. He was a spirited, dynamic teacher, pouring out his heart, with sweat on his forehead and sometimes breathing hard. Only another teacher can understand how exhausting good teaching can be.
Gareth was famous for cute little quips, like, "riding the pony" (which means cheating on translations) . . . "praying for squigglies" (those red grading marks that gave partial credit) . . . "killing two stones with one bird" (an old Chuck Norris line) . . . "the sooner the quicker" (as in when to turn in assignments) . . . and, my favorite, "You're a good man" (when a student got the answer right). I liked that phrase so much that I have used it myself with store clerks, librarians, friends. Even women like it. They smile and say, "Well, I'm not a man, but thank you. I do try to be a good woman."
Gareth used every possible means to reach students, from visuals of all kinds to helpful handouts. His tests were not easy, but they were fair, and he graded his own papers. Like Lloyd, Gareth took on many other projects, such as the library, which he built over a period of 40 years. It was his "baby," and when we students got into a squirt-gun war in the library, he turned into a Mama Bear, protecting her cubs, the books.
Gareth wrote heavy-duty commentaries on the New Testament books, with the help of his wife, Kathy. On weekends he preached in churches, and sometimes helped mediate conflicts in troubled churches. (A brave man).
WORKING TO GLORIFY THE LORD
These two teachers influenced some 5,000 students who came through Central. They gave a combined 130 years to the college, sometimes working for free, when support for the college was off.
I was graduated in 1966, but in 1968 I was invited back to become the Christian education professor, and I served for 43 years. I was only 25 when I started, and I made a lot of mistakes. Often, I had to turn to my former teachers for help. When I was teaching Ecclesiastes, I looked to Lloyd to save me. "Lloyd, what's your take on Ecclesiastes 7:16, 'Be not over righteous . . .'? How can anyone be too righteous?"
Like all of us, Lloyd and Gareth had their quirks and their failings, and they are quick to point out that they were only two of many excellent teachers who made Central the unique college that it is. These men worked not for personal acclaim, but to glorify the Lord. Emerson once said, "A great institution is but the lengthened shadow of a single man." At Central, that Man is Christ, our Lord.
What did I learn in my time at Central?
I learned that you could trust teachers who are less than six feet tall.
I learned that Gareth Reese is a very good man.
I learned that Lloyd Pelfrey is an Old Testament giant.
And I learned that Shalom means "peace."
Rest in peace in retirement, Lloyd and Gareth. You have earned it, many times over.
Daniel Schantz is a professor emeritus of Central Christian College of the Bible, Moberly, Mo.