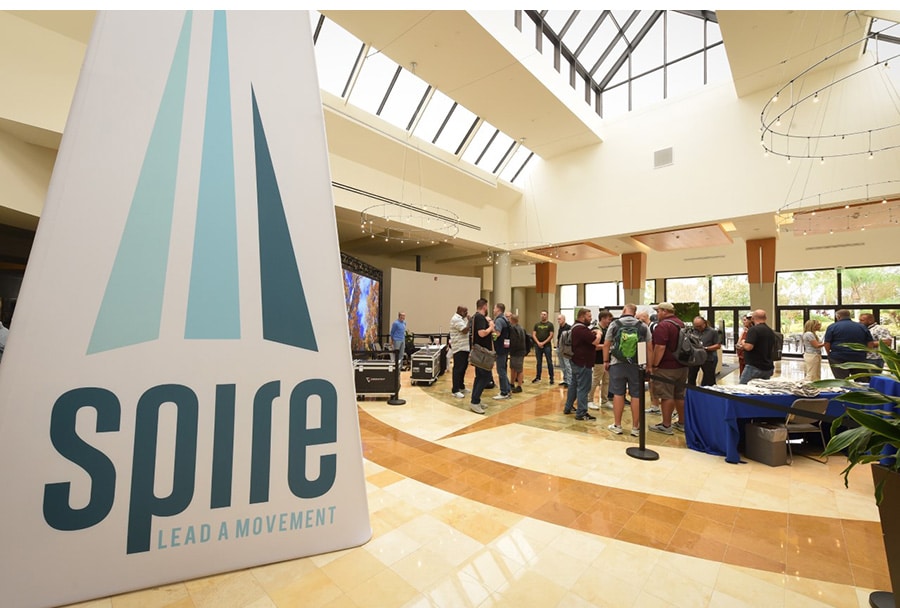 By Tina Wilson
This week, more than 1,000 leaders from our Restoration Movement tribe gathered in Orlando, Fla., for the fourth-annual SpireConference. Of course, this was not the only thing occurring in Florida this week. Hurricane Ian made landfall in southwest Florida at about 3 p.m. Wednesday, on Day Two of Spire's scheduled three-day gathering.
And while SpireConference saw attendance that was below original projections, and curtailed events early because of the fierce hurricane—which ravaged Florida and battered Orlando with heavy winds and rain—the annual gathering of church leaders accomplished its mission. . . some say better than at past conferences.
We're still not sure what a "normal" SpireConference looks like. The inaugural year of Spire was 2019, when the shift was made from the 90-year-old North American Christian Convention (which was more of a congregational event) to SpireConference (a more leadership-driven event). That year, 1,500 people gathered at the World Center Marriott, the same location as this year's Spire.
In 2020, because of COVID-19, Spire hosted a one-day online conference attended by 3,000 people virtually. Last year, the conference convened in Nashville, Tenn., and days before the event, local officials considered calling it off because of a spike in COVID cases. Nearly 300 people canceled due to pandemic concerns, but 1,250 still showed up in person.
This year, Spire was anticipating 2,000 or more would attend until some churches began to scale back the number of team members they were sending because of recession concerns and a spike in airfares. Still, more than 1,000 were registered for this year's event and a few hundred more were expected to register on site. As Hurricane Ian moved through the Caribbean and continued to strengthen, however, more people dropped out. Still, this year's opening session was attended by more than 1,000 leaders. Spire also saw a solid turnout for Monday's preconference gatherings—the 1K/1Day Exchange event for lead pastors of churches with 1,000 or more in regular worship attendance, and the first-ever SpireXP, an event for executive pastors and lead associate ministers of churches.
More than 400 attendees were able to stay until the end of the conference, and as of Thursday night, some 300 remained at the Orlando World Center Marriott. (Hurricane Ian cut across Florida and into the Atlantic on Wednesday and Thursday; this morning it was threatening the South Carolina coast.)
Spire Network president Rick Rusaw said decisions were difficult because people were already en route to the Florida conference when the path and severity of the hurricane became clearer.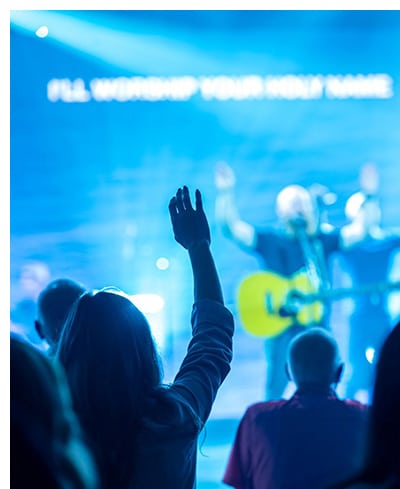 "We quickly made a decision—once we saw that the storm would impact Florida—to scale back the program on Thursday to allow everyone to get out of Orlando on time," Rusaw said. "As the situation unfolded, it was clear that people couldn't get out on time if they continued to Wednesday. The planning team and volunteers, the worship team, and the speakers were all terrific about making adjustments. People were positive and responsive."
The circumstances were unforeseen, and it all could have been quite discouraging, but Rusaw maintains, "If all we got was the first day, it was worth it. It felt like a full conference!"
At least two conference attendees agree.
My husband, Matt Wilson, lead pastor of Ekklesia Christian Church in Conway, S.C., said he believes this year's was the best SpireConference.
"Each interaction was less rushed, and genuine connections were made," he said. "Everyone was accessible, and the organizers showed that the quality would not be compromised for the smaller crowd. I can't help but wonder if God hadn't meant this year to be one of true refreshment and renewal for those who attended. Although I look forward to the future, it will be hard to beat [this] experience."
After the preconference events and the Opening Night Party, Wilson drove eight hours back home to South Carolina. (He was concerned that Florida could run out of fuel and that bridges might close.) As the evening session was beginning, he learned he had won an all-expenses-paid trip to Israel from the Accelerate Group.
E.L. Jones, lead minister at Compass Christian Church in Mechanicsville, Va., is staying in Orlando until Saturday, after his flight was rescheduled. (Local airports closed for part of the week.)
Jones said SpireConference was more impactful this year, and that the opportunity to connect with other ministers and build relationships, while cut short, was even better than at past events.
"I got to meet people who I probably would not have met because of the storm," Jones said. "Usually you go to conferences, and you talk to your friends or people you know. But yesterday, I . . . talked to people who are stuck here, and I got to know a lot of people who are outside of the circle I'm already in."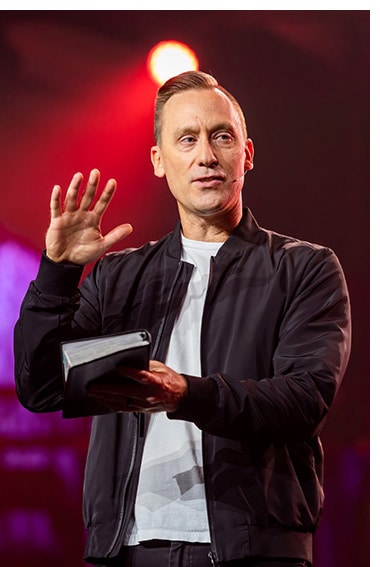 Jones admits he sometimes struggles with confidence involving next steps for church growth, but he was blessed with opportunities for serious conversations with leaders who have already traversed the ground where he now finds himself, and their churches have grown. Jones noted that the Spire Mixers provided a great space for these conversations to take place. Additionally, Ashley Wooldridge, senior pastor of Christ's Church of the Valley in Arizona, addressed this topic head-on in his opening session about faith and fear. 
Church leaders weren't the only ones to have their schedules upended by Ian—so, too, did the vendors and exhibitors who attended the conference.
One of them, Adam Lenhoff, owner of Versatile Solutions—a church tech company that specializes in LED wall displays—had to take down his elaborate exhibit and evacuate only about 24 hours after setting it up.
"Despite the unforeseen circumstances with Hurricane Ian, I'm compelled to commend all the vendors and conference leaders who were able to attend," Lenhoff said. "Their eagerness to support those around them spoke volumes to their commitment to 'bear one another's burdens.' . . . We are already thinking ahead for next year. . . ."
"For many of the leaders who attend," said Spire executive director Chris Jefferson, "this is the place where they're able to connect with others—to not only find the talks about innovation and collaboration—but to renew their identity in the Restoration Movement. It's that 'in the cave' moment where you realize, 'Hey—I'm not the only one! There are a lot of us out here, and we are all working toward the same vision.'
"Spire is not just a trade show, but a space where our identity is continually brought back to center and to the real opportunity we have to advance the kingdom."
Indeed, as Jefferson shared this perspective, groups of leaders gathered in rooms throughout the Marriott (where Jefferson also is sheltering in place) to connect with one another, play cards, and talk shop.
Even after the conference curtailed its schedule, the Spire team continued to create unifying experiences for those who remained in Orlando. They gave away 450 bagged lunches to remaining attendees on Wednesday; and later that evening, they hosted a dinner in one of the rooms that had already been reserved for Spire Huddles. Hundreds responded to the dinner invitation.
The enduring spirit of unity and love for ministry is, for me, a key feature of this event.
In Orlando, I was reminded that 10 years ago, in 2012, the North American Christian Convention was held in this same location. My daughter, who was 7 at the time, attended the kids' program while her dad and I went to the main event. Now she is 17 and is again attending—this time as social media manager for our church. While the target audience for the gathering is now more narrowly defined than in 2012, its impactful mission has only increased.
Spire returns to Nashville on Sept. 26-28, 2023, and Jefferson is anticipating a breakout year (barring international pandemics or historic natural disasters, of course). Spire's goal and desire is to create connectivity around Christian churches, and this goes well beyond the conference. Check out Spire.Network and consider the resources available there.
"While it's unfortunate we had to make adjustments and end early, it was [only] an inconvenience," Rusaw observed. "Our hearts go out to those who suffered the devastating consequences of Ian. We will let the Spire family know where we can offer support and assistance to churches impacted by this storm."
Tina Wilson serves with Ekklesia Christian Church in Conway, S.C.