By Jim Nieman
Much of Florida is recovering from a direct hit by Hurricane Ian last week. Here's a sampling of what some Christian churches and agencies in Florida have posted on their websites and via Facebook in the past few days.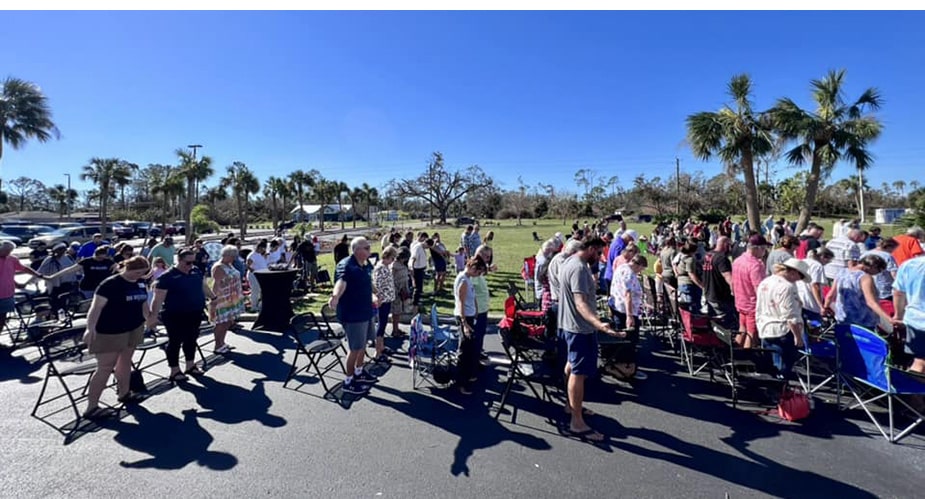 New Day Christian Church, Port Charlotte, Fla. (Rusty Russell, lead pastor)
Russell wrote this note: "Our church building received some relatively minor roof damage and some severe water damage in one back section. . . . It is only by God's grace that the building was not more damaged! Thank you, Lord! . . .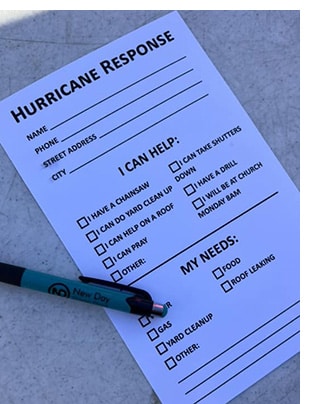 "Based on a show of hands this weekend [when about 600 attended services], I would estimate that 15 percent of our congregation has significant damage to their property. I defined this as a hole in your roof that will leak at the next rain, or worse. Several lost a couple of rooms in their house. One family had the roof cave in on them. They are doing OK but banged up and traumatized.
"Then about 80 percent of our congregation had minor damage to their property. I defined that as soffits missing, trees down, a few shingles missing, fence broken, RV toppled, or carport destroyed. I personally was in this category. . . .
"About 5 percent of our congregation received no damage at all. Most of them are without power like the rest of us (99 percent after the storm and still a significant majority).
"If I could summarize in one phrase the current mood of our congregation it would be this: exhausted but thankful. We've been working hard nonstop for six straight days and have been through a traumatic experience. But we are holding onto our faith and determined to keep a spirit of joy. . . ."
The church worshipped outside on Saturday evening and Sunday morning. There was no livestream because "there are no internet capabilities," according to the church's website.
International Disaster Emergency Service (IDES) is partnering with New Day "to meet the needs of affected families."
The church is engaging in clean-up efforts and is working to help its members and neighbors with their needs. The church is accepting donations for these efforts, and also has a link for those who wish to donate to IDES. This morning (Monday) it is arranging for volunteers to help put tarps on roofs.
A note at its website says, "If you are a church or organization that would like to give, please call 941-229-6050 or email [email protected]."
Russell reported that a faithful volunteer with the church, Denny Irwin, suffered a heart attack on Thursday morning and died before any person or emergency providers could arrive to help.
_ _ _
Crosspoint Christian Church, Cape Coral., Fla. (Matt Swearingen, lead pastor)
UPDATED AT 11 A.M. OCT. 4 — We contacted the ministers of some Florida churches impacted by Hurricane Ian and asked them to share with our readers what was on their hearts. Matt Swearingen wrote to us this morning:
"Southwest Florida is my home. My family moved here when I was 5 years old and I grew up here. I have experienced a lot of hurricanes over the years. This is unlike anything I have ever experienced. The devastation goes on and on. People have lost their homes, cars, and in some cases their lives. This is a situation where people's entire worlds have been tossed upside down, but in the end we have hope. No matter the devastation we experience, we have hope. That is the beauty of following Jesus.
"As followers of Jesus, our role in these moments is clear — to serve others. Serve our church family, serve our community and point people to Jesus. As a church, our initial efforts have been primarily focused on meeting the needs of our church family. It has been amazing the number of calls and texts I have received from churches all over the country offering to help with supplies and volunteers.
"Our church building did suffer some damage in the storm but our space will remain usable until we are able to work towards getting repairs. We are so grateful.
"If you are looking to help, donating supplies and volunteering with an organization such as IDES [mentioned below] is a huge help. Giving to local churches who have been on the ground accumulating expenses for supplies and repairs is also a great way to help."
FROM EARLIER — Crosspoint did not have regular services on Sunday but instead had "a special time of prayer and worship in the Worship Center lobby at 10 a.m." Cape Coral is located near Fort Myers, one of the hardest-hit coastal areas.
On a brief video available on Facebook, Swearingen described this past week as "unimaginable." The church has listed some needs, including such things as power strips, boxes or crates to move household items, and other more individualized needs (a vehicle for a family to borrow, a long-term home rental). Some relief supplies were being delivered over the weekend.
_ _ _
First Christian Church, Fort Myers, Fla. (Gary Cox and Matt Summers, co-lead pastors)
Matt Summers, who has served with FCC for just over a year, wrote on Facebook: "We have survived our first hurricane with minimal damage to our home, for which we are praising God. Nevertheless, many lives and homes were lost, and our hearts are hurting for those [folks]. . . . Our prayers, and whatever resources we can muster, are with them.
"Unfortunately, our church building sustained some damage to roofs and soffits, as well as an extraordinary amount of limbs, leaves and brush covering our lawns and lots." The church was not flooded, however, which was a great blessing.
Summers continued, "Without water or power, we are unable to hold services on Sunday inside the building. . . .
"We are also chasing several opportunities to potentially become a distribution center for disaster relief. Please pray for God to open doors for us to be able to serve our community in this fashion. . . ."
The church hosted an abbreviated outdoor worship service Sunday morning, followed by grounds clean-up and community water distribution. FCC also is hosting a community water distribution this morning.
_ _ _
Southside Christian Church, Fort Myers, Fla. (Mike Reed, senior pastor)
The church reported via Facebook that it had "weathered the storm," and that it has water, power, and WiFi. The church gathered on Sunday morning.
_ _ _
IDES (International Disaster Emergency Service)
UPDATED AT 4:15 P.M. OCT. 4 — "We continue to work with Christian Churches in the Port Charlotte/Fort Myers area," writes Jeff Greene, director of church relations with IDES. "We are also talking with Christian churches on the East Coast around the Daytona Beach area [because] the need there is also great. Our U.S. disaster response coordinator, who is on the ground leading efforts and setting up our Ian response, says the needs are enormous and IDES' response may be one of the largest in our history. Please visit ides.org to learn how you can partner financially or volunteer."
FROM EARLIER — This Indiana-based Christian church/church of Christ organization, which provides emergency assistance around the world, writes, "We have been in contact with a number of partnering churches and are ready to assist them as needed." One of those is New Day Christian Church in Port Charlotte (above). IDES offers opportunities for volunteers to work in the affected areas as part of a team. IDES accepts donations via its website. 
"We will begin taking volunteers as early [Monday]," IDES shared via FacebooK. "Volunteers will be assisting with debris removal, clean-up and water/supply distribution. If you are interested in volunteering, please email our volunteer coordinator at [email protected]."
_ _ _
Generations Christian Church, Trinity, Fla. (Johnny Scott, lead pastor)
Hurricane Ian made landfall well south of Generations Christian Church, but GCC is responding with physical and financial assistance to those who were hardest hit. Via video, Scott shared that GCC will form teams and collect funds to help at New Day Christian Church in Port Charlotte. Additionally, Scott shared information about IDES and encouraged donations and volunteer work through that Christian church ministry.
_ _ _
Real Life Christian Church, Clermont, Fla. (Justin Miller, lead pastor)
This multisite church located west of Orlando is offering help to people of the church and community. A disaster relief fund has been established. Real Life encouraged the church to be "the hands of feet of Jesus" during the hurricane and its aftermath.
Interestingly, the church's Facebook page noted Real Life donated $40,000 just a week ago to Convoy of Hope, an agency supporting disaster relief efforts in Puerto Rico, which was devastated by Hurricane Fiona about two weeks ago.
_ _ _
Johnson University Florida, Kissimmee, Fla.
Marvin Elliott, executive vice president, posted this on JUF's Facebook page four days ago: "Report from the Johnson University Florida campus this morning: We are all safe. There were a few roof leaks and downed tree branches overnight. Campus streets and fields are flooded but we are so fortunate. We never lost power on campus. However, there is devastation all around Kissimmee. Most streets are impassable and many cars and homes are flooded. . . . Thank you for your prayers."
_ _ _
Kissimmee (Fla.) Christian Church (Jim Book, lead minister)
UPDATED AT 4 P.M. OCT. 3 — Jim Book was doing a revival in Mansfield, Ohio, when Hurricane Ian hit, but he stayed in close contact with his wife and church staff during the storm.
"Thankfully . . . we experienced only minimal wind damage," Book said.
"We have been formulating work teams to help those in our church, especially our widows and older folks, cut down tree limbs and clean up their yards. Unfortunately a number of our folks are experiencing severe water damage . . . and the water is continually rising here in Osceola County."
The church will continue to assist folks in removing damaged goods from their homes and will do their best to help those who have to relocate to temporary shelter, he said
"We are praying that the flood waters recede soon. We also are praying that displaced members can make their way back to their homes," he said.
In spite of the challenges, the church had a "tremendous turnout" for worship on Sunday—including a baptism at the Portuguese evening service. Also, KCC's Christian school—the Kissimmee Christian Academy—reopened on Monday.
_ _ _
Christian Financial Resources, Lake Mary, Fla.
This church extension fund shared via Facebook that all of CFR's workers in central Florida "are safe and secure. Many of us lost power to our homes and experienced property damage after Hurricane Ian made landfall on Wednesday, but our employees and their families were all spared. . . .
"Thank you to all who have offered to provide assistance to people and churches that were significantly affected by the storm. We expect to have more details about specific needs [this] week."
CFR is accepting donations to help those affected by the hurricane, with details available on their Facebook page.
_ _ _
Cornerstone Church, Deltona, Fla. (Kevin Key, lead pastor)
The church was without power until late last week but then was able to conduct services on the normal schedule Saturday night and Sunday morning.
Additionally, the church had a Serve Day Saturday where about 80 folks washed cars, passed out $20 gas cards, handed out Popsicles, and distributed care boxes to first responders.
_ _ _
Salty Church, Ormond Beach, Fla., and other sites (Robbie O'Brien, lead pastor)
The church canceled midweek services last week and did not conduct weekend services in its Flagler Beach and New Smyrna Beach locations. Ormond Beach services were limited to two gatherings (instead of four). The church is located northeast of Orlando along Florda's Atlantic coast.
_ _ _
Tomoka Christian Church, Ormond Beach, Fla. (Joe Putting, lead minister)
The church has a Hurricane Response Team that is providing assistance to neighbors.
_ _ _
River Christian Church, Fleming Island, Fla. (Nathan Freeman, lead pastor)
The Jacksonville-area church canceled all on-campus activities from last Wednesday evening through Saturday, but then held worship services, as scheduled, on Sunday. The church partnered with Clay County Recovery Services to help anyone in need.
_ _ _
Share your church and ministry updates with us at [email protected].
_ _ _
Jim Nieman serves as managing editor of Christian Standard.