U.S. News & World Report's annual "Best Colleges" issue was released Monday. Among the colleges affiliated with Christian churches and churches of Christ to make the list:
• Milligan University (Milligan, Tenn.)—No. 12 in Regional Universities South; No. 2 in Best Value Schools in the South; No. 32 in Top Performers in Social Mobility ("for enrolling and graduating large proportions of disadvantaged students")
• Johnson University Tennessee (Knoxville, Tenn.)—No. 26 in Regional Universities South; No. 13 in Top Performers in Social Mobility
• William Jessup University (Rocklin, Calif.)—No. 46 in Regional Colleges West; No. 23 in Best Colleges for Veterans; No. 44 for Top Performers in Social Mobility
• Point University (West Point, Ga.)—No. 68 in Regional Colleges South; No. 63 in Top Performers in Social Mobility
• Hope International University (Fullerton, Calif.)—No. 85 in Regional Colleges West; No. 64 for Top Performers in Social Mobility
• Kentucky Christian University (Grayson, Ky.)—No. 76–99 in Regional Colleges South; No. 71 in Top Performers in Social Mobility
• Bushnell University (Eugene, Ore.)—No. 83 in Regional Colleges West; No. 86 in Top Performers in Social Mobility.
_ _ _
Intentional Churches has planned "How to Build a Resilient Church" luncheon events at three locations in Indiana next week. The ChurchOS/LunchPlus events include a meal and several other freebies for those who attend, including a copy of Intentional Churches written by the presenter, Bart Rendel.
The 11:30 a.m. to 1 p.m. luncheon learning events take place Sept. 20 at 110 Craft Meatery in Warsaw, Sept. 21 at Buca di Beppo in Greenwood, and Sept. 22 at BRU Burger Bar in Carmel. Learn more at intentionalchurches.com.
_ _ _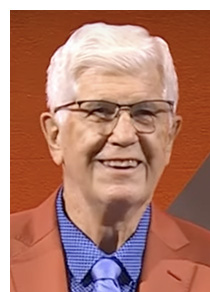 Milligan University alumnus Del Harris, 85, was formally enshrined into the Naismith Memorial Basketball Hall of Fame on Saturday. Harris thanked—among others—Milligan University, coach Duard Walker, and Milligan teammate Sonny Smith. (Back in June, Harris spoke with us about his enshrinement.)
Near the end of his speech, available via YouTube, Harris thanked Dr. James Naismith, the inventor of basketball.
"[Naismith] began adult life, as you know, as a pastor," Harris said. "He also kept that up and was a chaplain . . . in World War I. . . . He said that God gave him the gift of basketball right here in Springfield [Mass.] . . . but he stated that the purpose of the game was for developing the spirit, mind, and body—in that order. [Cheers.] Sometimes we focus too much on the body. The concept fit right into who he was as a pastor but also as a basketball coach at Kansas, where pastor/coach Naismith remained true to his purpose in both." 
Harris then shared how he studied to become a pastor, but his favorite professor advised him to work for a year and to coach a junior high basketball team during that time before committing to going to seminary. That life-changing decision—as he shared in our article—put him on the path to his Hall of Fame basketball career. 
_ _ _
"I cannot express how excited I am that today [Sept. 5] Ozark Christian College's Master's program starts classes with 80 students enrolled in the college's 80th year of training men and women for Christian service," Dr. Shane J. Wood, dean of graduate studies, wrote on Facebook. "This has been a labor of love for me and many people at the college over the last 8 years."  Learn more about the master's program at masters.occ.edu.
_ _ _
There's still time to register for the Spire Conference, slated for Sept. 27–29 in Orlando, Fla. Go to spire.network to learn more and to register.
_ _ _
"Samaritan's Purse may be best-known for giving shoeboxes full of toys to needy children around the world," Religion News Service wrote in a feature story about the 52-year-old ministry headed by Franklin Graham. "But over the past 10 years, it has grown into one of the largest U.S. faith-based nonprofits, with annual revenues last year of $1 billion." Samaritan Purse's humanitarian efforts have included 30 airlifts to Ukraine since Russia invaded that nation in February. Read about the ministry in "From Shoeboxes to War Zones."
_ _ _
Mid-South Christian College in Memphis will host a free Minister Appreciation Banquet on Oct. 14. Ken Idleman will speak. Call (901) 375-4400 to reserve a spot.
_ _ _
Manhattan (Kan.) Christian College is celebrating its 95th anniversary this school year.
_ _ _
Christianity Today published an article celebrating the 250th anniversary of "Amazing Grace."
"This is a hymn that has served as a first stuttering utterance of faith, as last words at death's door, and as a joyful benediction over festival revelers," the magazine wrote. "But why this hymn?" Why is it, by far, "the most popular and successful hymn of all time"?
_ _ _
Alligood Commons—the new cafeteria building at Mid-Atlantic Christian University in Elizabeth City, N.C.—opened last week, though the official ribbon-cutting is set for noon Sept. 29. 
_ _ _
Send news to [email protected].