By Chris Philbeck
I recently spoke with Dr. Daniel Overdorf about his new book, Preaching: A Simple Approach to the Sacred Task, published by Kregel Ministry and set for release Nov. 8. Overdorf has served on the Johnson University faculty since 2005 teaching in the areas of preaching and leadership.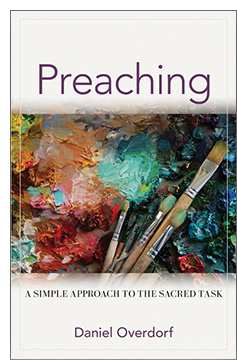 First, a little background. Overdorf has a BA in preaching from Johnson, an MDiv in leadership ministry from Lincoln Christian University, and a DMin in preaching from Gordon-Cornwell Theological Seminary. He is the author of several other books: One Yar to Better Preaching: 52 Exercises to Hone Your Skills; Applying the Sermon: How to Balance Biblical Integrity and Cultural Relevance; Rediscovering Community: What the Bible Says About the Church; Ministering to Your Minister; and A Death Well Lived.  
Overdorf shared two reasons why he wrote this new book.
First, he wanted to write a book about preaching for his students that was understandable, uncomplicated, straightforward, and clear (but not shallow or superficial).
Second, he wanted to provide a resource for established preachers who might need a "refresher" in preaching, as well as a resource for lay leaders in the church who teach Sunday school classes, Bible studies, lead small groups, and/or prepare Communion meditations.
The overriding goal was to provide a resource that would help someone take a passage of Scripture and share it in a practical and meaningful way.
A QUEST FOR A SIMPLER APPROACH
As I reviewed the book, I was moved by Overdorf's humility as he described how the task of preaching his first sermon as a middle schooler and the initial opportunity to teach preaching to first-year ministry students both left him feeling paralyzed. It was the latter experience that led him on a quest for what he calls a simpler approach to train beginning preaching students. "The book is the result of that quest," he wrote.
And the resulting book provides exactly what the title promises.
He starts with a chapter on conviction to remind readers that "preaching is God's means of announcing the hope and salvation of Jesus to the world." Then, Overdorf instructs readers how to research the Scripture text, focus on a single idea, shape the flow of thought, develop each segment, bookend the sermon with an introduction and conclusion, polish with descriptive language, and embody the sermon in the preaching event.
He offers a sample sermon from James 1:19-27 and gives readers an opportunity to write their own sermons through exercises found at the end of each chapter. I especially appreciated the "sidebars" and bonus articles throughout the book; these will greatly benefit even the most experienced preacher. Subjects include "Preaching and Prayer," "Preaching with Integrity: Research Versus Plagiarism," "How to Preach Christ from All of Scripture," "Using Purposeful Humor," "The Art of Storytelling," and many more.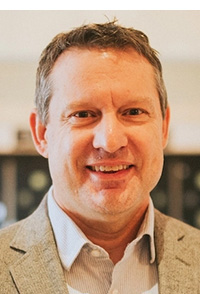 INFLUENCED BY GREAT PREACHERS
Overdorf has a rich preaching background. His father, Ken Overdorf, began preaching at the age of 19 and continues to preach today at 83. Daniel Overdorf has also been strongly influenced by Haddon Robinson, Fred Craddock, Tom Long, and Wayne Shaw. In his role at Johnson University, he has the opportunity to meet and observe the next generation of preachers.
Overdorf says he is optimistic about the state of modern preaching and its future.
"There was a season when preaching got pretty shallow," he told me, "but I think there's been a shift where preachers are taking the text more seriously. . . . I see a lot of gifted young students in my classroom."
Overdorf says he gets a sense of pride at the end of each semester when he assesses the growth those students have demonstrated.
Overdorf's new preaching book is scholarly, thorough, and practical, but above all else, it is genuine. That is especially apparent in how he begins each chapter—with an emphasis on conviction—and how he ends each chapter—when he emphasizes embodying the sermon.
"Preaching is not passé," he wrote in the opening chapter on conviction. "It's not a futile relic from a bygone era. Preaching is God's means of announcing the hope and salvation of Jesus to the world. When someone opens God's Word and proclaims it with God's empowerment, all within earshot are ushered into a holy moment of eternal consequence."
AN AWESOME RESPONSIBILITY
I'm encouraged to know that this book will help teach our next generation of preachers to embrace the awesome responsibility of speaking for God because, as Overdorf writes, "When we preach, we don't just speak about God; we speak for God."
I'm also encouraged that this book directs these same preachers to embrace the truth described by Phillips Brooks, that preaching is "truth through personality."
As a preacher, Overdorf writes, "Be yourself. But be your best self." That is important because, Overdorf reminds us, "We bring our unique experiences and voices to the preaching event."
As someone who has preached for 42 years, I loved reading and reviewing Preaching: A Simple Approach to the Sacred Task. I believe it will be an excellent tool in the classroom and an excellent resource for the pastor's study or any church leader's library.
Learn more about Preaching: A Simple Approach to the Sacred Task at Kregel Ministry's website.
Chris Philbeck serves as pastor of Mount Pleasant Christian Church in Greenwood, Ind. During his 40 years of ministry Chris has had the privilege of planting a church, leading a turnaround church, and now a megachurch. This is a special online-only edition of the bimonthly Preach column that Chris writes for Christian Standard.