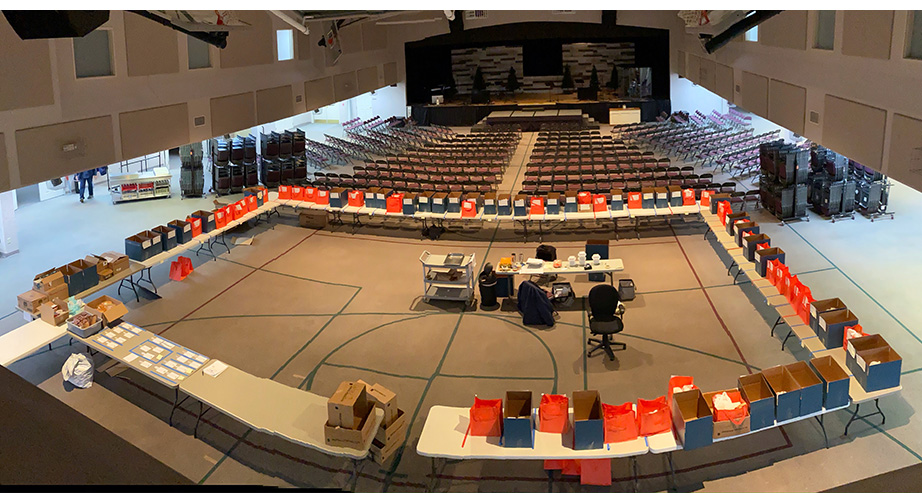 By Chris Moon
The members of Plainfield Christian Church near Indianapolis are busy this week.  
The church is sponsoring its 18th Thanksgiving Day Community Dinner—with more than 180 volunteers expecting to serve 2,000 meals.
The meal is open to anyone, but the church always has its eye on serving those who can't afford the expense of a big holiday dinner and those who don't have anyone with whom to celebrate Thanksgiving Day.
"That's our goal, to meet the need of our community," said Marsha Huckstep, who organizes the Thanksgiving dinner each year for the church, which has an average attendance of about 1,300.
The meal is a massive undertaking. It was started by a local chef who since has passed his recipes and know-how on to others.
DAY BY DAY; STEP BY STEP
Huckstep knows every step of the preparation process. In fact, she almost has it down to a science. It goes something like this:
On Saturday before Thanksgiving, Huckstep prepares all the cranberry relish for the meal. She spends the day over a huge electric kettle. Huckstep does this work alone . . . but help is on the way.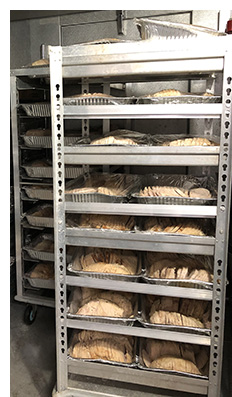 On Sunday, families gather at the church to begin putting together the boxes that will hold the take-home and delivered meals. Volunteers also bag up the silverware that goes into each box. They also set up the delivery area at the church.
"You start on Sunday, and you work your way through the project," Huckstep said.
On Monday, volunteers bag up rolls and dish up the cranberry relish.
A home group spends Monday evening cooking vegetables—celery, carrots, and onions. They add spices. That will be used later in the week.
On Tuesday, volunteers break up 4,000 ounces of bread donated by a local bread company. Volunteers are handed tray after tray of bread. Once broken, it is divided into batches that will go into the dressing.
Wednesday is a big cooking day. Five men come to the church to slice turkeys—76 big turkey roasts, weighing up to 11 pounds each.
Volunteers also prepare the sweet potatoes and dressing, among other things. Two shifts of volunteers are required to make the dressing.
THANKSGIVING DAY
On Thanksgiving morning, the work starts early—cooking green beans and sweet potatoes and prepping for the rest of the dinner.
The meal is served at a local community center. Typically, about 400 people come for the sit-down meal, which is served restaurant style.
The 2020 sit-down dinner was canceled because of the COVID-19 pandemic. About 200 people came to the sit-down meal last year, and Huckstep expects more to show up this year as things get back to normal.
Volunteers also deliver meals. They took 500 meals directly to people's homes last year.
The church also offers a drive-through option for those who want to pick up their meals. That's been very popular. About 1,000 people opt for that.
BACK AGAIN
Huckstep said some families come year after year.
She recalled one family who came to the dinner after only recently moving to the community when the husband took a new job there. But he unexpectedly lost that job, and that Thanksgiving was a difficult one.
Things were better the next year; still one of the family's children remembered the church's Thanksgiving dinner and suggested they go back again. They did.
Now, that family volunteers for the meal.
All told, about one-sixth of the Plainfield Christian Church congregation serves in some capacity for the Thanksgiving dinner. And that's on top of the financial commitment the church makes.
"It's the people of our church that have put their money out there and said, 'Yeah, our community needs this,'" Huckstep said. "I'm just so appreciative of the people of our church to believe in this and to be a help to people."
Riley Weaver, PCC's global and local impact minister, said the Thanksgiving community dinner always has been volunteer-led. The church provides logistical and financial support. But the volunteers are what make it possible.
The event is marketed throughout the community and on social media. Flyers are distributed to kids via elementary schools. The church also works with the local power company to put flyers in customer power bills.
The church starts reaching out for volunteers within the congregation in October. Staff members write prayers on every box of food that goes out. The volunteers do the rest.
"I think it's amazing we have a team of volunteers from our church who say, 'I'm going to give up this holiday from my family and serve people on Thanksgiving,'" Weaver said.
Chris Moon is a pastor and writer living in Redstone, Colo.