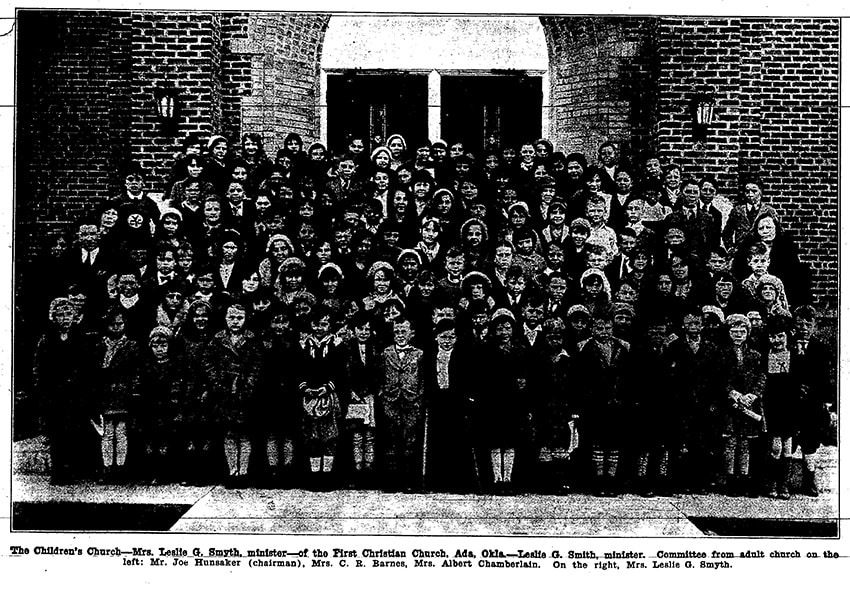 'A Little Folks' New Testament Church'
They have their "elders" and "deacons" and their own minister. They observe the Lord's Supper. They make their gifts. Best of all they do genuine personal work.  
September 17, 1932; p. 1
By R. R. Yelderman (Wellington, Kan.) 
(This article has been adapted and shortened.) 
Every Sunday morning one or more dust-covered automobiles drive to the First Christian Church at Ada, Okla. They have come from a distance of one hundred to three hundred miles to see a New Testament church composed entirely of children. As far as we have been able to ascertain, there is no other such church in America as the one in this Oklahoma town.
ITS ORIGIN
Nearly two years ago, when Mr. And Mrs. Leslie G. Smyth came to minister for the Ada Church of Christ, the children's problem almost floored them. It was pitiful to see the little ones leaving God's house following the regular Bible-school session. The minister and his wife had visited many so-called "children's churches," but found that they did not function as churches. After much visitation, discussion and prayer, they hit upon the plan of organizing a genuine New Testament church whose members must consist only of baptized believers.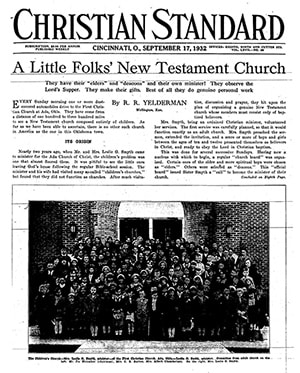 Mrs. Smyth, being an ordained Christian minister, volunteered her services. The first service was carefully planned, so that it would function exactly as an adult church. Mrs. Smyth preached the sermon, extended the invitation, and a score or more of boys and girls between the ages of ten and twelve presented themselves as believers in Christ, and ready to obey the Lord in Christian baptism.
This was done for several successive Sundays. Having now a nucleus with which to begin, a regular "church board" was organized. Certain ones of the older and more spiritual boys were chosen as "elders." Others were selected as "deacons." This "official board" issued Sister Smyth a "call" to become the minister of their church.
Having started with a small beginning, this little New Testament church of baptized believers today has a membership of over one hundred members, and an average attendance of between 125 and 150 per Sunday.
The worship service starts and closes exactly as in adult church. They have a "robed choir" of twenty-four members. The "Official Board" extended a call to Miss Dorothy Wood to become their choir director. She is spiritual, tactful and a most gifted young woman, having majored in music for this type of work with children. Miss Wood is also church secretary. She has a high standard for this little robed choir, and each one is required to attend regularly for rehearsal each week, or his place may be forfeited to another waiting child. Each Lord's Day they present an anthem consisting of high-type music. Worshipfulness and dignity are the keynotes to the unusual success of this choir.
THE COMMUNION SERVICE
The communion service at Ada Christian Church is beautiful to behold. The communion hymn is sung; the little "elders" take their places at the Lord's table; the "deacons" assume their proper positions; and, thanks being expressed for the loaf and the cup, the deacons pass the emblems to the congregation. Only those who are baptized believers partake. A spirit of reverence and deep silence prevails, so conscientious are the little elders, and so spiritual.
HOW THE BOARD IS CHOSEN
The minister, Mrs. Leslie G. Smyth, recommends to the adult advisory committee a certain group of the most spiritual children. They are elected for a period of two months. Little deaconnesses are also elected. They are chosen, not because of wealth or influence of their parents, but because of their clean Christian lives, their worshipful attitude and ability as soul winners. (Oh that elders and deacons in adult boards were selected always for clean lives, worshipful attitudes, and ability as soul winners! If that were done in every church in the land, all America would break forth into a spontaneous re­vival.)
THEIR EQUIPMENT
The little New Testament church, which meets from 11 to 12 A.M. (the same hours as the adult church), has its own "church worship room." It has tiny pews especially designed for them and valued at more than $600. They have their communion table, and all other necessary appurtenances that go with a fully equipped, modern church of Christ.
THE FRUITS OF THEIR LABORS
In the past year exactly fifty souls have been brought to Christ through the personal efforts of these little Christians. Their minister teaches them to feel ashamed if they have made no effort to win some other boy or girl to Christ. Suppose nine thousand adult churches of Christ in America had each won fifty persons to Christ last year. We would have added exactly 450,000 new members to the flock of God. It simply puts us older ones to grief and shame. It should drive us to our knees, so that God could talk to our careless, indifferent, worldly hearts. Oh that we could have the fervor and the zeal of these little Christians!
The strange thing about their soul-winning efforts last year is this: Of those fifty souls won to the Saviour, most of them were adults. One little deacon won eight for the church in one day, and another little elder won three adult businessmen by confession of faith and baptism into Christ. In the adult church each "revival in a day," of which Mrs. Leslie G. Smyth is a master indeed, the junior church always does its part.
DEFINITE OBJECTIVES OF THIS CHURCH
This little church has four definite objectives: First, prepare for efficient work in the adult church. Second, utilize their energy and service for Christ rather than waiting till maturity. Third, build a firm foundation for Christian living. Fourth, be always exponents of the Great Commission. If adult churches would maintain such a plane of spirit­ual idealism, in one decade we would double and treble our present membership in America.
THEIR OFFERINGS
The "little church" has unusually large offerings, too. Practically every one of the members is a storehouse tither, bringing their full tithe each Lord's Day to the church. All tithes and offerings are turned over to the financial secretary of the adult church.
Every three months the Women's Council gives a great dinner for the children's church. Only regular members and regular attendants are admitted to these "feeds," as the children term them.
GENERAL FEATURES
This church has a one-half-time secretary that carries on its office work. Mrs. C. R. Barnes holds that position. The secretary is also the librari­an; she checks out the books on missions for the children to read. Practically every book in the library is checked out every week. There is no other adult church in the world so missionary-minded as this.
When a member has attained the age of thirteen, he is promoted to the adult church. Children are eligible to attend the children's church from the second grade in the public schools to the age of thirteen, when they are automatically promoted.
Only ten adult visitors are admitted to see and partake of the services each Sunday.
There have been people who have come a distance to view this phenomenal children's church—people of all creeds and of all denominations. They go away utterly unable to understand the deep reverence. They seemingly can not understand how 125 children can worship for one hour, and not have one whisper or the slightest commotion. The only answer that can be given is that it fits the whole needs of both the minds and souls of the boys and girls.
Without properly trained and efficient spiritual leadership, such a work among children is utterly impossible.
Large numbers of these little folk, and practically all the elders, juniors and deaconesses, attend the midweek prayer services. What an example to the grown-up elders and deacons and deaconesses!
If our adult church board took the interest in all phases of the kingdom and would consecrate their lives as fully to the task of the Master, no matter what problems faced us, we could say, "With Christ we are able." . . .
_ _ _
These Brethren Object to 'Little Folks' New Testament Church
Dec. 10, 1932; pp. 16-17 
Various writers 
A few months later, Christian Standard published three letters critical of the "Little Folks' Church" and the original article.
Henry G. Davis, minister with the Church of Christ in Macon, Ohio: "Those who believe in the doctrines of primitive Christianity and the restoration of the New Testament church were without doubt pained and distressed by the article. . . . Let us examine this 'Little Folks' New Testament Church,' as it is called, in the light of God's Word and see how it measures up to the divine pattern. We are told that, as far as Brother Yelderman was able to ascertain, there was no other such church in America. If so, one of two conclusions must be drawn. Either it is not a New Testament church, or it is the only New Testament church in America (as far as he knows). . . .
D.L. Thompson, an elder from Salt Lake City, Utah: "I am writing to ask of any or all who value and respect these words, 'Where the Bible speaks we speak, and where the Bible is silent we are silent,' and the memory of the great and good man who spoke them, where do we find the authority or specifications for 'A Little Folks' New Testament Church,' and where in the Acts or the Epistles do we find material with which to put together a 'Little Elder,' except it be one of small stature like Zaccheus, who is possessed of the required gray locks and associated wisdom which fit him to 'feed the flock of God,' and from whence cometh our new-found custom of having women 'ordained Christian ministers'?
"Well, yes, I know I am a joy killer, but so was Paul. . . ."
E.E. Davidson of Pratt, Kan.: "Is there no longer a New Testament in the Standard office? . . . A few years ago we had a baby dedication craze, in certain quarters, and the Standard stood foursquare against that innovation, but, to my way of seeing things, there was thousand-fold greater justification for that practice than the unfaithfulness to the New Testament teachings when talking about boy elders and deacons and little girl deaconesses.
"Commendable features there may be a-plenty, but to call it a New Testament church is without justification. . . ."
In response, Christian Standard's editors issued this on the same page:
_ _ _
Editorial Statement
We acknowledge that there are faults in the plan used by Brother and Sister Smyth of Ada, Okla., and given publicity by Brother Yelderman in our issue of September 17. Are the faults not chiefly those of nomenclature? For instance, it is quite clear that this so-called "Little Folks' Church" is not organized as, or intended to be, a separate church from the whole church at Ada, Okla. It is clearly subject to the whole congregation, and particularly to the elders. It is not, therefore, a church in the New Testament sense, but a method for worship and evangelism, a gathering of part of that church for a special purpose and always subject to the direction of the whole church. It is therefore a congregation; perhaps it would be better to call it such. However, as long as most churches of Christ, with say five or six hundred members, have two meetings on the Lord's Day, each with only fifty or one hundred members present, and they not the same members, and yet call these limited meetings "the church," there are few who have any right to cast stones at Brother and Sister Smyth for gathering the children in one assembly for worship and teaching and evangelism.
Is there any one who will dare undertake to prove that the Jerusalem church did not gather in various groups or congregations in homes and other assembly places? It may be wrong to call such an assembly a "church," though we do it every day with respect to the several congregations in larger centers. Certainly, however, there can be no harm in the gathering of Christians by groups for worship. Perhaps it would be better to call it "Little Folks' Worship" or "Children's Service." The difficulty is that we have fallen into the habit of calling a worship meeting the church.
As for the matter of elders and deacons among the boys and girls, what is, after all, the qualification for these places of leadership. Is it not fundamentally spiritual and moral superiority and natural ability to lead? An elder is one who is older. Is not Mrs. Smyth fulfilling those requirements so far as these little ones are concerned, especially when it is made clear that they are altogether subject to the real elders and deacons of the church as a whole? There is no element of deceit about it. It is a means of training into proper leadership.
As for the woman preaching, we need not here go into the general question, for here it is altogether one of the propriety of having a woman teach children. Where is the church that has no women thus teaching and practically preaching to children?
We see nothing contrary to the spirit of the New Testament in that practice at Ada. Certainly it is not at all comparable to the infant-sprinkling or infant-dedication as a substitute for conversion. Only upon the most literalistic basis can there be ground for fault-finding with the general practice at Ada.
Meantime, here is a very vital and pressing problem. The children are not being taught. There is little vital evangelistic work and worship for them. Are we to let them go entirely, just in order to adhere to the theory of compelling them to come to a service built for adults? Those who will not have what Mrs. Smyth's plan proposes are in duty bound to have some other plan for really saving the boys and girls—saving them by bringing them to confession and baptism, and saving them also, mark you, by making their worship and service altogether vital and spontaneous.